Industry Insights
The global metal matrix composite market was 5,824.5 tons in 2013. Growing transportation industry on account of increasing global and domestic trade is expected to fuel the MMC market over the forecast period. Composite alloys are primarily used for manufacturing durable and lightweight parts for electronics/thermal management, ground transportation, aerospace, marine, defense and nuclear industries.
Reinforced alloys possess enhanced material properties such as increased coefficient of friction & thermal conductivity and reduced wear resistance, which make the product durable and lightweight. Increasing focus on performance enhancement in terms of both fuel efficiency and safety is expected to fuel advanced materials demand from automotive, aerospace, and marine industries.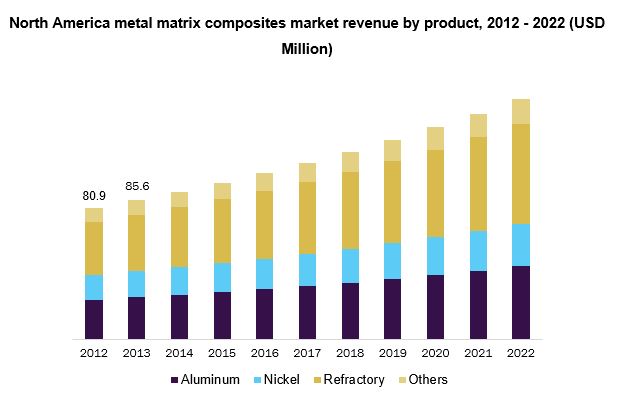 Stringent government norms to reduce overall vehicular curb weight, which directly affects fuel consumption and emissions, are anticipated to drive metal matrix composite market demand over the forecast period. The rise in disposable income along with growing trade practices has increased passenger as well as commercial vehicle demand. Enhanced spacecraft performance in the aerospace industry owing to intrinsic properties such as lightweight, enhanced stiffness, and material strength are also expected to fuel market growth over the forecast period.
Low yield coupled with high manufacturing costs of these materials is expected to hinder market expansion over the forecast period. Major market participants have been investing heavily in R&D to produce cost-effective metal matrix composite with enhanced durability and lightness specifically for the aerospace industry.
Technology development programs have been sponsored by the U.S. Air Force and U.S. Defense Advanced Research Projects Agency to manufacture graphite or magnesium tubes for truss structure applications by filament winding vacuum casting process. This technology development program was carried out by Lockheed Martin Space Systems and Fiber Materials. Technological advancements coupled with government initiatives to promote innovation in material science are anticipated to affect positively product demand over the next seven years.
MMC finds applications in various niche segments such as power semiconductor packages, radiator panels & battery sleeves, black box enclosures, microwave modules, and printed circuit board heat sinks. MMC with a broad range of functional properties including isotropic properties and high structural efficiency offer the great potential for a wide range of space system applications.
Product Insights
Aluminum based metal matrix was the largest product segment and accounted for over 30% of the total demand in 2014. Aluminum matrix is estimated to gain market share over the forecast period owing to high preference in aircraft and aerospace industries. High preference towards lightweight and high tensile strength parts in aerospace and automotive industries may contribute towards segment growth over the forecast period.
Refractory matrix materials are expected to witness the highest growth in terms of demand over the next seven years owing to multi-utility in several application segments including tools, nuclear reaction control rods, catalysts in chemical reactions, solar panels, and spacecraft exteriors. High tensile strength, malleability, and ductility offered by refractory metals make them popular in various end-use industries.
End-Use Insights
Ground transportation industry is characterized by various factors such as regional economy, commodity trade, business and consumer spending and travel activity. MMC find significance in various vehicle components including brake fins, drive shafts, and engine components. Growing high performance automotive demand in bulk and passenger transport sectors is expected to drive growth over the forecast period.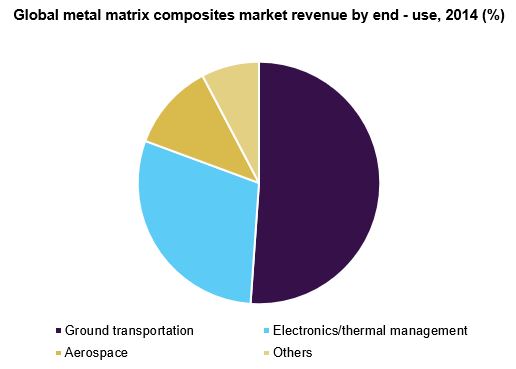 The global MMC demand in electronics was 1919.2 tons in 2014 and is expected to grow at a CAGR of 6.9% over the forecast period. Growing demand for cost-efficient and multifunctional electronic products has given way to miniaturization of these products. Shrinking product size coupled with increasing efficient microprocessors demand is expected to remain key driver for thermal management in electronics industry. Recent advances in microelectronics and shifting trend in use of highly populated electronic components is expected to drive MMC demand in electronics industry over the foreseeable future.
Regional Insights
North America dominated the global metal matrix composite market in 2013 and accounted for over 34.8% of the total demand. It is expected to remain the largest regional market over the forecast period owing to rising demand from aerospace and automotive industries in the U.S.
Asia Pacific is anticipated to witness rapid growth over the foreseeable future owing to increasing MMC demand in automotive and defense sectors from emerging countries such as China and India. Increasing disposable income coupled with government support towards manufacturing sector is expected to fuel automotive and electronics industries in APAC.
Europe is expected to witness moderate growth rates in near future on account of rising automotive, power, and aerospace industry in the region. Germany is expected to observe high growth in metal matrix composite demand, particularly in the automotive sector. CSA and MEA are expected to witness significant growth over the next seven years on account of growing electronic/thermal, power, and defense industries in the region. The major demand is anticipated to come from economies such as China, Brazil, India, the U.S., and Israel.
Metal Matrix Composites Market Share Insights
Metal matrix composite market is moderately concentrated with few multinational players with top five companies accounting for over 65% of the total market share. Key trends observed among the players include mergers & acquisitions and capacity expansions. Materion Corporation accounted for around 16% of the global demand and has recently acquired Aerospace Metal Composites Limited in order to expand its business and increase company share.
Key players operating in the global MMC market include Sandvik AB, Materion Corporation, GKN PLC, Plansee SE, 3M, Sumitomo Electric Industries, Ltd., CPS Technologies Corporation, Hitachi Metals, Ltd., Deutsche Edelstahlwerke GmbH, and 3A Composites International AG. Small players operating in the market include Ceradyne, Inc., ADMA Products, Inc., Ametek Specialty Metal Products, Daewha Alloytic Co. Ltd., DWA Aluminum Composites, Metal Matrix Cast Composites LLC, MI-Tech Metals, Inc., Thermal Transfer Composites LLC, and TISICS Ltd.