Industry Insights
The global methyl ethyl ketone (MEK) market was valued at USD 2.56 billion in 2015. Major MEK demand portion is accounted by paints and coatings, where it is widely used as a solvent. Positive demand outlook for adhesives, printing inks, paints, and coatings, on account of increasing construction spending, particularly in Asia Pacific and Middle East is expected to remain a key driving factor for the global MEK market.
MEK also finds applications in pharmaceutical and personal care industries where it is used for manufacturing antiseptics, anesthetics, lotions, and drugs. The growth of pharmaceutical and personal care industry on account of increasing healthcare expenditure in Asian countries and presence on sophisticated healthcare infrastructure in the U.S. and most parts of Europe is also expected to fuel its demand over the forecast period.
U.S. MEK market volume by application, 2014 - 2024 (Kilo Tons)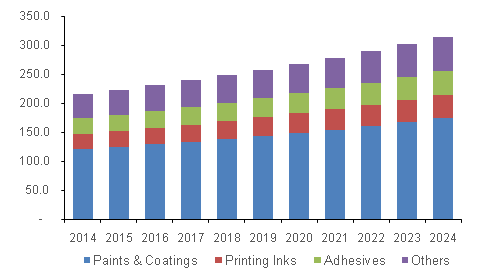 Regulatory bodies, particularly in developed economies of Europe and U.S., have imposed stringent regulations on MEK manufacturers with regards to its toxicity levels which are anticipated to restrain the market growth in near future.
Crude oil is one commodity which is considered to be highly volatile in its pricing nature and this volatility can further be seen in its downstream derivatives. As most of the commonly used solvents including MEK are downstream derivatives of crude oil, therefore, uncertainty in oil prices is anticipated to directly impact market profitability.
In the past years, there was a drastic decrease in crude prices which has negatively influenced the overall revenues. The prices are anticipated to normalize over the next two years.
Application Insights
Paints & coatings emerged as the leading application for MEK and are expected to grow at an estimated CAGR of 4.4% from 2016 to 2024. Increasing construction spending with the growth of automobile industry in emerging markets of Asia-Pacific and the Middle East has resulted in high demand for paints & coatings applications.
Paints & coatings include specialty coatings, waterborne coatings, powder coatings and solvent borne technologies. High demand for powder coatings in automobiles and electronics industry has significantly enhanced the consumption rates in the application segment.
Adhesives and printing ink segments are expected to witness high growth from 2016 to 2024. Increasing printing inks demand from packaging and publishing industry is expected to significantly augment MEK market growth.
The product is widely used and is a preferred solvent in the printing industry owing to favorable characteristics including adhesion with substrates such as metals, plastics & glass, and specialized inks formulation and exceptional drying times.
Developments in end-user industries including pharmaceuticals, food processing, and cosmetics are expected to drive volumes in printing inks application over the next six years. MEK solvent based inks used in these industries enable high-resolution printing. Other major applications for printing inks market include newspapers, labels, commercial printings and books.
Regional Insights
Asia Pacific MEK market led the global industry and accounted for over 55% of global demand in 2015. The regional volumes are primarily driven by high demand from printing inks in emerging countries including China, India, Indonesia, and Thailand.
Asia Pacific is expected to continue its dominance over the forecast period on account of increasing demand for adhesives and printing inks from residential and commercial building constructions.
The Middle East & Africa industry is anticipated to grow at a significant CAGR of 4.4% over the forecast period. Industrialization is expected to establish as the key factor driving the overall market growth. North America is anticipated to develop at slow rates on account of stable end use industries including paints and plastics.
Competitive Insights
The global MEK market is fairly concentrated in nature and shows a high degree of integration across the value chain as manufacturers are either engaged in the raw material production or consumes the final product.
This helps in achieving economies of scale and expands their business in order to maximize the profits. Major manufacturers operating include ExxonMobil, Maruzen Petrochemicals, Shell Chemicals, Arkema S.A, Sasol Solvents and Petro China.
Maruzen Petrochemicals installed a new distillation system called SUPERHIDIC in their manufacturing plant in Japan, to save around 40% of the energy consumption and produce economic MEK.
Global manufacturers either distribute the final products by the own distribution channel or outsource it to independent suppliers. Some of the major suppliers present in the value chain include Xilan Chemicals, Sigma-Aldrich, Sherwin-Williams, Wicks Aircraft Supply, and LP Chemicals.
The industry is price sensitive in nature, therefore, product differentiation is anticipated to establish as the major strategy adopted by the companies in order to negate the competition and gain the competitive advantage over other players.