Industry Insights
Increasing power consumption owing to a growing population is expected to drive the Middle East switchgears market. Switchgears operate as a backbone for modern electrical systems. They are majorly used to minimize electric failures and alleviate aftereffects of fault currents that flow through the circuit. Ongoing smart grid projects and increasing renewable energy sources is contributing to the Middle East switchgears market growth. Replacement of outdated and aging infrastructure in the region is also causal to regional growth. Various international events such as the FIFA World Cup 2022 in Qatar and World Expo 2020 in Dubai will increase the electricity demand in the region. Gray market providing low-cost products may act as a restraint to the Middle East switchgears market. Additionally, newly proposed methods for high voltage long-distance transmission are expected to favor market growth over the forecast period. The raw material used for manufacturing plays a crucial role in switchgear efficiency and durability. The raw materials are available from numerous sources in quantities sufficient to meet the requirements of different companies.
Middle East switchgears market by product, 2012 - 2020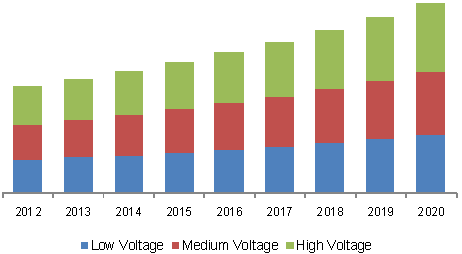 Product Insights
Low voltage switchgears have a capacity of up to 1.1 kV AC. They are designed for protection and switching of electrical equipment. Low voltage switchgear products serve a wide range of industries such as residential and commercial building contractors, process industries, rail equipment manufacturers, manufacturing companies, utilities, and renewable energy suppliers, particularly in the wind and solar sectors. Medium voltage switchgears have a capacity of over 1.1 kV AC to 40 kV AC. They are majorly used for power distribution particularly in commercial buildings and industrial plants. High voltage switchgears have a capacity of over 40 kV AC. They are majorly used in power plants and renewable power plants. High voltage switchgears are expected to be the key product segment for the forecast period.
Application Insights
Utilities application includes water and electricity sectors; this segment primarily employs medium and high voltage switchgears. Industrial applications need non-fluctuating and stable power supply without outages for a wide range of functional units with high safety and reliability. These include various sectors such as oil & gas, steel, and cement, etc. Residential applications include the civil and construction industry such as offices, residential complexes, shopping malls, and hotels, etc. These applications need continuity of service, compact dimension, and low environmental impact. Other applications include distribution and transportation. Utilities are expected to remain the dominant application segment in the Middle East switchgears market.
Regional Insights
Countries such as the Kingdom of Saudi Arabia (KSA), Qatar, UAE, and Kuwait are expected to be key contributors to market growth. Gulf Corporation Council (GCC) countries are heavily spending on their power sector to improve the generation capacity. The transmission and distribution segment is expected to gain funds, which is expected to favor the Middle East switchgears market. Rapid economic growth in KSA across various sectors such as plastic, power, water, petrochemicals, etc. is estimated to fuel the regional market. Qatar and UAE are also estimated to show significant growth owing to rapid commercial infrastructure developments. Increasing market reforms for improved efficiency and optimum investments in the power sector is expected to support the Egyptian switchgears market.
Competitive Insights
Few key market players include ABB Ltd, Alstom, Bharat Heavy Electricals Limited (BHEL), Crompton Greaves, Siemens AG, General Electric, Schneider Electric, etc. In March 2014, ABB Ltd. signed a contract of USD 110 million with Saudi Electricity Company (SEC) to construct substations in Saudi Arabia. Additionally, in January 2014, it also received an order worth USD 60 million for substations that will boost transmission capacity and supply electricity to King Abdullah Economic City (KAEC). In 2014, Siemens AG and the Egyptian government signed an agreement to build a 4.4 GW power plant and set up a wind power capacity of 2 GW. The company worked on the Riyadh Metro Rail worth USD 1.8 billion.