Industry Insights
The global military radar market size was valued at USD 8.09 billion in 2015. The rising need for improving border safety is expected to drive the demand for surveillance equipment and systems such as military radars. The radar system applications used in the defense sector go beyond surveillance activities as these systems are used for weapon guidance. Widely used methods for guiding missiles, such as Active Radar Homing (ARH) and Semi Active Radar Homing (SARH), make use of radar systems for accurate target tracking.
North America military radar market revenue by type, 2014 - 2024 (USD Million)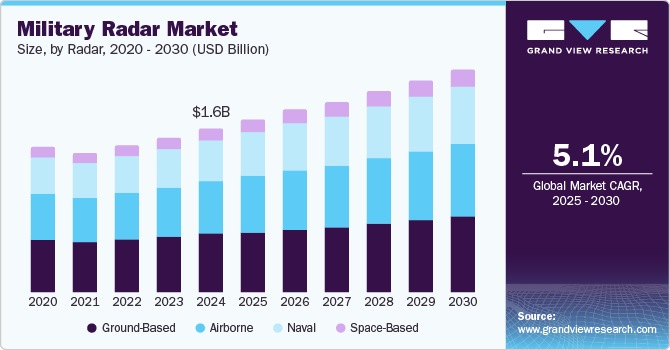 Rising security concerns coupled with increasing defense budgets are instrumental in energizing the industry growth prospects. Technological proliferation is positively impacting the industry and is leading to the development of lightweight radars. Strategic alliances among industry players and increased focus on border protection activities are substantially creating a high demand for military radar systems.
Modernization activities of military equipment and legacy systems across the globe are creating new avenues for market expansion. The industry is anticipated to witness surges in demand owing to a rise in terrorism activities, inter-country conflicts, border infiltrations, and attack-prone borders. Military radars facilitate accurate detection, tracking, surveillance, ground mapping, and warning against stealth aircraft and weapons, thereby providing security.
However, the market is highly vulnerable to existing economic conditions. The consequences of an economic slowdown have taken a toll on global military spending, driving down the industry growth opportunities. The European countries, such as Russia, Germany, and the U.K., have witnessed cuts in defense budgets owing to macroeconomic conditions and financial crises. Furthermore, the high costs of military radars and the development of space-based radars demand huge spending on manufacturing and R&D activities.
Type Insights
The military radar industry on the basis of type can be classified into four, ground-based, naval, airborne, and space-based. The ground-based military radar segment accounted for over 29.5% of the overall market share in 2015 and is projected to continue its dominance over the next seven years. Ground-based radars are gaining traction as they provide real-time information in situations such as warfare. The radars effectively help in activities such as ground penetration, locating enemy weapons, and unexploded tunnels, among others.
The market for space-based radars is anticipated to grow over the forecast period. The space-based radar market accounted for over 16.4% in 2015. The growth can be attributed to the rise in the adoption of space-borne Synthetic Aperture Radar (SAR) that facilitates remote sensing, combat zone reconnaissance, and intelligence gathering.
Regional Insights
The North America region dominated the global military radar market accounting for over 45.8% of the global market share in 2015. Programs and initiatives such as the Air and Missile Defense Radar (AMDR) program and the Three Dimensional Expeditionary Long-Range Radar (3DELRR) program are expected to incite growth in the regional market. Radars have turned out to be an integral part of aircraft, armored vehicles, naval vessels, and UAVs. The U.S. military spends heavily on such defense vessels, subsequently propelling industry growth in the regional market.
Large-scale modernization activities of legacy systems and rise in political tensions & border disputes in the Asia-Pacific countries of India and China are driving the demand for military radars in the region. The arms race in the Asia Pacific region along with steady investments in ground-based radar systems is expected to keep the regional industry growth prospects upbeat.
Competitive Market Share Insights
Key players dominating the industry include Airbus Group, BAE Systems PLC, Finmeccanica SPA, General Dynamics, Israel Aerospace Industries Ltd., Lockheed Martin Corporation, Northrop Grumman Corporation, Raytheon Company, Saab Group, and Thales Group. Industry players are focusing on offering miniaturized and more mobile radar systems.