Industry Insights
The mobile POS terminals market has gained traction over the past few years owing to increased deployments in large retail chains across a wide number of store formats and regional markets. For example, Apple, Home Depot, Nordstrom, Urban Outfitters, and Gucci are some of the large retailers and early adopters of mPOS terminals. The convergence of online and mobile payment channels at a time of significant growth of the mobile app and smartphone industry has been the major driving force for mobile POS terminal adoption. The advent of affordable wireless communication technologies has increased consumer acceptance for advanced mPOS terminals.
Global mobile POS terminals market by component, 2012 - 2022 (USD Billion)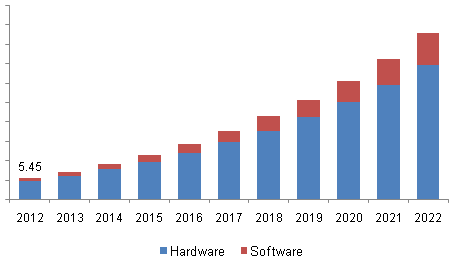 Ease of use and improved return on investment (ROI) offered by these systems has favorably impacted the mPOS terminals market. Increased demand for mobile terminals with smart card EFT (Electronic Funds Transfer) capabilities is also estimated to drive market growth. Reduction in Total Cost of Ownership (TCO) and improved return on investments offered by mPOS terminals have considerably increased their demand in SMBs. The low cost of the devices and speedier checkout helps to meet targeted sales and improves labor efficiency. However, data security concerns coupled with the need for extensive government certifications and regulations are expected to act as a restraint to mPOS terminals' market growth. Increasing customer base in Asia Pacific on account of reduction in TCO and increased SMBs in this region is expected to positively impact the regional market.
Component Insights
The mPOS terminals market segmentation on the basis of the component includes hardware and software. mPOS terminals hardware manufacturers including Verifone, Ingenico provides handheld terminals, tablets, and mobile computers. On the other hand, mPOS terminal software developers such as QVS Software Inc. focus on creating software, apps, and storage mechanisms that provide functionalities such as managing customer data, reporting capabilities, inventory control, and sales transaction update. Some providers also offer analytics tools that identify file I/O usage, PLU response times, network traffic, load balancing, and bottlenecks in the system in order to improve system performance.
Application Insights
On the basis of application, the mPOS terminals market is segmented into restaurants, hospitality, healthcare, warehouse, retail, and entertainment. Escalating demand for mPOS terminals in SMBs is one of the major factors driving the overall market. Retail is expected to remain the dominant segment throughout the forecast period. Adoption of technology in various sectors such as healthcare, hospitality, and entertainment is expected to positively impact market growth. The availability of wireless connectivity has significantly increased the need for remote monitoring and access. The need for expediting the checkout process and line bursting is expected to significantly drive the mPOS terminals industry.
Regional Insights
The Latin America mPOS terminals market is expected to exhibit high growth on account of the low cost of manufacturing in the region. North America is expected to dominate the market, due to increasing demand from application industries in the region. The Asia Pacific mPOS terminals market is expected to gain traction over the forecast period owing to increased demand from SMBs and reduction in TCO. The booming smartphones and tablet market in Asia-Pacific, particularly in China and India, is expected to positively impact the mPOS terminals industry in the region.
Competitive Insights
Key players in the market include Ingenico, Verifone, Zebra Technologies (Motorola Enterprise Solutions), Oracle (MICROS Systems), and First Data Corporation. Companies operating in the mPOS terminals market focus on strategic partnerships and acquisitions for business expansion. The market is expected to witness consolidation over the coming years due to increased M&A activity by market players. For instance, Zebra Technologies acquired Motorola Solutions' Enterprise Business in October 2014 for USD 3.45 billion, and Oracle acquired MICROS Systems, a POS software, hardware, and related service provider, in September 2014 for USD 5.3 billion.
Frequently Asked Questions About This Report