Industry Insights
The global modified starch market size was USD 8.97 billion in 2015 and is anticipated to witness substantial growth over the next seven years owing to its rising requirement from various application sectors including food & beverage, textile, paper, and pharmaceuticals.
Modified starch products have improved their penetration in the food sector as it is used as an emulsifier, stabilizer, and thickening agent for manufacturing bakery, confectionery, biscuits, noodles, and other convenience food products.
U.S. modified starch market volume, by application, 2013 - 2024 (Kilo Tons)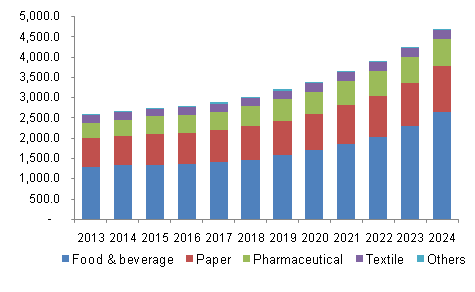 Asia-Pacific industry is expected to grow tremendously on account of the expansion of production facilities in emerging economies such as India and China coupled with increasing demand for the food, paper, and textile sectors.
High demand for modified starch-based products from the convenience and packaged food sector will result in propelling expansion. This has also resulted in improving margins of the food processing industry over the past couple of years.
Also, advancements in packaging and processing technologies in the food sector in the U.S. and Europe will further augment packaged food industry growth. Busy lifestyles will drive demand for convenience food products as they are easy to use and have a long shelf life. These factors are expected to augment industry development over the forecast period.
Application Insights
Food & beverages accounted for 32.7% of the global volume in 2015. Modified starch is added to frozen products to prevent them from dripping when defrosted. These starches, bond with phosphate, and allow the starch to absorb more water and keep the ingredients together. These characteristics are expected to increase penetration of the product in the food industry.
Paper production was the second largest application segment in 2015 and accounted for 2,283.6 kilo tons of the global demand. The global market for paper is expected to grow significantly on account of its wide application in numerous functions including stationary, packaging, and sanitary.
The ability of modified starch to form a better quality of paper by the right treatment of cellulose obtained is a major factor of its consumption in the paper industry. Initiatives undertaken by governments of emerging as well as developing economies in Asia-Pacific to increase literacy among its population is expected to propel demand for writing paper, thus, subsequently driving growth in the near future.
Product Insights
Cationic starches are expected to witness rapid growth at 6.9% CAGR, in terms of volume, from 2016 to 2024. These ingredients have the ability to act as a wet-end additive, which helps in improving paper strength and increases fiber-to-fiber interactions. This has resulted in its increasing demand from the paper industry.
Increasing penetration of starch esters & ethers in the food sector on account of their superior properties including improving taste, low fat and texture will result in propelling growth. Resistant starch market value exceeded USD 1.90 billion in 2015 on account of its high requirement in the food & beverage sector due to its ease of processing.
Regional Insights
North America modified starch market accounted for over 40% of the global volume share in 2015. The growth of the food & beverage sector in the region, particularly in the U.S. and Mexico, is expected to fuel demand.
The robust manufacturing base of the food processing industry coupled with growing demand in Germany is expected to augment demand in Europe over the forecast period. Europe modified starch market is expected to account for 21.5% of the global demand by 2024.
Positive outlook towards the textile sector in China, Malaysia, and India in light of growing domestic consumption coupled with favorable regulations to attract investments is expected to augment expansion. Moreover, high consumption of the ingredient in the paper sector is expected to promote expansion over the forecast period.
Competitive Insights
The global modified starch industry is highly fragmented in nature. The global industry is dominated by a few companies including Archer Daniels Midland Company, Cargill Incorporated, Roquette Frères, and Ingredion Incorporated, which are integrated across various stages of the value chain. These companies also captively consume the ingredient to manufacture finished products.
In March 2016, Avebe announced that the company had entered the final stage of their potato harvest campaign after which they would be able to harvest high-quality foodstuffs to develop potato starch and expand their production. Companies have been focusing on research and development over the past few years to enhance modified starch capabilities and produce better starch products.
Roquette Group modifies starches extracted from a range of raw materials including maize, waxy maize, potato, wheat, and pea used in bakery & confectionery market. The company has acquired three Indian starch production sites forming joint venture business to strengthen its market presence in Asia-Pacific.