Market Size and Trends
The global monoclonal antibodies market accounted for USD 85.4 billion in 2015 and is expected to exhibit a growth rate of 5.7% over the forecast period. Rising incidence of cancer and other chronic diseases is engendering the high demand for biologics, which is serving as the key contributing factor for the growth of the monoclonal antibodies market.
Increasing R&D activities in genomics coupled with the advent of technologically advanced genetic platforms, such as next-generation sequencing, pose as the major drivers. In addition, the cost-effective nature of the aforementioned technology is supporting its incorporation in performing research studies to develop mAbs. These are widely accepted biologics and are expected to present a billion-dollar opportunity to pharmaceutical manufacturers over the forecast period.
Monoclonal Antibodies Market, By source Type, 2013 - 2024 (USD Billion)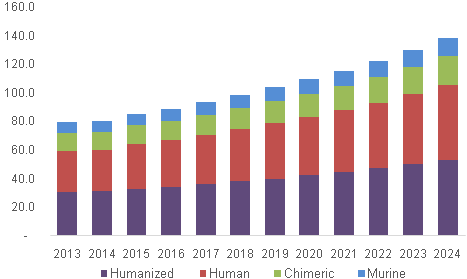 Growing awareness levels amongst patients and physicians pertaining to the applications of mAb therapy are contributing toward further growth. Moreover, approval of blockbuster mAbs for a variety of indications is expected to boost the usage rates over the forecast period. For instance, significant revenue-generating drugs such as Avastin, Herceptin, Remicade, and Rituxan with FDA approval for an array of conditions (cancer, rheumatoid arthritis, Crohn's disease, ulcerative colitis, etc.) further boost the patient base. This market is predicted to grow at a lucrative CAGR due to the presence of a strong product pipeline.
Source Insights - Humanized mAbs to experience rapid adoption in cancer treatment
Humanized mAbs accounted for the largest revenue share in 2015 owing to its wide adoption in the treatment of various diseases including cancer, inflammatory, and autoimmune diseases. In addition, advanced genetic engineering technology employed in its production is a potential growth driver for this segment.
The human antibodies segment is rapidly growing since 2015 due to the incorporation of advanced technology, such as phage or yeast display and transgenic mice, for their generation. Adalimumab was the first human antibody to be approved by the U.S. FDA in 2003 and is predicted to continue to significantly contribute to this segment over the forecast period.
Production Type Insights
mAbs can be produced in vivo or in vitro. Both techniques are widely accepted and commercially used. In vivo technology is cost-effective as compared to in vitro production techniques and is preferred for the high concentration of mAbs obtained through this method.
However, the availability of several in vitro methods is expected to hamper the adoption of in vivo production techniques in the coming years. The associated benefits of employing in vitro methods for antibody generation, including time efficiency, economic viability, and large-scale production, are anticipated to fuel the segment growth over the forecast period.
Indication Insights
Therapeutic mAbs find wide applications in cancer treatment. Moreover, the surging incidence of cancer is the key contributing factor for the growth of the mAbs vertical. These have proven to be the best treatment alternative for cancer as compared to drugs and chemotherapy due to the minimum adverse effects associated with their use.
At present, mAbs are used in the treatment of various cancer types including non-small cell lung, brain tumor, breast, ovarian, colorectal, gastric, melanoma, Hodgkin's lymphoma, and others. Moreover, several mAbs awaiting treatment approval are undergoing clinical trials and thus the growing drug pipeline is anticipated to provide future growth opportunities to this vertical.
End-use Insights
Increasing adoption of mAbs as a preferred line of treatment especially in the case of cancer contributed toward the largest share of over 35.0% of the hospital end-use segment in 2015.
Monoclonal Antibodies End-Use Market, 2016 & 2024 (USD Billion)

Increasing incidence of chronic conditions fueling treatment rate, rising healthcare expenditure level, and awareness level amongst the patient population regarding treatment alternatives are factors expected to result in the dominance of hospitals in the end-use segment during the forecast period.
Regional Insights
North America held the maximum share in 2015 due to the presence of a well-established healthcare infrastructure. Moreover, increasing government funding for cancer research and technology development is anticipated to boost the development of therapeutic proteins over the forecast period. Government support in infection control & management, rising incidence of lifestyle-associated diseases, and the escalating population number are other important factors aiding the growth of this sector.
U.S. monoclonal antibodies market share, by indication, 2016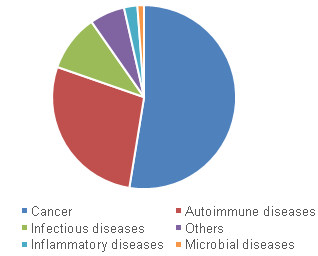 Asia Pacific region is expected to exhibit considerable growth owing to rising disposable income, presence of huge untapped potential, increased expenditure in research & development, and growing patient awareness pertaining to the therapeutic use of mAbs.
Monoclonal Antibodies Market Share
Some of the key players that contribute to the global mAbs industry are Novartis AG, Pfizer, Inc, GlaxoSmithKline plc, Amgen, Inc., Merck & Co., Inc, Daiichi Sankyo Company, Ltd., Abbott, AstraZeneca, Eli Lilly, Johnson & Johnson Services, Inc., Bayer AG, Bristol Myers Squibb Co., Mylan N.V., Biogen Inc., Thermo Fisher Scientific, Inc., Novo Nordisk A/S, Sanofi Genzyme, and F. Hoffmann-La Roche Ltd.
The companies are adopting competitive strategies such as the development of new products, mergers& acquisitions, and research collaborations to gain a competitive advantage. For instance, in October 2013, AstraZeneca acquired Amplimmune, the U.S.-based biologics company, to develop novel therapeutics in cancer immunology.
Monoclonal Antibodies Report Scope
| | | | |
| --- | --- | --- | --- |
| Attribute | Details | Customization Offer (15% free)* | Additional Cost |
| Base year | 2015 | NA | NA |
| Historic | 2013 - 2015 | Extended historic data (2012 to 2015) | Free |
| Forecast | 2016 - 2024 | Extended Forecast data (2024 - 2027) | Free |
| Report details | Market size, company market share, competitive landscape, growth factors, trends | Contact us for specific market information not available in this report | Quotation to be shared post feasibility |
| Market representation | USD Billion | NA | NA |
| Geographic coverage | Global & Regional (by country) | Information on up to three additional countries | Free |
| Company profiles | All major market players | Profiles of 10 additional companies | Free |
* 15% free customization - The 15% report customization is equivalent to work done by one research analyst for 5 working days.
Market Segments Covered in the Report
This report forecasts revenue growth and provides an analysis of the market trends in each of the sub-markets from 2013 to 2024. For the purpose of this study, Grand View Research has segmented the monoclonal antibodies market on the basis of type, source, production type, indication, end-use, and region:
Source Type Outlook (Revenue, USD Billion, 2013 - 2024)

Murine
Chimeric
Humanized
Human

Production Type Outlook (Revenue, USD Billion, 2013 - 2024)
Indication Outlook (Revenue, USD Billion, 2013 - 2024)

Cancer
Autoimmune Diseases
Inflammatory Diseases
Infectious Diseases
Microbial Diseases
Others

End-use Outlook (Revenue, USD Billion, 2013 - 2024)

Hospitals
Research Institutes
Others

Regional Outlook (Revenue, USD Billion, 2013 - 2024)

North America
Europe
Asia Pacific
Latin America
MEA