Industry Insights
The global Needle Free drug delivery devices market was valued at USD 6,153.1 million in 2015. The increasing incidence of transmission of chronic diseases like AIDS, hepatitis viruses, dengue fever, and neurological diseases caused by the West Nile Virus is expected to drive the market growth.
Moreover, the WHO estimates exhibited that the diseases transmitted through the use of injections have increased by 20.0% globally, thus driving the clinical urgency to develop needle- free drug delivery devices. Additionally, the rising patient preference for pain-free drug delivery is one of the key growth drivers of the Needle Free drug delivery devices market.
Global needle free drug delivery devices market share, by region, 2014 - 2024 (USD Million)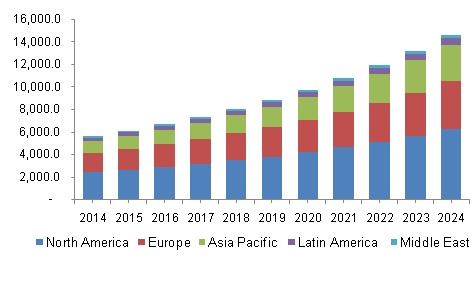 The rising demand for self-administration of insulin by diabetic patients is another key growth contributing driver for the Needle Free drug delivery devices market. Moreover, the increasing number of technological advancements is also a potential factor, which contributes to the development of these minimally invasive, drug delivery devices.
Consequentially, benefits of such advancements include the slow and controlled flow of drug into the body as per the patient's needs, increased portability, and minimal damage to the skin. These aforementioned factors are expected to provide a major boost to the overall Needle Free drug delivery devices industry.
Technology Insights
In 2015,jet injectors held the largest share of over 30.0%of the technology segment, owing to the rising penetration of technologically advanced products, such as a spray of powdered drug is administered through the surface of the skin with the help of a high-pressure jet, thus imparting benefits over conventional methods of drug delivery.
For instance, PharmaJet's product, PharmaJet Stratis delivers an influenza vaccine in 1/10th of a second. The major benefits associated with this technology include rapid administration, improved dosage accuracy, better diffusion into tissues and faster response rates, reduced pain, reduced sharps waste, and easy portability.
On the other hand, transdermal patches are expected to grow at a lucrative growth rate of over 10.0% owing to the associated benefits such as direct drug delivery, ease of usage, painless, and the rising adoption of transdermal patches amongst diabetic patients.
Application Insights
Needle Free drug delivery devices found its largest application in the insulin delivery segment and held a substantial share of over 33.0% in 2015. As per the report published in NCBI, the success rate of the first self-administration was 94% and of the second was 100% in diabetes without the requirement of assistance by patients. In addition, self-administration associated with the insulin delivery devices is a high impact rendering driver of this segment, thus, presenting the market with lucrative growth opportunities.
Furthermore, the rising number of product approvals is presumed to propel the growth further over the forecast period. In January 2016, Sanofi and Mankind entered into a joint venture to develop an inhalable insulin drug named Afreeza. This drug is estimated to be available after six months, which would enable companies to capture a larger share and contribute towards further growth of the market.
Regional Insights
North America held the largest revenue share of the Needle Free drug delivery devices market in 2015 at over 41.0%. This can be attributed to high awareness pertaining to novel drug delivery systems amongst the patient base and an increasing number of R&D investments by prominent industry players domiciled in this region.
The Asia Pacific region is expected to witness lucrative growth opportunities in the future, growing at a CAGR of over 12.0%during the forecast period. This is a consequence of the increasing geriatric population requiring home-based, Needle Free drug delivery devices for enhanced mobility and the rising healthcare expenditure in emerging economies such as China and India.
Competitive Market Share Insights
The major players in this particular industry include Antares Pharma, Inc., Injex Pharma AG, 3M, PharmaJet Inc., Zogenix, Inc., Bioject Medical Technologies, Inc., Glide Pharmaceutical Technologies Ltd., Penjet Corporation, Valeritas, D'Antonio Consultants International, Inc., and Akra Dermojet.
The industry is highly competitive in nature and the market players engage in sustainability strategies such as product launches, strategic collaborations, mergers& acquisitions, and technological innovations.
Moreover, the rising number of raw material suppliers & distribution agreements and contracts initiated by these industry players for geographical expansion facilitate the capture of a larger market share. For instance, in May 2016, Inovio Pharmaceuticals, Inc. acquired BioJect in an attempt to increase its R&D efforts in the novel vaccines and drug delivery devices area.