Increasing prevalence of neurodegenerative diseases such as Alzheimer's disease, Parkinson's disease, epilepsy, etc., is driving the demand for advanced diagnostics
Increasing prevalence of neurological disorders, such as stroke, Alzheimer's disease, Parkinson's disease, multiple sclerosis, and epilepsy across the globe is a primary factor driving the growth of specific and precise diagnostic procedures. Around 1 billion people suffer from neurological disorders across the globe. According to WHO, every year stroke and Parkinson's disease affect 15 billion and 10 billion people, respectively.
Neuroimaging techniques will lead the market in terms of revenue share during the forecast period
Neuroimaging techniques facilitate understanding of the human brain to study neural disorders. Recent technological advancements offer noninvasive and effective imaging outputs to provide a complete view of brain structure and function in various regions of the brain. Every imaging technique is targeted at a specific area of the body.
Global Neurodiagnostics Market Revenue, 2024 (USD Billion)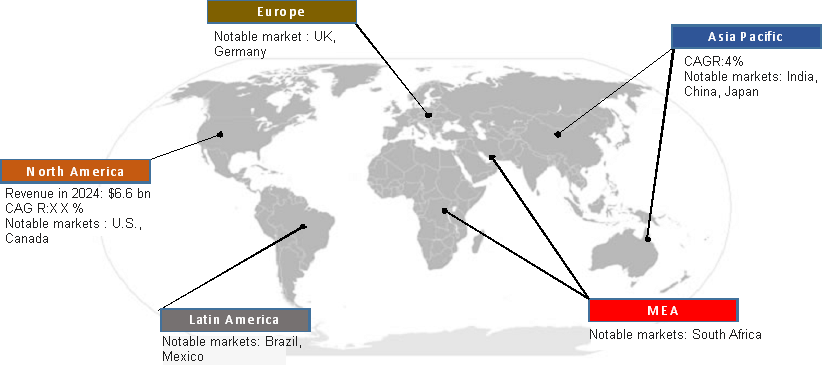 For instance, CT and MRI are used to identify developmental malformations in the brain area at the early stages. In addition, MRI plays an important role in identifying genetic metabolic disorders in infants and children. Brain scanning is also useful in the diagnosis and further studies of mental disorders, such as autism, anxiety, depression, bipolar disorder, etc.
CT holds the largest share in the imaging segment followed by MRI
CT accounted for around 24% share of the global neuroimaging market in the year 2015 and will retain its top position over the forecast period. CT is a noninvasive scanning technology that provides two-dimensional cross-sectional images of internal body organs, bones, and tissues. The process can detect brain tumors & cysts, vascular irregularities that may lead to stroke, epilepsy, spinal stenosis, and brain damage from a head injury. MRI produces detailed images of body structures with the help of powerful magnetic fields coupled with radio waves generated by computers. MRI does not use ionizing radiations to produce images like CT scanning techniques.
Nuclear medicine imaging techniques such as Positron Emission Tomography (PET) and single, Photon Emission Computed Tomography (SPECT) involve the use of radiopharmaceuticals that are to be taken internally. The radiations emitted by radiopharmaceuticals are then captured by external detectors to form the image. EEG and MEG record electrical and magnetic activity of the brain, respectively. MEG segment will exhibit the highest CAGR during the forecast period owing to its advantages over other imaging techniques. MEG provides accurate spatial information about neural activities with timing precision.
Neurological biomarkers are extensively used for diagnosing neurological disorders in research settings
Biomarkers provide a dynamic view to understand various nervous system disorders and their epidemiology in randomized clinical trials. Neurodegenerative and neurovascular disorders are rapidly growing worldwide with increasing life expectancy, causing a burden on society and government. The development of biomarkers is targeted at early diagnosis and identification of the diseases. The primary focus of biomarkers is on diseases that are expected to increase due to demographic changes, including Alzheimer's and Parkinson's disease.
Various studies are being undertaken for the development of biomarkers. Some of the market players have developed protein assays and ELISA kits that can be used in the diagnosis of Alzheimer's disease. For instance, Thermo Fischer Scientific has developed a Tau protein ELISA kit. Although these biomarker kits are not available for commercial use, they are extensively used in the clinical research studies for the diagnostics.
Neuroinformatics is an emerging data integration field
Neuroinformatics is an interdisciplinary field that combines neuroscience with information technology. Neuroinformatics aims at achieving advanced integration of all data required to understand the neurological disorders by storing the information in the form of databases. It mainly operates on molecular data, cellular data, cognitive data, brain-computer interface data, etc. Although the neuroinformatics market is at a niche stage currently, it is expected to grow at a CAGR of 3.5% during the forecast period. Neuroinformatics mainly helps in the integration of the neuroscience data at all levels and scales.
North America was the largest regional neurodiagnostics market in the year 2015 followed by Europe
North American region will experience increased adoption of neurodiagnostics technology during the forecast period. North America held around 36% share of the total market in the year 2015. The rising prevalence of neurological disorders, such as stroke, ischemic stroke, epilepsy, migraine, Parkinson's disease across the US and Canada is expected to drive the growth of this market along with technological advancements.