Industry Insights
The global neurology devices market size was valued at USD 6.2 billion in 2014. Growing advancement in the field of imaging technologies and the consequent development of neurosurgical endoscopy devices are likely to drive growth over the forecast period.
North America neurology devices market, by application, 2012 to 2022 (USD Million)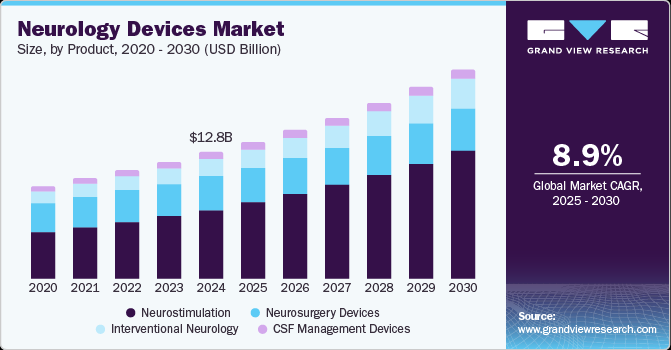 Further increase in the number of neuroinformatics related projects for the provision of efficient algorithms are also attributive factors expected to boost demand over the forecast period.
Product Insights
Product segments in the market include neurostimulation, interventional neurology, CSF management, and neurosurgery devices. Further classification of neurostimulation devices includes spinal cord stimulation, nerve stimulation, and gastric stimulation.
Neurostimulation devices account for the largest share of the revenue for 2014, as the segment is vital for treatment of loco motor and nervous disorders. Growing incidence of chronic nervous disorders is also attributive towards a large market share of this segment in 2014.
Neurosurgery devices are likely to register lucrative growth over the forecast period owing to an increase in their usage by neurosurgeons. Provision of the "Patient Protection and Affordable Care Act" is also anticipated to encourage the utilization of high value medical devices by the surgeons in order to avoid occurrence of hospital acquired infections thus boosting growth of this segment.
Neuroendoscopes are expected to grow at a CAGR of over 8%. Factors that are expected to attribute for the lucrative growth of neuroendoscopy devices include advancements pertaining to the removal of intra-cranial tumors coupled with safety and efficacy associated with their usage.
Interventional neurology devices hold a considerably large share following neurostimulation devices and is anticipated to register significant growth following the neurosurgery devices in the coming years.
Presence of minimally invasive procedures for the treatment of complex and severe vascular disorders of brain, neck, and spine by application of fluorescence and other image-guided techniques is attributive towards the second largest share of this segment in 2014.
Additionally, rapid advances in this segment such as intra arterial delivery of stem cells that are derived from the bone marrow using autologous stem cell delivery for repairing the damages of brain is anticipated to fuel the segment growth through to 2022.
Cerebral balloon angioplasty, which falls under classification of interventional neurology devices,is expected to register lucrative growth over the forecast period owing to higher incidence rate of diseases such as cerebral stroke.
Moreover, high preference for combination of angioplasty with cerebral stents in order to prevent re-accumulation of carotid plaque in the affected vessels is also expected to fuel growth of this sub-segment in the coming years.
Regional Insights
North America dominated the market in 2014, with revenue estimated at USD 2,400 million. Presence of positive government initiatives and refined healthcare infrastructure, pertaining to pharmaceutical R&D, brain tumor research, neurological R&D investment, and the presence of high CNS research are some drivers anticipated to fuel demand in the region.
Asia Pacific is likely to witness a high growth rate of over 7% from 2015 to 2022 due to the presence of high-unmet medical needs coupled with rapidly rising healthcare R&D investment and growing medical expenditures in emerging economies such as India and China.
Competitive Insights
Key participants of the market include Covidien PLC, B. BraunMelsungen AG, Integra LifeSciences Holdings Corp., Medtronic Inc., Johnson & Johnson, Magstim Co Ltd., W.L. Gore & Associates Inc., Stryker Corp., St. Jude Medical Inc.
Due to advanced developments in neurostimulation and neuromodulation techniques, the companies are also involved in the introduction and improvement of magnetic stimulation technology. Development of algorithms for faster and efficient solutions for disease diagnosis and treatment are expected to boost sector growth throughout the forecast period.
Market players are involved in mergers with the smaller entities and research institutes in order to enhance their presence and aid in development of advanced as well as safe & reliable procedures.