"Introduction of technologically advanced products and the growing demand for minimally invasive medical procedures will propel the market growth"
The neurostimulation devices market was estimated at USD 3.6 billion in 2015. Neuromodulation is the process of using an implantable medical device to modulate and alter neural activities for therapeutic purposes. The implantable devices used for neuromodulation are referred to as neurostimulation devices or neurostimulators. These devices function either by stimulating nerve impulses or by inhibiting pain signals at target sites, such as the central nervous system, autonomic nervous system, peripheral nervous system, and the deep nuclei of the brain.
The future of the market will be fueled by the presence of abundant untapped growth opportunities in rapidly growing Asian and Latin American economies and by the growing medical devices outsourcing market. Manufacturing neurostimulators entails expensive manufacturing and marketing processes. Therefore, the manufacturers are now adhering to outsourcing in an attempt to curb costs or to maximize profit margins.
Global neurostimulation devices market in U.S., by product, 2013 - 2024 (USD Million)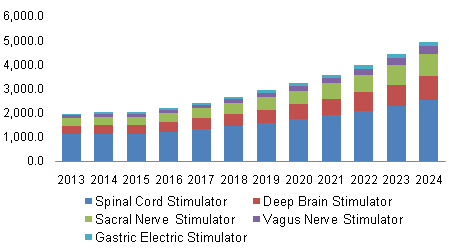 "Pain management segment is expected to lead the market"
Pain management is identified as the largest application segment of the neurostimulation devices market. The devices used for pain management are expected to grow at the fastest CAGR during the forecast period. High global prevalence of chronic pain and the increasing adoption rates of neurostimulation devices for pain management owing to their high therapeutic value are some drivers of this market. Some of the conditions encompassed under this segment include those associated with chronic pain, disk surgery pain, and leg pain.
"Sacral nerve stimulators segment is expected to witness the highest growth"
Sacral nerve stimulators segment is expected to be the fastest growing segment with a CAGR of over 13.0% during the forecast period. Growing number of patients with urinary and fecal incontinence is responsible for the growth. The global prevalence of number of people suffering from urinary incontinence was calculated to be around 200 million in 2008 (Source: National Association for Continence). The growing awareness levels of consumers along with the abovementioned factors are expected to increase demand for sacral nerve stimulators during the forecast period. Medtronic's InterStim Therapy holds majority of the market share in this segment.
"In the product segment, spinal cord stimulators are expected to have the highest share"
Spinal cord stimulators are neurostimulation devices dealing with nonmalignant chronic neuropathic pain management. The market is expected to have highest share during forecast period because of profound market penetration of commercialized products, such as Precision Plus and Restore. According to a study, spinal cord stimulators are expected to have highest number of units sold in 2016. However, in 2024 it is estimated that sacral nerve stimulator will gain highest market share. Moreover, technological advancements in this segment are expected to fuel future growth of this segment. Some of the recent advanced products introduced in the market are:
MRI safety-enabled products
Tripolar leads that enhance the effectiveness of the device while treating failed back surgery syndrome and chronic back pain
"Asia Pacific is the fastest regional neurostimulation devices market"
North America is estimated to dominate this market. As of 2015, the U.S. represented the largest share, followed by Germany. The presence of high patient awareness levels along with sophisticated healthcare infrastructure and high prevalence rate of target diseases, such as epilepsy, migraine, Parkinson's disease, and incontinence, are expected to propel growth in North America.
Asia Pacific is expected to be the fastest growing region during the forecast period, which can be attributed to high-population countries, including India and China. Rising healthcare expenditures, presence of unmet medical needs, increasing road traffic accidents, change in lifestyle, and untapped market coupled with increasing disposable income and growing incidence of migraine in these regions are further estimated to accelerate the growth in the near future.
"Product innovation is the key strategy adopted by major companies"
Some key players leading the sector are Medtronic, St. Jude Medical; Boston Scientific Corporation; Cyberonics, Inc.; and Nevro Corporation. The manufacturers of neurostimulation devices are investing a lot of money and efforts in R&D to develop new products empowered by advance technology, for example, introduction of minimally invasive transdermal neuromodulation technology and MRI safety incorporated devices, which is expected to drive the growth. This aids companies in strengthening their product portfolio for long-term growth, for instance, in 2016. St. Jude Medical launched the St. Jude Medical Infinity (TM) Deep Brain Stimulation System (DBS) along with the directional DBS lead in Europe. It aims at treating patients suffering from tremor, Parkinson's disease, and dystonia. This will assist physicians who need stimulation targeting combined with device durability and patient ease of use.