Increasing prevalence of neurological disorders is leading to escalated motor disability among patients, majorly including geriatric population
The global neurorehabilitation devices market accounted for USD 915.1 million in 2015 and is expected to grow at a CAGR of over 15.1% during the forecast period. The rising prevalence of neurological disorders such as stroke, multiple sclerosis, cerebral palsy, brain injuries, etc. has led to an increasing number of patients suffering from movement disabilities. This treatment option is a progressive process which renders functional restoration in the patients suffering from movement disabilities. The primary aim of these services is to provide patients with optimum environment to perform their daily activities at ease.
North America neurorehabilitation devices market revenue, 2024 (USD Million)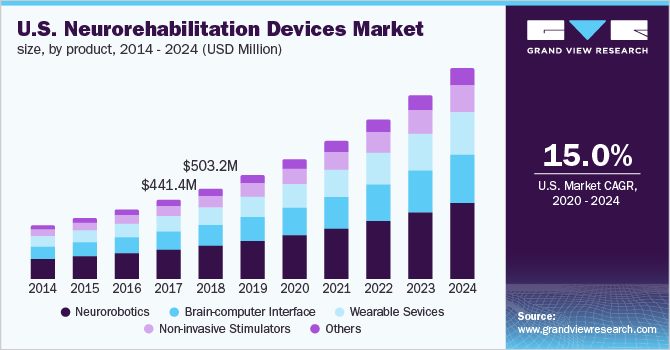 The major factors contributing towards growth of this industry are increasing incidences of neurological disorders, increasing awareness among the care providers and patients, and an upsurge in the target patient population (majorly elderly people) across the world. The growth in geriatric population worldwide has resulted in increased prevalence of age related neurological disorders, thereby resulting in an increasing prevalence of movement disabilities. This in turn would lead to increased demand for the appropriate and efficient neuro-rehab devices and services.
Some of the neurological conditions do not possess treatments till date or they cannot be cured completely. In such cases, neurorehabilitation comes to the complete rescue of the patients thereby facilitating them to carry daily chores. These services have undergone tremendous changes in recent years due to the incorporation of several technological sophistication thereby rendering enhanced performance and efficiency with the help of computer and electronic robotic devices.
Neurorobotics is the largest segment of neurorehabilitation devices
Neurorobotics combines robotics, neurosciences and machine learning to form a connecting link between robotic devices and realistic biologic simulations of the brain. Neurorobotics systems work on the principles of central nervous system. The recent development in this field in the form of exoskeletons and prosthetics is acting as a major driver for neurorobotics. The exoskeletons provide body support to the physically disabled and traumatized patients. Bioness, Inc. Saebo, Inc. and Hocoma AG are some of the key manufacturers of exoskeletons and prosthetics. These systems are expected to generate large revenues owing to high availability coupled with increasing investments by the manufacturers to develop novel systems and platforms.
Stroke causes the majority of physical disability among patients
Stroke causes death of brain cells by interrupting the blood and nutrient supply. Stroke can result into different consequences including motion impairment, sensory impairment, cognitive impairment, and visual impairment. Among these, the most common deficit associated with stroke is motion impairment. In most of the cases, one side of the patient's body is affected leading to physical disability. Stroke was the second global cause of death in 2013 across the world and the leading cause of disability. The people suffering from lifestyle diseases and ageing population are more prone to this condition. Owing to the high incidence and prevalence in conjunction with the leading cause of movement disabilities render largest market.
North America was the largest regional market
North America is the largest regional segment for neurorehabilitation devices. The North America market will reach 1.3 billion in 2024. The drivers for the growth of this market are increasing incidence rate of neurological diseases, increasing geriatric population and sophisticated and equipped healthcare infrastructure in comparison with the other regions. The US and Canada are the major contributors in North America neurorehab devices market. More than 130,000 people die each year in the US due to stroke and it is the leading cause of disability. Also, more than 400,000 Canadians are suffering from long term stroke disability.
Majority of the key players such as Bioness, Inc., Ekso Bionics Holdings, Inc., and Medtronic PLC (US), Bionik Laboratories, Kinova Robotics and NINET (Canada) are established in North America. The adoption rate for these treatments is expected to witness growth in North America, as the treatments are covered under medical insurance plan as well as the average out of pocket expenses are high in this region.
Asia Pacific neurorehabilitation devices market will grow at a highest CAGR over forecast period
Asia Pacific market is likely to witness more growth opportunities. This market is estimated to grow at highest CAGR of around 16% during the forecast period. Although there are no monopolized key players at present, however, increasing patient base with neurological disorders and improving healthcare infrastructure will create a wide scope for the companies to enter this lucrative market. Furthermore, one of the major growth factor for Asian market is the rising awareness coupled with constantly improving healthcare infrastructure. Owing to the promising market potential, companies are taking up strategic initiatives to expand their operations in this region. For instance, Switzerland based Hocoma AG has entered Indian market by associating with Apollo Hospitals to provide neurorehabilitation services to the patient base in India.