Industry Insights
Increasing high-quality plasticizers demand owing to additional mechanical properties is expected to be the key driver for global nitrile butadiene rubber (NBR) powder market. Increasing modified plastics demand in high-end applications such as mechanical parts of automotive and consumer goods further compliment market growth.
Global NBR market revenue, by application, 2012 - 2020 (Kilo Tons)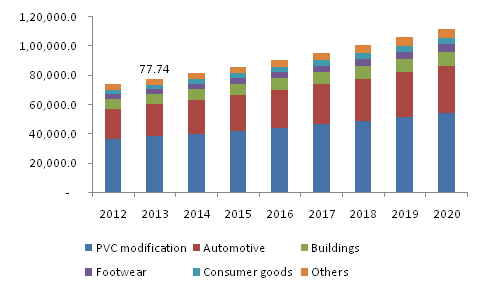 Automobile and construction market growth is anticipated to have a positive impact on the NBR powder market over the next few years. NBR powder is used as an alternative to NBR bales owing to improved mechanical wear and impact resistance. It is also replacing conventional plasticizers due to low volatility & high durability properties. This shift from conventional materials is estimated to fuel market growth over the next six years.
Thermoplastic Polyolefins (TPO) & Thermoplastic Polyester Elastomers (TPE) have been replacing NBR powder as PVC modifiers primarily due to increased concerns regarding phthalates and is expected to restrict market growth. The market is witnessing an increase in R&D spending and product development. Increasing NBR powder applications in automotive and footwear, especially in emerging economies of Asia Pacific and Latin America is anticipated to provide future opportunities to market participants over the next few years.
Application Insights
PVC modification is anticipated to be the largest application segment of NBR powder market. Increasing anti-static rubber products demand as plastic modifiers coupled with increasing PVC application in flame retardant consumer products has been the major factor responsible for the hike in market demand. However, substitution of NBR by TPO and TPE in PVC modification is anticipated to have a negative impact on the market growth over the next few years. The automotive application is anticipated to project the highest growth rates over the forecast period. Increasing NBR powder use for friction lining in bearings and brakes owing to superior mechanical and thermal properties is expected to drive market demand. The market is also expected to have significant demand from construction and footwear applications. The growth of major end-use industries especially in emerging economies such as China, India, Brazil, and Russia is expected to have prospects for market growth.
Product Insights
On the basis of product structure, the NBR powder market may be segmented as linear and cross-linked. Linear NBR powder possesses low-to-medium volatility and high conductivity properties making it suitable for use in PVC modification for underground electric wires and pipes. Increasing demand for high durability products with excellent mechanical strength and thermal properties are expected to drive cross-linked NBR powder demand over the forecast period.
Regional Insights
Asia Pacific dominated the global market, and the trend is expected to continue over next few years owing to automotive industry growth coupled with increased infrastructure spending. The presence of many raw material suppliers and the favorable regulatory scenario is a key factor responsible for strengthening the supply side in this region. North America and Europe are relatively mature markets and are expected to have stagnant demand over the forecast period. Improving infrastructure and increasing high-tech constructions in emerging economies such as Brazil, South Africa, India, and China are expected to fuel the market growth over the next years.
Competitive Insights
Global NBR powder market is oligopolistic in nature, characterized by high industry rivalry with few market participants controlling a major chunk of the market share. Key market participants including Nitriflex, Lanxess AG, LG Chem, Zeon Chemicals and OMNOVA Solutions are continuously engaged in product and application development.