Industry Insights
North America Phenolic Resin Market size was USD 2.65 billion in 2015. An upsurge in automobile filter sales on account of a revitalized automotive industry in the U.S. is a major driving factor for impregnation applications of phenolic resins.
Impregnated laminates, automotive filters, and coatings are increasingly gaining popularity on account of their excellent ablative properties, heat, moisture & chemical resistance, and superior mechanical strength among other advantages.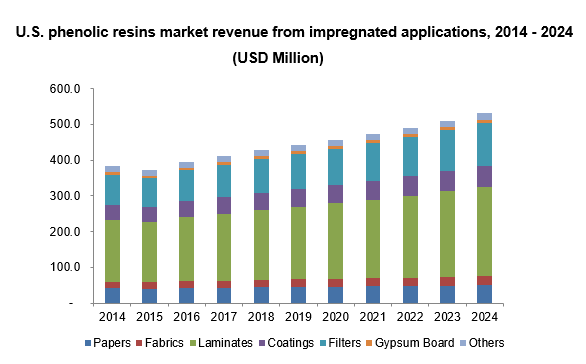 Technological advancements have introduced new growth avenues for these resins, especially in impregnation applications. Growing substitution of raw material phenol with bio based alternatives such as lignin is a major factor favoring industry growth as well.
Domestic manufacturing of engineered wood products and construction related materials on account of economic recovery in the U.S. & Canada is also expected to boost resin demand in building & furniture applications.
Growing consumer awareness regarding sustainability and energy efficiency of phenolic impregnated laminates & materials is likely to foster their consumption in 'green buildings' and similar applications.
The U.S. government has promulgated regulations regarding emission levels & hazardous pollutants under the National Emission Standards for Hazardous Air Pollutants (NESHAP) to reduce the detrimental impact of phenols, formaldehyde & their derivatives on the environment & human health. Other factors such as significant funding requirements are also expected to hamper market growth over the forecast period.
However, growing adoption of nanotechnology to impart desirable functional & performance characteristics in these resins is anticipated to present lucrative opportunities to new market entrants.
Other general applications such as wood adhesives, molding compounds, and insulation are expected to generate high demand for these resins on account of the rapid rate of urbanization, population expansion in Mexico and expanding end-use industries.
Product Insights
Phenolic resins are categorized into results & novolacs along with other products such as albertol acids, which are condensation products created from phenol & rosin. The processing technologies & methods utilized to manufacture resols & novolacs vary vastly, which lends diverse characteristics to each product. Resol emerged as the dominant product accounting for nearly 50% of the overall volume in 2015. Growth in this segment is mainly attributed to its extensive use in cooling & bonding building materials.
Novolacs are also gaining popularity in several industrial applications since they are utilized to formulate high-performance varnishes & oil-based vehicles for air drying paints. The product is projected to grow at over 3.5% from 2016 to 2024.
Resol resins demand is expected to reach 803.3 kilo tons by 2024, growing at an estimated CAGR of 3.1% over the forecast period. Water soluble resols, that is, condensation products of phenol and formaldehyde are primarily used as adhesives for wood or wood chips, as binders for organic & inorganic fibers and for granular materials such as sand. The dominant application of aqueous resol solutions is in production of chipboard. Chipboard bound by these resins exhibits moisture resistant property in contrast to that of urea resins thereby making it desirable for production of exterior walls in buildings and other related applications.
Application Insights
The market has been categorized into two major segments, namely impregnation and other general industrial applications. Phenolic resins are most commonly impregnated on various substrates that include papers, cotton & technical fabrics, glass & carbon base laminates, coatings, automotive filters, gypsum board and others such as adhesives, prepregs & ablators.
Impregnated laminates dominated this application segment owing to increasing consumer demand for decorative laminates and an unusual combination of properties such as lightweight, high dielectric strength, and moisture-resistance. However, automotive filters, which occupied about 21% of revenue share in 2015.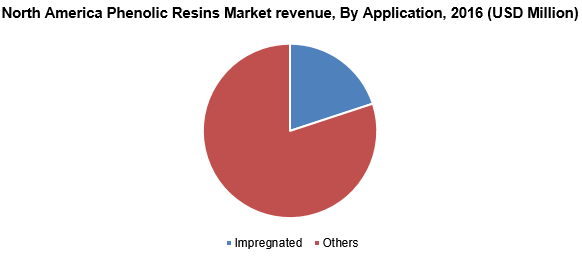 Wood adhesives dominated the other general applications of phenolic resins with a volume share of over 34% in 2015. Wooden chipboards bound by phenolic resins are more moisture-resistant than other boards bound by urea resins or similar materials. High demand for such chipboards in exterior wall applications owing to expanding construction industry in Mexico is likely to boost segment growth over the forecast period.
Regional Insights
Regional markets analyzed in the report include the U.S., Canada, and Mexico. The U.S. phenolic resins led the regional industry and consumed over 70% of the regional volume in 2015. The U.S., although large, is relatively mature and presents little opportunities for new entrants on account of end-use industry saturation and high competition among domestic manufacturers.
However, rapid urbanization, growing consumer disposable income, expanding end-use industries, and the increasing rate of digitalization is likely to make Mexico a lucrative market for phenolic resin manufacturers & suppliers over the forecast period.
North America Phenolic Resins Market Share Insights
North America Phenolic Resin Market is characterized by increasing strategic alliances, R&D initiatives, and product launches to utilize hitherto untapped niche applications by several players. Major phenol suppliers in the North American market include INEOS, Kessler Chemicals, KPL International Ltd. and PTTGC America LLC.
Phenolic resin manufacturers in North America include DIC Corporation, Hexcel Corporation, Arizona Chemical, Kolon Industries, Georgia-Pacific Chemicals, 3M Company, Owens Corning, Arclin Inc., Olympic Panel Products LLC., Hardwoods Inc., American Micro Industries Inc. and Ashland among other regional players.
Frequently Asked Questions About This Report