Industry Insights
Global offshore lubricants market size was 98.81 kilo tons in 2014. Lubricants are used for various offshore applications such as turbines, vessel engines, hydraulic equipment, gearboxes and offshore machinery. They minimize wear & tear of machinery and improve overall operational efficiency.
Growing offshore oil & gas exploration and production activities particularly in the Gulf of Mexico, Caspian, Arabian Sea and the Red Sea is expected to drive the global industry over the forecast period. Regulatory policies play a vital role in shaping the industry development. Regulatory agencies such as the U.S. EPA, REACH, and ECHA constantly evolve, formulate and establish environmental policies associated with their usage.
Other bodies such as BEACH (Beaches Environmental Assessment and Coastal Health) amended acts such as the Clean Water Act to regulate and control petrochemicals pollution in water bodies such as oceans & seas.
The U.S. EPA has formulated vessel general permit (VGP) guidelines for vessels operating in waters of the U.S. These VGP requirements are a set of guidelines established reduce aquatic environment impact by prescribing a set list of environmentally acceptable lubricants (EAL).
The global market is characterized by volatile raw material prices coupled with stringent environmental regulations for manufacturing conventional lubricants. To overcome these challenges, manufacturers have been collaborating with biotechnology companies to develop bio-based alternatives. This is further supported by governmental favors and tax incentives for employing clean technologies.
North America offshore lubricants market revenue by application, 2012 - 2022 (USD Million)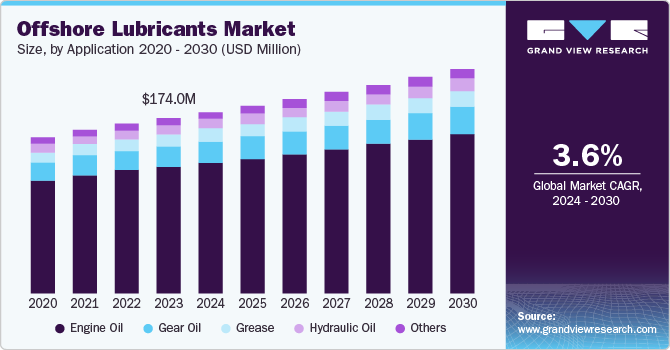 Bio-based lubricants have been gaining importance owing to their environmental friendly properties. Growing emphasis on aquatic pollution through the unregulated disposal of conventional lubricants has also been a major factor for the development of bio-based alternatives.
Application Insights
On the basis of application, the global industry has been segmented into engine oil, hydraulic oil, gear oil and grease along with other applications such as cylinder oil, turbine oil, and compressor oil. Engine oil was the leading application segment and accounted for over 74% of the overall market volume in 2014.
Engine oils are largely used in vessel engines, boat engines, and container engines. Engine oil plays a crucial role in assisting engines to optimum efficiency in their output. These oils are formulated specifically for speed and stroke of engines. They prevent engines from rusting, wear & tear. Growing maritime traffic is expected to drive engine oils demand over the forecast period.
Grease is expected to register highest volume growth over the forecast period owing to its increasing consumption in offshore machinery, vessels, and other oil & gas equipment. Manufacturers prefer maintaining the efficiency of their equipment in order to reduce their overall downtime and thereby reduce operational costs. This factor is expected to influence high demand over the forecast period.
End-Use Insights
On the basis of end-use, global offshore lubricants industry has been segmented into offshore rigs, FPSOs (floating, production, storage and offloading vessels) and OSVs (offshore support vessels).
OSVs were the leading end-use market and accounted for 57.0% of the global offshore lubricants market volume in 2014. OSVs are largely used as support systems for offshore drilling and production sectors. Major offshore supply vessels include AHTS (Anchor Handling Tug Supply Vessel) and PSV (Platform Supply Vessel). AHTS provides an anchor for semi-submersible rigs and accommodation barges.
Increasing OSVs utilization due to rising deepwater reserves exploration and production will give rise to greater maintenance resulting in higher demand for lubricants such as engine oils, gear oils, compressor oils, hydraulic fluids and transmission fluids.
Regional Insights
Regional markets analyzed in the report include North America, Europe, Asia Pacific, and the Middle East. Asia Pacific was the largest consumer and accounted for over 27% of the overall market volume in 2014. Increasing offshore projects in India, Indonesia, Malaysia and China is expected to drive the region's growth over the forecast period.
On the other hand, economic growth has facilitated for greater maritime trade in the region. Due to this, sea traffic has considerably increased in the recent pasts. This factor is expected to strengthen offshore lubricants demand in Asia Pacific.
Competitive Insights
The global offshore lubricants market share was dominated by top four companies, Royal Dutch Shell, Chevron, ExxonMobil, and Castrol, collectively accounting for 46%. The market has the presence of numerous independent producers who command 1/3rd of the overall market share. Other key players with a global presence include Total S.A., British Petroleum, Sinopec, Idemitsu Kosan, JX Nippon Oil & Energy Corp. and Lukoil.
Technology innovation, product development, and production optimization are crucial for industry participants to maintain a competitive edge. There is also a considerable presence of integrated players who are involved in raw material and base oil manufacturing along with lubricants.