Industry Insights
Global paper packaging materials market demand was 195.72 million tons in 2014. This market is expected to witness brisk growth on account of increasing demand for flexible paper-based packaging. Emerging regions such as Asia Pacific, Central & South America, and the Middle East are expected to play a vital role in shaping the global industry.
Economies such as China, India and Brazil are characterized by rapidly growing GDP, increasing population, rising standards of living and urbanization. These factors have resulted in brisk demand growth for the packaging application across various industries.
North America paper packaging materials market revenue by product, 2012 - 2022 (USD Billion)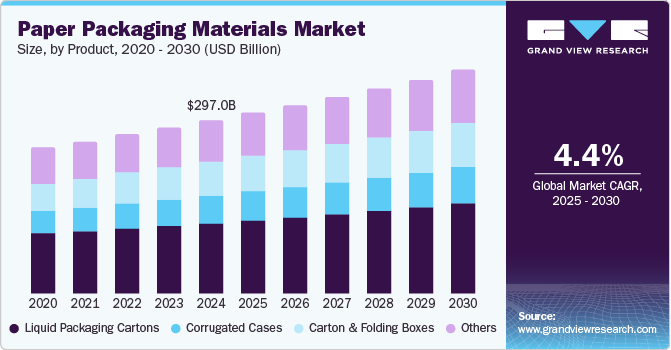 Growing environmental concerns regarding plastic usage in packaging applications have resulted in a shift in consumer preference towards paper-based options. Stringent regulations and standards set by governments and agencies to safeguard the environment and promote recyclable paper-based options are expected to play a critical role in shaping the market.
Paper, packaging materials market, is exposed to several regulations regarding deforestation. Such an unfavorable regulatory environment is projected to hinder growth and development. Paper recycling technologies and R&D initiatives to develop superior products are expected to offer ample opportunities for industry participants over the forecast period.
Product Insights
Liquid packaging cartons, folding & carton boxes, corrugated cases and other products such as sacks and bags are the major product segments. Liquid packaging cartons dominated the global industry in the recent past and are expected to continue this trend over the forecast period.
Retail packaging developments such as innovative designs are expected to aid the corrugated cases product segment. Cartons & folding boxes, as well as corrugated products, are expected to witness a growth in market share over the forecast period at the expense of other product categories.
Different products are characterized by different applications. Liquid cartons are used for applications such as beverages. Corrugated cases are used during transportation of goods. Cartons & folding boxes are used for smaller items such as electronics, consumer goods, and cosmetics.
Application Insights
Key applications include beverages, fast foods, frozen foods, fresh foods and dairy & bakery. Beverage applications accounted for over one-third of the global market in 2014 and are projected to continue this dominance over the forecast period.
Frozen foods application is projected to witness the highest CAGR of 4.9% from 2015 to 2022, followed by fast foods application. Strong demand for convenience foods such as frozen foods and fast foods, particularly in the emerging regions such as Asia Pacific is presumed to assist the regional industry over the next seven years. Such brisk demand growth can be attributed to increasing disposable income, rising standards of living and growing population.
Regional Insights
Asia Pacific paper packaging materials market led the global industry with a demand share of over one-third in 2014. Developed regions such as North America and Europe are anticipated to witness a slightly moderate growth rate over the next seven years due to end-use industry saturation. However, economic revival in the recent past is expected to aid these regions over the next seven years.
Other emerging regions comprising of Central & South America and the Middle East & Africa are projected to witness strong demand growth over the next seven years owing to factors such as growing packaging industry and increasing per capita income. Emerging economies such as China, India and Brazil are presumed to witness rapid demand growth over the forecast period and thus lead their respective regions.
Competitive Insights
The industry is highly fragmented in nature and is dominated by regional players. Major industry participants occupy only a fraction of the market share. Prominent industry participants include International Paper Company, Smurfit Kappa Group Plc., OJI Holding Corporation, Stora Enso Oyj, Hood Packaging Corporation, Georgia Pacific Corporation, MeadWestvaco and DS Smith Plc.