Industry Insights
Global patient portal market size was valued to be over USD 1.1billion in 2015 and is expected to grow at a CAGR of around 17.94 % over the next 8 years. The factors that contribute to this growth are increasing number of these portals being adopted by healthcare facilities, growing demand for Electronic Health Record (EHR), and federal mandatory norms and technological advancements in the U.S. and other developed economies.
In July 2014, Habersham Medical Center headquartered in the U.S. announced the launch of a patient portal. This launch envisioned providing patients their medical records at any place, irrespective of the time; therefore, making access to the data more convenient for them as well as the providers. The companies also assured the patients of the information being safe, secure, and personalized.
U.S. patient portal market, by type, 2013 –2024 (USD Million)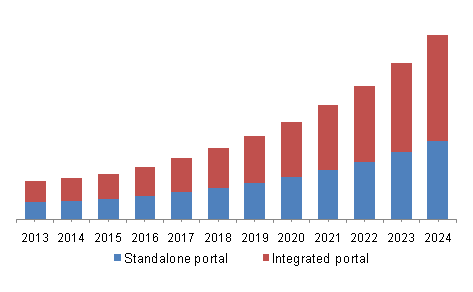 The Clinical Journal of the American Society of Nephrology published a study referred to as Disparities in Electronic Health Record Patient Portal Use in Nephrology Clinics. The study tracked patients from January 2010 to December 2012 at four nephrology offices affiliated to the University of Pittsburgh. These offices activated a patient portal in the existing ambulatory EHR and invited patients to sign up, which simplified the check-in process.
Type Insights
Preintegrated patient portals with EHRs are preferred over other systems. Cost-effectiveness is one of the major reasons for integrated portals to dominate the segment in 2015. An integrated portal eliminates the need to develop a customized system to bridge the gap between patient information and physicians' requirements.
Standalone portals are expected to be the fastest growing segment over the forecast period. They consist of more features therefore are more efficient. They were developed as a result of nonuser-friendly-integrated portals and offer better experience and faster interface with more attention to detail.
In February 2014, the National Health IT Board of New Zealand working along with Primary Health Organizations appointed eight eHealth Ambassadors to initiate and support the general practitioners in implementing the portal. Furthermore, in April 2015, the Heath Minister, Mr. Coleman, launched a campaign to increase awareness about the benefits of the portal. 
Deployment Mode Insights
The cloud-based deployment is one of the latest trends and is anticipated to grow at a rapid rate with a CAGR of over 18% in the coming years. Technological advances, improved efficiency, convenience, and affordability are some of the reasons for its' increasing demand over the forecast period.
In 2011, Solutionreach offered their cloud-based system with an intention to create better interaction between the end users (patients & providers) and the businesses (developers). This cloud-based technology offers a number of features such as email marketing, online appointment scheduling, patient education tools, and social media integration. Furthermore, to ease the appointment scheduling or viewing of reports, a mobile application was also developed by the company.
End-Use Insights
The providers dominated the end-use segment of the patient portal market in 2015. Increasing government initiatives with an objective to improve services delivered to patients was the major factor for the growth of provider segment. Also, increasing mandates for providers to curtail the rising cost of healthcare was another factor for its higher share.
Regional Insights
The North American market was the largest in 2015, because of the growing demand to improve efficiency, affordability, easy access, and government initiatives in the region
In April 2015, Agfa Healthcare announced a launch of its clinical patient portal in North America. This launch was intended to provide the end user with easy access to patient reports, documents, and other information through a secure website on their iPhone or Android devices.
Also, they were installed in hospitals by the company through a specific service level agreement. This portal provided two user views:"care provider view" and "patient view." Both the user views provided various features, such as laboratory and pathology results and a feature to forward the reports to other doctors for a second opinion, thereby, resulting in increased caregiver collaboration.
Competitive Market Share Insights
Some key contributors of the patient portal market are Allscripts Healthcare Solutions, Cerner Corporation, Epic System Corporation company, McKesson Corporation, GE Healthcare, Medfusion, and CureMD.
In March 2016, Allscripts Healthcare Solutions tied up with Catholic Health Initiative to provide its patients easy access to their health record wherever and whenever required, on their mobile devices. Moreover, in 2016, Allscripts Healthcare along with GI partners announced the acquisition of Netsmart Technologies, Inc., thereby, creating a technology company dedicated to post-acute care and human services.