Industry Insights
The global Internet of Things (IoT) market size was valued at USD 605.69 billion in 2014. Technological proliferation and increasing investments are expected to drive the global market over the next seven years. Significant advances in telecommunication and growing penetration of internet and broadband services have further propelled the growth of the Internet of Things (IoT) industry.
North America IoT market revenue by application, 2012 - 2022 (USD Billion)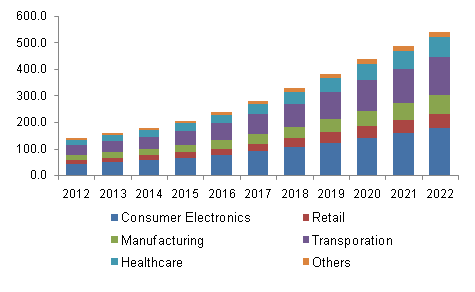 Tech giants and corporate investors are observed to make significant investments in the Internet of Things industry. Companies such as Dell and Intel have proactively begun to open Internet of Things divisions and innovation labs. Additionally, innovative technology startups, such as smart plug maker, Zuli and IoT cloud service provider, Electric Imp, have managed to attract extensive funding owing to its increasing product applications across various industry verticals.
However, issues pertaining to privacy and security such as unauthorized access to connected devices or breaking into the connectivity system can hinder market growth. Moreover, lack of unanimously accepted operational standards and the presence of multiple strategic alliances in the industry are anticipated to affect industry growth.
Application Insights
The consumer electronics application segment accounted for nearly 30% of the market acquiring a major share of the overall industry revenue. Internet of Things connects different appliances and devices through the internet and enables real-time wireless communication with the users.
The connected car concept has proved to be another successful application in the Internet of Things industry. A connected car is connected to the network in real-time and provides vital information from the car to the users. In the case of emergencies, connected cars send out a message seeking assistance, which also indicates the coordinates of the location.
IoT-based technologies have the potential to improve visibility in manufacturing to such that each unit of production can be seen during the production process. Moreover, the proliferation and increasing installations of industrial robots have positively impacted the Internet of Things industry.
Component Insights
Internet of Things systems comprises connected devices and components that enable connectivity and exchange of information. IoT modules and sensors acquired over 30% of the industry revenue. The cost of such sensors is expected to reduce dramatically owing to the technologically advanced manufacturing of such sensors and devices.
IoT purpose is built platforms such as Qualcomm's AllJoyn, IoTivity by Intel Corporation acts as a platform or a hub to link various devices on the network. Moreover, the introduction of Apple HomeKit and Google Brillo that focuses on the mainstream Internet of Things are expected to gain popularity owing to seamless and consumer-friendly platforms with full integration with their respective application stores.
Regional Insights
The presence of major technology providers has led North America IoT market being a dominant force. The entry of technological giants such as Cisco, Google Inc., and Samsung into the market has led to the development of innovative connectivity solutions across various applications and devices.
Privacy and data security in the Internet of Things scenario are the major issues being acted upon by regulators in the U.S. to create a connected environment for optimal security. Moreover, the EU Commissioner's report on the Internet of Things concept recommends certain standard requirements to be followed that underpin the right of deletion, right to be forgotten, data portability, privacy, and data protection principles.
Asia Pacific region acquired over 35% of the global revenue share in 2014 and is projected to grow at a CAGR close to 18% from 2015 to 2022. Increasing penetration of high-speed internet services and a declining average selling price for sensors and modules in the region are expected to push industry growth over the forecast period.
Competitive Market Share Insights
Technology giants have stepped up their R&D investments in the sector to gain an early mover advantage. Moreover, companies are increasingly taking up mergers and acquisitions as their principal growth and market entry strategy.
The acquisition of Nest, a learning thermostat maker by Google and the acquisition of Basis, a wearable fitness manufacturer by Intel, has enabled them an easy entry into the industry.
The industry is highly competitive and is driven by technological and product innovations. Major industry participants include Accenture PLC, Alcatel-Lucent, Amazon.com Inc., Atmel Corporation, Cisco Systems Inc., Google Inc., Hewlett-Packard, Huawei Technologies, IBM, and Oracle.