Industry Insights
The global personalized LASIK surgery market size was valued at USD 1.43 billion in 2014. Growing popularity of corrective eye surgery is expected to support market growth. The introduction of technologically advanced instruments, increasing number of eye care centers providing personalized LASIK surgeries, and rising awareness pertaining to efficacy and safety are some factors anticipated to drive market growth over the forecast period.
Refractive impairments such as myopia (near sightedness), hyperopia (far sightedness), astigmatism, and presbyopia can lead to hindrance in everyday activities and increase the need for glasses. It is reported by the American Academy of Ophthalmology that around 35% of people in the U.S. wear glasses due to eye disorders. It is estimated that around 25% of people worldwide opt for laser eye sight correction surgeries as lifetime alternative for using glasses and lens.
U.S. personalized LASIK surgery market, by type, 2012-2022, (USD Million)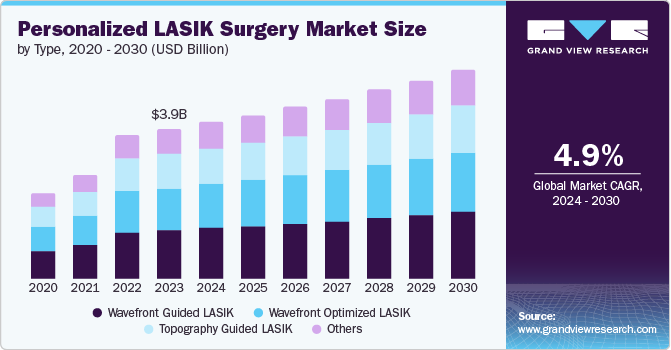 Development of technologically advanced instruments exhibiting high speed, sensitivity, and user friendliness and rising demand for minimally invasive surgeries owing to associated benefits such as short hospital stays, and low blood loss etc. are estimated to enhance the adoption rate of personalized LASIK surgeries. For instance, the iLASIK platform consisting of IntraLase FS laser developed by AMO operates on the aforementioned features and hence, is a widely preferred instrument.
Many organizations and government institutes are also providing help to patients with vision problems and this is anticipated to drive market demand. For instance, the National Eye Institute undertakes initiatives for supporting research and new product development processes pertaining to eye care. Other similar programs include BlueCross Blue Shield QualSight program, which offers discounts to Federal Employees on LASIK surgery cost.
Type Insights
Personalized LASIK procedures are analyzed by segmenting the process into wavefront guided, wavefront optimized, and Topography guided surgeries.
The wavefront based procedures involve the measurement of patient's cornea depending on how the light travels through the eyes and fall upon the retina. The laser treatment by this procedure is completely personalized according to patient's eye anatomy. Whereas, topography based procedures take the measurement of eye surface depending on anatomy of patients eyes.
The wavefront guided LASIK surgery segment held the largest share of over 39% in 2014. Currently, available wavefront guided systems include iDesign Advanced CustomVue LASIK System, WaveScan System, and CustomVue offered byAbbott Medical Optics(AMO), and Technolas 217z Zyoptix System offered by Bausch &Lomb.
The topography guided LASIK system is anticipated to witness lucrative growth over the forecast period. Painless procedure coupled with speed, regulatory approval of key instruments, and less associated side effects are factors contributing towards aforementioned growth.
Commercially used instruments for topography guided procedure include Contoura Vision with WaveLight Allegretto Wave Eye-Q Excimer Laser System and WaveLight EX500 Excimer Laser System by Alcon.
Regional Insights
North America dominated the personalized LASIK surgery market in 2014, generating a revenue of over USD 630.0 million. The presence of key market players in this region, increasing awareness levels, and established healthcare infrastructure are some factors attributing to the region's market position.
LASIK surgery was approved by the U.S. FDA during 1999 in the U.S. The North American Lasik and Eye Surgery Centre (NALESE) is an organization involved in the provision of advanced technologies and support services for vision care.
China and India account for a considerable market share in Asia Pacific. Rise in awareness levels, increasing economic stability, and market players targeting unmet clinical needs pertaining to vision correction are expected to boost regional market growth.
Competitive Market Share Insights
Key players of the personalized LASIK surgery market include Alcon Laboratories, Inc., Abbott Medical Optics (AMO), Bausch & Lomb, Carl Zeiss, Inc., and Nidek, Inc.
The market players are majorly involved in mergers and acquisitions in an attempt to sustain competition. For instance, In January 2013, Bausch and Lomb acquired Technolas Perfect Vision GmbH. This collaboration resulted in the addition of latter's femtosecond lasers to Bausch and Lomb product range.
The introduction of advanced technologies such as refractive lenticule extraction (ReLEx) and Small Incision Lenticule Extraction (SMILE) with the VisuMax laser by Carl Zeiss is expected to provide this market with a lucrative growth platform.
Abbott Molecular Optics and Nidek introduced products with high rapidity and user-friendliness. iDesign by AMO is considered as a next generation wavefront method and is reported to provide accurate results with high resolution. CATz program by Nidek was approved by the U.S. FDA in 2013 to be used with the Nidek's NAVEX Quest system during the treatment of refractive errors caused by myopia and astigmatism.