Industry Insights
Global pet food market size was estimated at USD 70.83 billion in 2014. Growing demand for readymade products owing to various environmental and economic benefits such as low water requirements and low maintenance cost is expected to drive demand over the forecast period. Stringent regulations supporting the use of high quality and nutritious food for pets and others animals is expected to drive demand over the next few years.
Germany pet food market volume by application, 2012-2022, (Kilo Tons)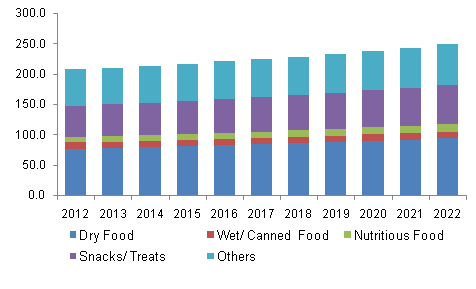 Raw materials for the industry include meat, suet, insects, plant derivatives, seeds, and others. Other major components of pet food include additives, vitamins, and essential nutrients. Owners are focusing on buying functional and organic products for their pets to improve their health. Most of the manufacturers are reacting to the increasing demands of owners for products with nutritive and organic ingredients, thus driving the pet foods market.
Product Insights
Dry food was the largest product segment, accounting for 8,102.2 kilo tons in 2014. Dry products are primarily consumed by dogs as it has high nutritional value, which is necessary for the growth of puppies. This product market is characterized by the presence of a large number of manufacturers engaged in manufacturing dry dog food because of the lucrative market potential.
Snacks/treats are expected to witness moderate growth, growing at a CAGR of 2.8% from 2015 to 2022. Growing consumer shift towards the use of nutritional foods is expected to impact the market for snacks/treats. Furthermore, rising cases of obesity and various diseases among pets are expected to restrict growth over the next few years.
Application Insights
Dog pet food was valued at USD 42.68 billion in 2014 and is expected to witness moderate growth from 2015 to 2022. Dogs are the most loved domestics worldwide and hence, more number of families prefers dogs over other pets. As a result, this market is expected to be a lucrative segment for the manufacturers over the next seven years.
Cat food was the second largest segment, contributing over 32% of the global market volume in 2014. It is formulated for cats keeping in mind their basic requirements and nutritional needs. Most commercially prepared products include supplementary nutrients like the amino acid derivative taurine.
Regional Insights
North America pet food demand was over 7,700 kilo tons in 2014. The demand was attributed to growing adoption of pets among nuclear families in the U.S. Dogs and cats are more popular among other pets including rabbits, and turtles. The dog population in the U.S. is expected to witness healthy year-on-year growth. The trend of keeping small/pocket dogs is growing rapidly, but large dogs still form the majority of the dog population in the U.S.
Asia Pacific is expected to witness the fastest growth, growing at a CAGR of 3.6% from 2015 to 2022. Japan, India, China, and Vietnam represent the largest regional markets in Asia Pacific. Availability of low-cost products coupled with growing demand for these products among consumers is the major factor influencing the industry growth in these regions. In the relatively developed markets of Singapore, Japan, and South Korea, product innovation, better quality and healthier products, convenience, and shorter product lifecycles are the key factor driving market growth.
Competitive Insights
Key players in the market include Mars Inc., Colgate-Palmolive Co., Proctor & Gamble Co., Agrolimen SA, Nestle SA, Del Monte Foods Co., Uni-Charm Corp., Total Alimentos SA, Mogiana Alimentos SA, Nutriara Alimentos Ltda. and others.
The market is oligopolistic in nature, dominated by major brands like Mars Inc., Nestle SA, Del Monte, Colgate-Palmolive, Proctor & Gamble, among others. It is characterized by high degree of competition which is primarily based on price. All major multinationals involve themselves in rigorous R&D initiatives to come up with new and innovative products to retain their market shares. Hence, the degree of competition in this industry is high.