Industry Insights
The global physiotherapy equipment market was valued at USD 14.30 billion in 2014 and is expected to grow at a CAGR of 7.1% over the forecast period. Key driving factors of this market include growing geriatric population base, unhealthy lifestyle habits and the presence of favorable government regulations such as the Obamacare or the Patient Protection and Affordable Care Act (PPACA).
WHO's National Institute on Aging states that prevalence of dementia and neurodegenerative disorders are expected to rise sharply (25–30%) with growing age. Dementia is ultimately accompanied with loss of reasoning, speech, and motor functions. Chronic diseases and lifestyle-related habits contribute to approximately 75% of the health costs.
U.S. physiotherapy equipment market, by application, 2012 - 2022 (USD Billion)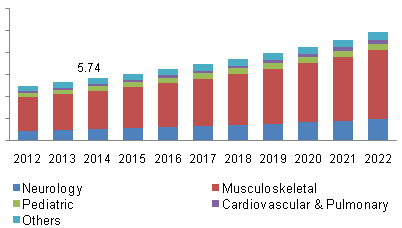 The PPACA came into law and was enforced by President Obama in March 2010. The regulation has affected Americans and is expected to impact physical therapists in the future. The rise in the number of patients suffering from cardiovascular, neurological, and musculoskeletal diseases are expected to further propel the demand for these equipment in future, not only in the developed economies but also in emerging economies such as India and China. This market is expected to grow rapidly in the next few years due to continued westernization and urbanization in the emerging economies of China, Brazil and India.
Application Insights
Key applications analyzed in this report include neurology, musculoskeletal, pediatric, cardiovascular & pulmonary and others. These devices found the largest application in the treatment of musculoskeletal owing to, increasing incidence rate of injuries and pain in the body's ligaments, nerves, muscles, back, and neck. Neurology is expected to witness the lucrative growth of over 7.0% during the forecast period due to the rapidly growing prevalence of stroke, Parkinson's disease, autism, and Alzheimer's in the U.S. and China.
Types Insight
Hydrotherapy, cryotherapy, CPM, ultrasound, electric stimulation, heat therapy, therapeutic exercises are some technology segments analyzed in this study. The cryotherapy treatment is relatively new and is gaining popularity among athletics. In the UK, BOC launched a mobile cryotherapy chamber in 2013 to facilitate quick recovery of players by having a 20-minute ice bath in the chamber. The ultrasound segment held the largest share in 2014 due to, increasing use in the treatment of disorders such as muscle swelling, stress, depression, and arthritis.
Demographic Insight
Demographic segments include geriatric population and non-geriatric population physiotherapy equipment market. Treatment patterns associated with these demographic segments across in-patient (hospital), out-patient, convalescent homes, home facilities have also been analyzed in this study. Geriatric population is at a higher risk of getting injuries of meeting with accidents, which may lead to the growth in demand for therapy in this segment. Non-geriatric population too to a great extent needs treatment owing to, the need of changing demographic conditions of developed and developing countries worldwide.
Geriatric population is expected to witness faster growth over the forecast period. This is attributed to the exponential increase in the base of geriatric patient population suffering with chronic illnesses requiring the treatment propels the growth of the market for the next seven years for this segment. The physiotherapy equipment industry for the geriatric population is expected to reach over USD 11.0 billion by 2022.
End-Use Insights
Valued at over USD 6.0 billion, the hospitals based physiotherapy equipment was the largest in 2014. Rapid growth witnessed in the home healthcare segments, on the other hand, is expected to spearhead the physiotherapy equipment industry growth in other end-use segments.
Regional Insights
North America dominated the overall market in terms of revenue share in 2014 owing to the presence of high incidence rates of road and workplace accidents, rising population of women suffering from osteoporosis and increasing geriatric population. The North American physiotherapy equipment market was valued at USD 5.74 billion in 2014.
Asia Pacific region, on the other hand, is expected to grow at a rapid rate due to the presence of untapped opportunities, constantly improving healthcare infrastructure, economic development, and rising patient awareness levels are some factors accounting for this rapid growth. Furthermore, an unmet need for about 95 million people in China and Japan suffering from certain disabilities is further expected to grow the market.
Regionally, Asia Pacific has highly influenced this industry in terms of growing population and lack of awareness within the large population. The presence of favorable government initiatives pertaining to collaborative programs with the pertinent societies of western countries is one of the critical success factors expected to boost market growth over the forecast period.
Company Market Share Insights
Key players of the physiotherapy devices market include Patterson Medical, DJO Global, Enraf-Nonius, BTL Industries, EMS Physio and Isokinetics Inc. Industry rivalry level is expected to remain at a moderately high level during the forecast period. Advanced technologies are being introduced to increase the efficiency and effectiveness of physical therapy.
For instance, dry needling (eliminate pain), anti-gravity treadmills and robot-assisted walking for patients with spinal cord injuries, and computer-aided therapy programs for the patients suffering from stroke and other cardiovascular diseases are new trends introduced in this industry.