Industry Insights
The global wearable technology market size was valued at over USD 18 billion in 2014, owing to rapid adoption worldwide. Increasing consumer awareness and rising technically sound population is also anticipated to drive demand over the forecast period.
North America wearable technology market by application, 2012 - 2022 (USD Billion)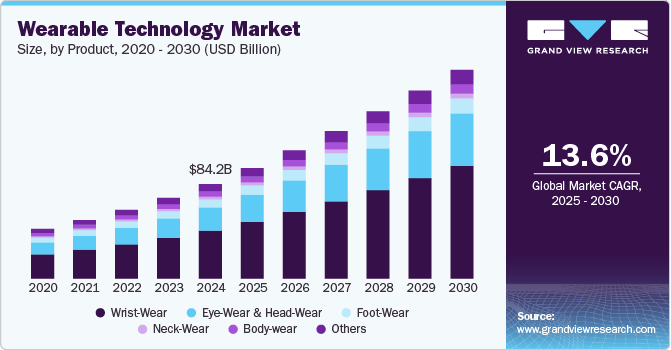 Smartphone penetration and internet mobility are anticipated to fuel the industry over the next seven years. Growing disposable income and evolving urban lifestyle, stimulates customers to spend on consumer utilities, which may favor the wearable technology market. Additionally, the upsurge in consumer awareness pertaining to energy efficient products is expected to be a key contributor. Sensor technological advancements are also expected to boost revenue growth over the next seven years.
Data privacy concerns may pose a challenge to revenue growth over the next seven years. Low battery life and high initial cost may also hinder the industry over the forecast period.
Application Insights
The industry serves fitness & sports, healthcare, infotainment, defense, and enterprise applications. Increasing need for health monitoring is anticipated to drive healthcare application demand over the next seven years. Few products include 9Solutions IPCS, metria wearable sensor, and PolyPower. Industry players have introduced apparel equipped with technology to monitor health and provide details using mobile applications.
In the defense sector, wearable electronics are used for smart glasses, smart clothing, and head-up display. Fitness and sports devices are used for emotional measurement, activity monitors, head up display, foot pods and pedometer, smart clothing, sleep sensors, sleep sensors, and smart watches. Fitness and wellness segment accounted for over 28% of the overall revenue share in 2014 and is expected to grow at a CAGR of around 35% over the forecast period.
Nike and Adidas have launched fitness bands, smart T-shirts, and shoe, which can be connected to mobile apps to give people frequent update about the person's body fitness and health. Industry players have launched a product such as USD locket, USD cufflinks, lockets, and other lifestyle products.
Product Insights
The products can be worn on wrist, foot, eyes, and neck depending on their functional requirements. Wrist-wear is expected to be the key product segment and accounted for over 45% of the overall revenue share in 2014, and is anticipated to grow at a CAGR of around 35% over the forecast period.
Fitness band can be connected with the mobile apps to give the user key fitness related information with statistics. Some of the players manufacturing wrist-wear for fitness and sports include Nike, GOQii, Xiaomi, and Fitbit. Neck-wear products include Philips VIBE, smart necklace, and USB locket. Major body-wear electronics include Bluetooth gloves, smart T-shirts, and USB cufflinks.
Eyewear products primarily include Google Glass, Microsoft HoloLens, and VISR Goggles. Eyewear products accounted for over 15% of the overall revenue share in 2014 and are expected to grow at a significant rate over the forecast period. Footwear products include Adidas adizero soccer boot and SoloPower.
Regional Insights
North America wearable technology market is estimated to be the key regional segment over the forecast period owing to increasing health awareness and product usage. The region accounted for over 49% of the overall revenue share and is expected to grow at a CAGR of around 32% from 2015 to 2022.
Industry participants are also expected to shift their manufacturing facilities to Asia Pacific, owing to low labor and operation cost. Asia Pacific wearable technology market is expected to witness substantial growth over the next seven years owing to rising disposable income, rising tech-savvy population and increasing awareness.
Competitive Market Share Insights
Key industry participants include Adidas AG, Apple Inc., Fitbit, Garmin, Google Inc., Jawbone, Nike, Inc., Samsung Electronics Co. Ltd., Sony Corp, and Xiaomi. The product portfolio of Fitbit comprises Fitbit Tracker, Fitbit Charge Hr, Fitbit Ultra, Fitbit Flex, Fitbit One, Fitbit Zip, Fitbit Charge, Fitbit Force, and Fitbit Surge.
Industry players are forming collaborations for technology development in this sector; for instance, Apple, Boeing, and the U.S. Department of Defense have formed a collaboration to develop wearable technology for defense purpose.
The industry is expected to witness a number of merger and acquisition by large companies looking to enhance its capability and product offering. In March 2014, Intel Corporation announced the acquisition of Basis, a wearable technology firm. In March 2015, Fitbit acquired Fitstar to enhance its product offering.