Industry Insights
The global phytosterols market size was 27,830 kilotons in 2014 and is projected to grow at a CAGR of 10.3% from 2015 to 2020. Phytosterols are plant-derived steroid compounds which are similar to cholesterol in terms of functionality and structural behavior. Due to this similarity, they compete with cholesterols in the process of intestinal absorption in the digestive system to restrict absorption and to reduce the level of cholesterol.
The growing trend towards the reinforcement of foods with vitamins, minerals, and herbal extracts has supported the market to create a more conductive environment for the incorporation of phytosterols in foods and beverages. They are used as additives across a wide range of food products such as milk sausages, cold cuts, bakery products, spicy sauces, yogurts, spreads, and margarine. Government affirmation on the usage of phytosterols as additives to fulfill the nutritional requirements of foods and beverages has backed up the market growth.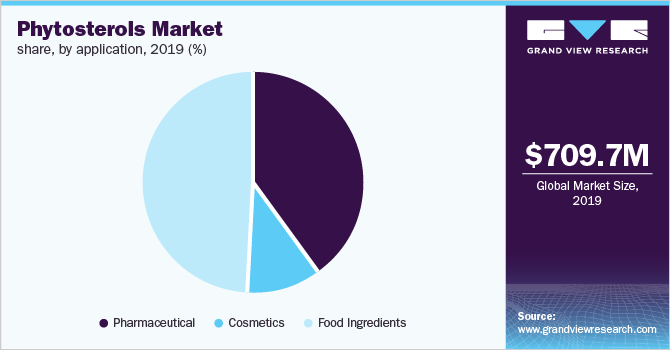 The increasing prevalence of coronary heart diseases has enhanced product penetration and product availability. A key challenge for this market is to shift the consumer attitude from awareness to overall acceptance of phytosterols. Since the proper consumption parameters vary from person to person. Also, competition from similar functional products may hinder the phytosterols market growth.
Product Insights
Key phytosterols include beta-sitosterol, campesterol, stigmasterol, and others (ergosterols and brassicasterol). These phytosterols are found in vegetables, fruits, seeds and nuts. Beta-sitosterol has a wide range of medical applications such as prevention form colon cancer, cervical cancer, shin problems, etc. Campesterol is extracted from a range of edible plants for medical use. It is important to note that the effects of various levels of campesterol can be different for different individuals. In fact, high amount of phytosterols may actually be responsible for the increase in the risk of cardiovascular problems.
Stigma sterol is used in the manufacture of semi-synthetic progesterone, an important human hormone which is significantly required in rebuilding process of body tissues related to estrogen effects. It also acts as an intermediate in the biosynthesis of estrogens, androgens, and corticoids. Ergo sterol does not occur directly from plants as it occurs from fungal growth upon the plant with the help of Ultraviolet radiations which converts it into vitamin D2 that supports proper bone development in the human body.
The major use of ergosterol is in medicines and food ingredient. Brassicasterol is extracted from several unicellular phytoplankton (algae) and some terrestrial plants like oilseed rape. Brassicasterol are used as a biomarker for the presence of algal matter in the environment. Beta-sitosterol is the most consumed phytosterol. Campesterol has the second biggest market share after beta-sitosterol. New product development is expected to hold the edge to the overall market growth in the future term.
Application Insights
Key applications of phytosterols include pharmaceuticals, cosmetics, and food ingredient industry. Food ingredient market has the biggest market share of application segment followed by pharmaceuticals. Cosmetics application segment has the lowest market share as compared to other two applications.
Phytosterols have the ability to induce cardio protective effect, which paves its way for use in the formulation of medicines in curing heart diseases. In addition, phytosterols also find applications in improving immune systems and curing diseases such as arthritis, cancer, tuberculosis, allergies, psoriasis, bronchitis hair loss and asthma.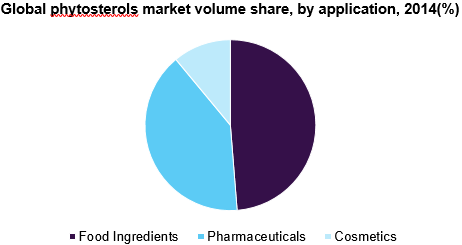 Rising prevalence of diseases such as cancer and cardiovascular diseases on account of climate dynamics is anticipated to promote phytosterols demand in pharmaceutical applications. In addition, rising awareness towards side effects associated with prescribed conventional medicines is anticipated to promote the role of naturally derived phytosterols over the forecast period.
Regional Insights
Europe is the largest regional market for phytosterols, Favourable regulatory support aimed for the fortification of naturally derived ingredients in food & beverage industry of Germany, Italy, France and UK is expected to fuel phytosterols demand over the forecast period.
European Commission approved the Horizon Strategy 2020, aiming to encourage industrial development of eco-friendly and naturally sourced products. This strategy is anticipated to open new market avenues for naturally derived phytosterols over the forecast period. Sluggish growth of pharmaceutical industry in Germany, France, Spain and Italy is anticipated to have a negative impact on phytosterols market. In addition, high market penetration of prebiotic ingredients in Europe is anticipated to hamper phytosterols demand over the forecast period.
Asia Pacific is perceived as a developing market due to low awareness and untapped market potential. However, with growing disposable income and a shift in the lifestyle of the general population, especially in India and China, Asia Pacific is expected to be a high-growth potential destination over forecast period.
Phytosterols Market Share Insights
Global market is oligopolistic in nature. Some of the companies operating in the global market include Archer Daniels Midland Company, Cognis-BASF, Raisio Life Sciences, Fobes Medi-Tech, K-Patel Phyto Extracts, Cargill Inc, Triple Crown, Pharmaconsult Oy Ltd, Teriaka Ltd, Arbois, PrimaPharm B.V., Fenchem Enterprises Ltd, Degussa Food Ingr GmbH, Lipofoods, Enzymotech Ltd and Phyto-Source LP.