Industry Insights
The global pneumatic conveying system market size is expected to reach USD 30 billion by 2022. The market is expected to witness a rise in adoption of advanced production methods which will result in a continuous technological advancements supported with the development of application specific and customized products. Thereby, the product demand will increase throughout the manufacturing industry. In addition, material handling is a major application which is expected to contribute towards the adoption of pneumatic conveying system amongst end-use sectors. This in turn will offer key players to expand their market reach and regulate the growth.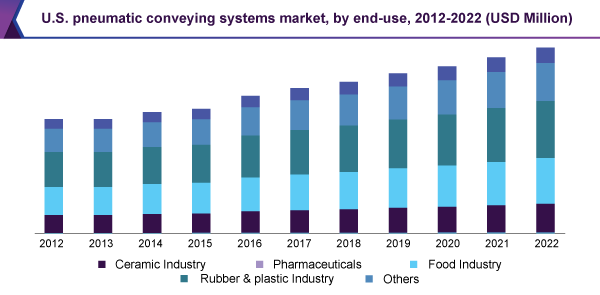 The cost-conscious end-users are reaching out to incorporate solutions which are effective and involves minimum maintenance cost. In order to render the requirement for technologically advanced solutions, industry participants are constantly investing in research and development. However, high initial investment and complex installation associated with pneumatic conveying systems acts as a challenge for pneumatic conveying system market.
Further, to arrest the growing safety and health concerns have instigated manufacturers to use automated pneumatic system as they offer hygiene, convenience, speed of executing operation, and prevent contamination of the final product. Additionally, several government policies and regulations mandates manufacturers to use better sanitary operations. This will result in escalating the market demand.
Technological developments supporting compact pressure-vessel conveying systems integrated with intelligent control technology offers avenues for growth during the forecast period. The ability of pneumatic conveyors to increase productivity,minimize operation downtime, and improve quality will contribute to the market growth.
Operating Principle Insights
Pneumatic conveying phenomenon is categorized based on the principle of suction from one line of production to the transportation to another line. The phenomenon involves dilute phase conveying and dense phase conveying as the major categories. Being benefitted with majority features and convenience of operation, dilute phase conveying is ought to mark the highest market share. For an instance, dilute phase conveying operation can be carried out at high velocity and low differential pressure along with the ability to use only air velocity to convey material.
Dense phase conveying is likewise anticipated to witness moderate growth during the forecast period. This might be credited to the expansion of usage of dense phase conveying system across food and pharmaceutical industry. Since, this technology utilizes high weight differential with low air velocity, they are likewise utilized with air injectors that infuse compacted air in to the equipment to catalyze the procedure. In addition, dense phase pneumatic conveying system provides batch transfer using transporters such as blow and pressure tanks.
Technology Insights
There are three essential technologies which are incorporated in pneumatic systems in order to generate high velocity air stream, positive pressure, vacuum, and combination systems. Positive pressure system is expected to display considerable growth with majority market share during the forecast period. the growth is regulated by its ability to operate at a relatively high pressure than other type of conveying system. Positive pressure system is preferred for conveying heavy material to a longer distance.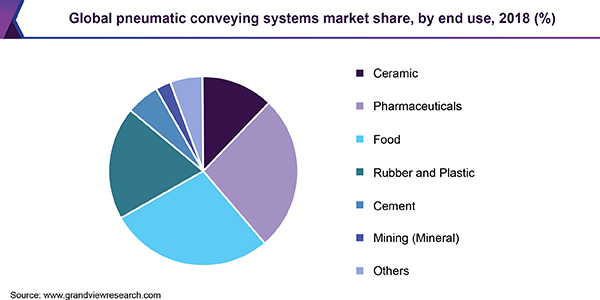 Vacuum systems holds noteworthy piece of a pie exhibiting high growth during the forecast period. This growth is ascribed to the ability of vacuum systems to utilize vacuum created in conveying equipment to lift the material towards the stacking point. In addition, combination systems are expected to witness moderate growth during the forecast period as they are equipped with pressure system allowing an efficient conveying procedure. In turn, this feature also enables the vacuum system to convey material from multiple loading points.
End-use Insights
The technological advances throughout the manufacturing methods are facilitating production capacity throughout various end-users. Industries such as ceramics, pharmaceuticals, food, and rubber & plastic industry are the prominent end-users marking the maximum implementation of pneumatic conveying system. Such systems are progressively incorporated for various manufacturing facilities such as packaging, food processing, automation, construction, agriculture, electronics, canning & bottling, aerospace, and print finishing industries. The cost effective and convenient method of production offered by pneumatic conveying system has resulted in market growth.
Pharmaceutical and food industry are witnessed to surpass 50% of the total market share. This is attributed to the growing incorporation of pneumatic conveying system for applications such as staging, granulation, blending, coating, compression, and packing. In addition, ceramic industry is anticipated to feature substantial growth during the forecast period. Owing to the increased preference for automation amongst various applications in end-users, it is expected that pneumatic conveying system market will witness significant adoption during the forecast period. The ability to efficiently perform conveying operation such as conveying glazes and pigments in the press department, supply granulators and dry glazing machines, and micronized materials, are expected to be the contributing factors for market growth.
Regional Insights
With more than 30% share of the total market, Europe is witnessed to be the largest contributor. A few key factors contributing to the market growth include government regulations to use advanced sanitary methods. Additionally, presence of several regional regulatory bodies emphasizes for the use of pneumatic equipment to maintain the industry standards. Such regulations and mandates are expected to contribute significantly towards regional growth.
High growth in Asia Pacific is regulated by growing industrialization and infrastructural development activities. Also, growing health and safety concerns in Asia Pacific has instigated manufacturers to use pneumatic equipment pertaining to improved hygiene and prevention of product contamination.
Pneumatic Conveying Systems Market Share Insights
Regulated with the growth of manufacturing facilities ingrained with smart technologies, the market for pneumatic conveying system will witness considerable growth during the forecast period. A few key industry participants include K-Tron, Cyclonaire Corporation, AZO GmbH & Co. KG, Flexicon Corporation, Atlas Copco, DongYang P&F, Gericke, Nol-Tec Systems, Nilfisk, Schenck Process LLC and Vac-U-Max, Dynamic Air Inc., Pneumatic Conveying Inc. (Pneu-Con).
Manufacturers emphasize on providing several feasible conveying equipment in order to minimize power consumption, precision, and improved efficiency. Industry specialized product needs and convenience of executing the operation are expected to be major consideration of key manufacturers which will also include custom-engineered products.
Segments Covered in the Report
This report forecasts revenue growth at global, regional, and country levels and provides an analysis on latest industry trends in each of the sub-segments from 2014 to 2024. For the purpose of this study, Grand View Research has segmented the global pneumatic conveying systems market report on the basis of operating principle, technology, end-use and region:
Operating Principle Outlook (Revenue, USD Million, 2012 - 2022)

Dense Phase Conveying

Dilute phase Conveying

Technology Outlook (Revenue, USD Million, 2012 - 2022)

Positive Pressure System

Vacuum System

Combination System

End-Use Outlook (Revenue, USD Million, 2012 - 2022)

Ceramic

Pharmaceuticals

Food

Rubber & plastic

Others

Regional Outlook (Revenue, USD Million, 2012 - 2022)

North America

Europe

Asia Pacific

Latin America

Middle East & Africa