"Demand for high temperature resistant plastics led to significant growth"
The global polyamide-imide (PAI) market size was USD 387.6 million in 2015. Growing demand for high temperature thermoplastics in various applications of automotive and aerospace industries is anticipated to steer PAI market over the forecast period.
Commercially available product grades include molding resins, coating, films, adhesives, and fibers. Polyamide-imide has gained significance in molding resin and fiber applications. This can be attributed to its enhanced thermal resistance of up to 270 °C. Long term stability and chemical resistance to various conventional solvents, fuels, lubricants, and acids has added to the large scale adoption of PAI finished products in automotive and aircraft industries.
U.S. polyamide-imide (PAI) market revenue by application, 2014 - 2024 (USD Million)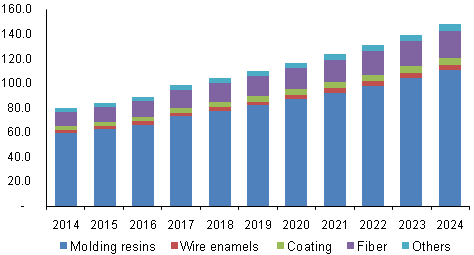 PAI is classified among other amorphous high temperature plastics, including polyether ketone and polyphenylene sulfide that can be extruded, molded, and processed to yield high tolerance applications. Commercial forms of the application include injection molded, fibers, and powder. Enhanced electrical insulating characteristic has steered its demand in manufacturing components and materials for electrical & electronics, protective clothing, and bearings.
Owing to its lightweight features polyamide-imide has witnessed increasing demand across a broad range of moldable applications. Major end-use industries such as automotive, aerospace, energy & power are shifting towards replacing metallic seals and bearings in their compressor and engines. Potential materials that can be replaced with PAI include steel cages, bronze bushings, hardened steel balls, nylon, aluminum, and ceramic coated steel.
"Molding resins was the leading application segment"
Among the various applications of polyamide-imide, molding resins have witnessed significant demand from automotive, aviation, and electrical & electronics industries. This segment is expected to witness a CAGR of 5.8% over the forecast period. Ongoing technological innovation for manufacturing automobile components, thermoplastic elastomers along with other injection molded high temperature plastics are finding new applications in the automobile industry.
PAI demand in wire enamels is expected to witness the fastest growth over the next eight years. This segment is anticipated to exceed a total volume of 1-kilo tons by 2024. Growing demand for polymers with enhanced insulating properties is expected to drive polyamide-imide demand in electrical & electronics industry over the forecast period.
"Asia Pacific was the leading regional market followed by North America"
Asia Pacific emerged as the leading polyamide-imide consumer and is anticipated to grow at a CAGR of 6.8% in terms of value over the next eight years. The shifting trend towards lightweight components in automotive can be attributed as a cost-efficient strategy by the logistics division of various automotive industry players. Also, surging demand for power-efficient materials in electrical & electronics industry is expected to drive polyamide-imide demand over the forecast period.
North America polyamide-imide (PAI) market accounted for over 25% of the global revenue in 2015. Surging demand for compounded and extruded high performance plastics in the region can be attributed to the growing automotive and aerospace industry. Ongoing investments and capacity expansion by various automakers in the U.S. and Canada are expected to steer polyamide-imide based component demand over the next eight years.
"Innovative product development to drive industry competitiveness"
Key manufacturers include Toyobo, Mitsubishi, Fujifilm, Kermel, Solvay, Innotek, Ensinger GmbH, and Shanghai Songhan Plastics Technology Co., Ltd. Prominent vendors such as Solvay, and Toyobo are integrated across raw material procurement, and PAI manufacturing & supplying. Solvay offers a broad range of PAI grades such as molding resins, coating, films, adhesives, and fibers. While Kermel is solely focused on manufacturing fibers and film grade resins of PAI. Companies such as Innotek and Fujifilm are focused on producing PAI powders for coatings application.