Industry Insights
Global polyarylsulfone (PAS) market volume was 60,168.0 tons in 2012. Increasing penetration in the medical industry is expected to drive its demand over the forecast period. These high performance plastics are widely used in blood filtration membranes, dental instruments, surgical devices and medium sized containers across the medical industry. The membrane is expected to emerge as fastest growing global PAS application segment on account of its use in different filtration processes for chemicals and beverages manufacturing.
Chemical & medical filtration process includes reverse osmosis systems, nanofiltration, and ultrafiltration processes. In the beverage industry, PAS is expected to be used to purify juices, corn syrup, wines, dextrose in corn million and lactose during dairy processing. The construction industry is expected to witness high demand owing to developing use in plumbing fittings and faucet components production.
Global polyarylsulfone volume estimates and forecast by product, 2012 - 2022 (Kilo Tons)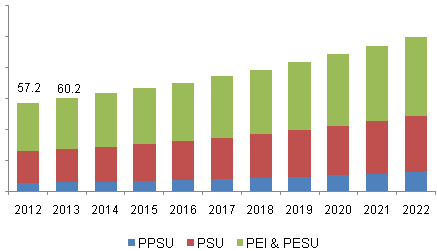 On account of its high chemical and heat resistance abilities, polyarylsulfones are also expected replace several thermoplastics including polycarbonate and polyamide. Key application segment includes medical, construction, aerospace, automotive, oil & gas, electric/electronic, healthcare, food & beverages, chemicals, military, machine building, household and sanitary. Such diversified applications are expected drive global polyarylsulfone industry on account industrialization in emerging markets including India, China, and Taiwan.
High cost compared other plastics is expected to restraint global polyarylsulfone market expansion. Lack of skilled labor for the manufacturing process is expected to remain the major challenge in the coming years which further is expected to pose difficulties for new entrants to penetrate in the industry.
Product Insights
Polyphenyl sulfone (PPSU), polysulfone (PSU) and polyetherimide (PEI) & polyethersulfone (PESU) are the major product segment in the industry. Polysulfone was the major segment and is expected to grow at a significant CAGR over the forecast period, as it is priced low among all polyarylsulfones with key applications in electrical & electronic, membranes and plumbing fittings.
PPSU is the highest priced product and is majorly used in medical & dental instruments, pipe fittings & manifolds, aircraft interiors and wire insulation. PEI, on account of its similar characteristics to PPSU, has been considered under the same product category. PEI finds applications in medical, healthcare, chemical instrumentation, transportation, electric/electronic and food handling purposes.
PES has similar thermal properties to PSU and is majorly used in oil pumps, filtration, automotive, water treatment, aerospace and electric/electronic industries. PPSU is expected to witness the highest CAGR on account of its expanding application base in medical and aerospace industries. This growth may be further attributed to growing preference towards high temperature engineered polymers in aerospace, automotive and chemical instrumentation industries.
Regional Insights
North America polyarylsulfone market dominated other regions on account of high consumption levels in U.S. Significant development in aerospace and medical instrumentation industries in the region may be attributed to high-level market penetration. North America was closely followed by Asia Pacific and is expected to witness the highest growth in terms of demand over the forecast period on account of rapid industrialization witnessed in India, China, and Taiwan.
Europe polyarylsulfone market accounts for a significant share of global demand but is expected to witness low to moderate gains over the forecast period on account of low GDP growth coupled with stable end-use industries such as automotive, medical and aerospace. Central & South America covered the smallest market share while is expected to grow at a high CAGR.
Competitive Insights
The global polyarylsulfone industry exhibits a high level of consolidation on account of the dominance of major companies including BASF, Solvay, SABIC, and Sumitomo Corporation. Other major industry participants in the polyarylsulfone market share mix include Quadrant Engineering Plastics Product Inc., Nytef Plastics Ltd., Polymer Dynamix, Technical Polymer LLC, RTP Co. and Ensinger Inc. These industry participants are expected to invest heavily in R&D for application specific product development. New industry entrants are expected to face significant challenges in penetrating the market on account of lack of skilled workforce coupled with complex and high capital intensive manufacturing processes.
The global industry is also expected to witness high competitive rivalry on account of the presence of highly experienced and integrated companies including BASF, Solvay, SABIC, and Victrex. These companies have integrated their operations across the value chain will which have enabled them to maximize their profits in a cost effective manner