Industry Insights
The global polyarylsulfone (PAS) market size was valued at USD 1.49 billion in 2016. It is projected to rise at a healthy CAGR of 7.9% over the forecast period. The growth in this industry is primarily attributed to strong demand from the medical sector. Technological advancements in dental instruments, blood filtration membranes, medium-sized containers, and surgical devices are driving the product demand for medical applications.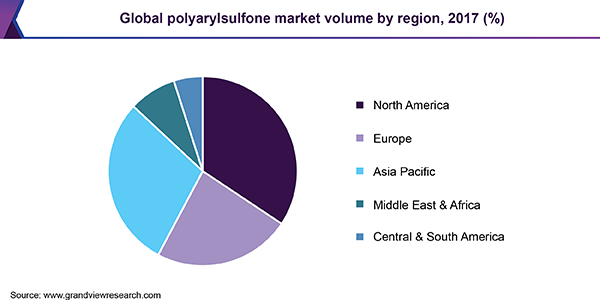 In beverage manufacturing and for filtration procedure in chemical, the membrane is widely utilized, which is the major factor towards the development of this application segment. In beverage sector, polyarylsulfone is gaining higher application scope. The potential application of the product in the beverage industry is in the purification of corn syrup, juices, and wines.
Rapid urbanization has fueled the growth in building & construction industry. PAS is widely used in fitting and plumbing and growth in building & construction sector is creating a substantial development potential for the product over the coming years. PAS enjoys the excellent heat and chemical resistance which makes it an ideal replacement for thermoplastic products such as polyamide and polycarbonate.
Global PAS industry is witnessed by high price high competition trend. A significant number of new regional industry participants will enter into the global PAS market. Lack of skilled workforce coupled with capital-intensive manufacturing processes will restrain entry of new entrants over the forecast period.
Also, high research & development initiatives by existing industry participants will also threaten entry of new players, making the industry more competitive in the coming years. Further, the market will have more integration towards supplier side making market penetration a big challenge for new entrants.
Major end-user industries for the product include construction, medical, automotive, aerospace, healthcare, chemicals, electrical & electronics, and sanitary. Diverse application scope of the product along with development in the major end-use industries is creating a supportive environment for the overall industry. However, the expensive nature of PAS is projected to act as a restraint over the coming years.
Product Insights
By product, the global polyarylsulfone market has been segmented into three different segments namely polyetherimide (PEI) & polyethersulfone (PESU), polysulfone (PSU), and polyphenyl sulfone (PPSU). PPSU emerged as the fastest growing product segment over the forecast period. PPSU is not a matured market and is expected explore untapped opportunities in electric/electronics, piping, medical and aerospace industries. Highest purification requirements are fulfilled by reverse osmosis membranes which find major application in medical, electronics and chemical industries.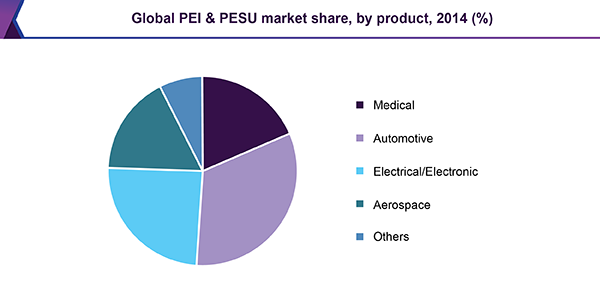 In medical, PPSU is projected to gain applications for medical and dental instruments while aircraft interiors will also drive its demand over the forecast period. Pipe fittings & manifolds are also expected to propel its demand over the forecast period significantly. This means PPSU will experience high growth on account of its increasing product lines in the coming years.
On account of exceptional heat distortion temperature and excellent lubricants and fuel resistance, polyarylsulfone finds major application in automotive industry for oil pumps, reflectors, connectors, oil control pistons, bezels, transmissions components, housings and flapper valves. Also, high design freedom for smaller vehicle headlights coupled with direct metal plating ability emerge as an advantage over thermosets for automotive application area.
Polysulfone (PSU) emerged as the second largest product segment in 2016. The product is anticipated to grow at a healthy CAGR on account of its favorable properties such as high chemical and heat resistance.
The products lower prices in comparison to other thermoplastics such as PPSU, PEI, PESU and PEEK, PSU is expected to experience high growth in diverse ends use industries such as automotive, medical, construction and aerospace. Membranes emerge as key PSU use in the medical application for blood purification, food & beverages for food products & drinks filtration, sanitary for recycling for wastewater and automotive.
Regional Insight
In 2016, North America emerged as the leading region in the global arena with a share of more than 34.0% in terms of volume. Developed high-temperature thermoplastic industry coupled with technological advancements in end use industries such as automotive, aerospace, medical, and electric/electronic industries are contributing to high consumption level of polyarylsulfone which in turn resulted into dominance of North America polyarylsulfone market globally.
Europe accounted for 24.12% of the total market volume in 2014 on account of stringent regulations in the region coupled with leading manufacturing facilities established in the region. The European market will experience a decrease in market share, reaching 21.20% by 2022. Lower GDP growth over the forecast period will affect regional polyarylsulfone market growth on account of saturated end-use industries including medical, automotive, food & beverages, electric/electronics, and aerospace.
Asia Pacific will grow at the highest CAGR owing to high growth in India, Taiwan, and China while Korea, Japan and other parts of Asia Pacific will have significant PAS market growth over the forecast period. Growing plastic infrastructure coupled with developing end-use industries such as automotive, medical, healthcare, food & beverages and aerospace will drive growth in Asia Pacific countries
Polyarylsulfone Market Share Insights
Polyarylsulfone is the most expensive high temperature thermoplastics on account of its superior and unique features. Owing to presence of a limited number of manufacturers and burgeoning demand, cost of PAS is increasing sharply in the global market. Companies are focusing on collaborative partnership to develop innovative products at lower cost.
Major PAS manufacturers include Solvay Specialty Polymers; BASF; Sumitomo Chemical; SABIC Innovative Plastics; Quadrant Engineering Plastics Product Inc.; Nytef Plastics Ltd.; Polymer Dynamix; Technical Polymer LLC; RTP Co.; and Ensinger Inc.
Some of the manufacturers are forward integrating their operations, emerging as a service provider to end-use industries. Companies including Emco; Trident Plastics Inc.; Meyer Plastics Inc.; and Ensinger Inc. are PAS manufacturers that have forward integrated their services and are specialized in providing distribution services to perform effective supply of product to end-use customers. Major players are focusing on developing their operational and distribution facility in Asia Pacific owing to supportive government policies, presence of flourishing end-use industries, and growing disposable income.
Segments Covered in the Report
This report forecasts revenue growth at global, regional, & country levels and provides an analysis of industry trends in each of the sub-segments from 2012 to 2022. For the purpose of this study, Grand View Research has segmented the global polyarylsulfone market report on the basis of product and region:
Product Outlook (Volume, Tons; Revenue, USD Million, 2012 - 2022)

PPSU

Medical & Dental Instruments

Pipe Fittings & Manifolds

Aircraft Interiors

Wire Insulation

Others

PSU

Electrical & Electronics

Membranes

Plumbing Fittings

Others

PEI & PESU

Medical

Automotive

Electrical/Electronic

Aerospace

Others

Regional Outlook (Volume, Tons; Revenue, USD Million, 2012 - 2022)

North America

Europe

Asia Pacific

China

India

Japan

Korea

Taiwan

Central & South America

Middle East & Africa