Industry Insights
The global polycarbonate market size was USD 15.24 billion in 2015. The resin finds applications across a wide range of industries that include automotive & transportation, construction, packaging, consumer goods, and medical devices. In the recent past, the industry has experienced tremendous demand from automotive manufacturers as a result of regulations favoring vehicular weight reduction and plastics usage.
Polycarbonate resins are highly blended with other polymers such as ABS and polyester to be used in the fabrication of automotive components. Greater processability of PC resins by means of injection molding, foam molding, extrusion, and vacuum forming has enabled end-users to explore further options for the resin's usage. Niche application areas such as safety equipment and industrial machinery are likely to gain demand in the future.
U.S. Polycarbonate Market Revenue By Application, 2014 - 2024 (USD Million)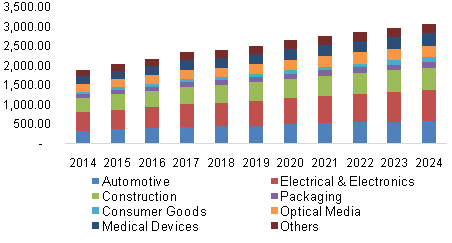 Regulations play a vital role in shaping industry dynamics and application trends. Regulations aimed at plastic waste and their disposal have led to a greater emphasis on recycling practices. In 2012, the U.S., one of the largest consumers of plastic materials, generated approximately 14 million tons of plastic waste in the form of containers and packages.
Post amendments in existing acts and formulation of new policies, recycling rates in the U.S. grew by around 4.5% since 2012. This trend is expected to play a significant role in enhancing polycarbonate's role as substitute plastic since the resin is completely recyclable in nature.
Application Insights
Polycarbonate resins blended with other polymers such as PBT and ABS to improve the final compound's impact resistance and high-temperature performance. These compounds are further processed to be used in the fabrication of lighting systems, headlamp lenses, exterior parts, and interior components by automotive OEMs.
Over the recent past, Asian markets that include China, India, Indonesia, Thailand, and Korea have established themselves as regional manufacturing hubs for passenger cars and two-wheelers. High demand for premium passenger vehicles in the region has attracted investments from American and European companies that include Ford, General Motors, Volkswagen.
Passenger car production volumes in Asia Pacific grew at a CAGR of 4.9% from 2010 to 2014. Signifying a potential opportunity for PC resin manufacturers to establish themselves as suppliers to local OEM centers. Furthermore, investments in public infrastructure, particularly in metro-rail projects and greenfield airports, will give rise to the demand for PC resins in construction as well as mass transit systems.
Regional Insights
China is the largest consumer of polycarbonate resins in Asia Pacific with a volume estimated at nearly 1.50 million tons in 2015. Despite slowing growth which is expected to decrease from the current rate of 6.5% to 6.2% by 2017, China promises growth opportunities for the industry in the construction and automotive. Fiscal reforms in the country have started to display results in the form of a positive producer price index.
A non-aggressive monetary stance by the country's central bank is likely to ease up liquidity, thereby favoring investments in new housing starts. In China, the polycarbonate market value in construction is expected to reach USD 1.90 billion by 2024.
Competitive Insights
Diversifying operational presence is crucial for companies looking forward to increasing their sales. Rising transportation and labor costs are encouraging polycarbonate resin manufacturers & processors to relocate towards locations closer to end-users. In order to further improve material supply, end-users are getting into commercial agreements with suppliers. In turn, the factor would aid manufacturers in securing a stable consumer base.
Key companies operating in the industry include SABIC, Bayer, Teijin, Chi Mei Corp., Idemitsu Kosan, Mitsubishi Engineering Plastics Corp., Trinseo S.A., LG Chemicals, RTP Company, and Lotte Chemical.