Industry Insights
Global polyethylene naphthalate market size was estimated at USD 827.0 million in 2014. PEN is largely used in packaging application owing to improved thermal and barrier properties such as resistance to oxidation is expected to augment market growth over the forecast period. Growing demand for high strength photographic films is expected to fuel market growth over the forecast period.
Polyethylene naphthalate films are a key component of food packaging applications on account of its higher stiffness modulus which is responsible for providing enhanced barrier capabilities and increasing the strength of the material. Furthermore, these films are also used in producing pressure sensitive tapes and thermal sheets. They are also involved in solar cell protection
The market is characterized by the forward integration of raw material suppliers in the manufacturing of polyethylene naphthalate. These companies captively consume raw materials to manufacture the product. Integration across numerous stages of the value chain results in continuous raw material supply as well as low manufacturing cost.
Tight supply of 2,6-NDC feedstock over the past few years owing to production complexity has caused lack of availability of the feedstock resulting in high raw material prices. Furthermore, the high manufacturing cost is a major concern for manufacturers which has caused capacity contractions and reduced margins for suppliers and manufacturers. These factors have impacted commercialization which is a major challenge for manufacturers to compete in a market dominated by PET. However, the recent development of low-cost monomers for production is expected to change market dynamics. As a result, prices are expected to decline significantly over the next few years which are expected to have a positive impact towards growth.
U.S. polyethylene naphthalate market revenue by application, 2012 - 2022 (USD Million)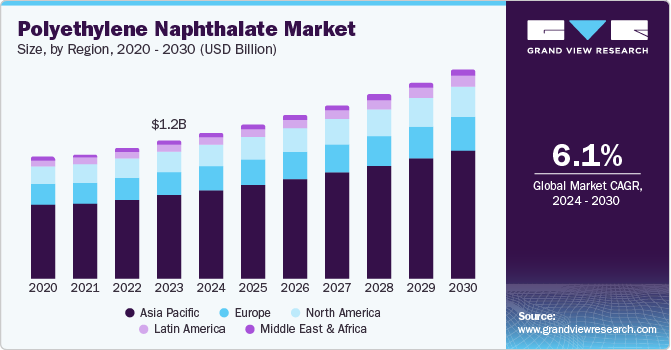 Supportive regulation towards the use of PEN in beverage bottling owing to enhanced resistance to oxidation is expected to have a positive impact towards growth. Also, it is extensively used in the manufacturing of high-performance tires. These compounds, when added to the rubber mix during tire manufacturing enhance rigidity, thus offering improved performance and longer product life.
Application Insights
Packaging application dominated the industry in 2014 accounting for 39.2% of the global market volume and is expected to gain share accounting for 39.6% by 2022. Increasing demand for in the packaging application owing to higher shrinkage resistance, dimensional stability, superior barrier properties and high-temperature stability is expected to propel demand for the product over the next seven years.
Electronics segment was valued at USD 185.7 million in 2014 and is expected to witness significant growth over the forecast period due to increasing demand of the product in manufacturing semiconductors, PCB's and super capacitors. Polyethylene naphthalate exhibits superior properties including low oligomer extraction, dimensional stability, anti-hydrolysis, heat resistance, and strength is expected to increase the growth over the forecast period. As a result, it is used in manufacturing a wide range of products including batteries, electric insulation, capacitors, printed circuit boards, magnetic storage tapes and optical devices.
Regional Insights
North America consumed over 55.0 kilo tons of PEN in 2014. North America is the second largest consumer and producer owing to a large number of manufacturers in the U.S. The market is expected to witness growth owing to the emergence of the end-use sector including automobile and electronics wherein the demand for these films is on a rise. The increasing use of high-performance rubber tires in automobile industry due to enhanced performance and higher fuel economy is expected to fuel growth.
Asia Pacific was valued at USD 333.0 million in 2014 and is expected to grow at a CAGR of 7.2% from 2015 to 2022. Growing demand for the product from end-use industries including packaging, automobile and electronics are expected to be a key factor influencing growth over the forecast period. Also, manufacturers are shifting bases from Europe to Asia Pacific including India and China is expected to propel growth.
Chinese raw material suppliers have improved on production technology leading to lower cost which is expected to reduce overall product cost over the next seven years. As a result, the product is expected to compete with PET in similar application segments on account of improved physical properties.
Competitive Insights
Key players in the polyethylene naphthalate market include Teijin DuPont Films, Toray Monofilament Co., Ltd., Sumitomo Chemical Co., Ltd., DuraFiber Technologies, Inc., SKC Inc., SASA Polyester Sanayi A.S, DuPont and Seiwa Inc.
The market is dominated by large multinational corporations with four major players accounting for over 65% share in 2014. The market is primarily characterized by the forward integration of raw material manufacturers. Finished products are supplied to end-use industries through various distribution channels including vendors, direct supply agreements, and third-party supply agreements. In certain cases, manufacturers form direct alliances and strategic partnerships with end-use industries.