Industry Insights
The global Polymer Filler Market size exceeded USD 45 billion in 2015. Increasing demand for high strength and lightweight materials in the automotive and industrial applications is likely to propel the low-density Polymer Filler Market. Polymer fillers due to their improved impact strength are expected to replace costly plastic resins across various industrial products in the near future.
Polymer fillers are likely to gain wider acceptance in various industrial products due to the increasing use of low-cost fillers in countries such as the U.S, India, Germany, Brazil, etc. Stringent guidelines and environmental regulations are expected to influence the global Polymer Filler Market. Increasing demand for high strength low-cost materials and incessant innovations are likely to be the major factors governing polymer fillers industry growth.
Increasing demand for organic fillers on account of its eco-friendly nature is expected to propel the market growth. Abundant availability of natural fibers such as cellulose, wood, etc. at lower cost is likely to be a key factor responsible for the increased demand.
Organic products being highly inflammable and hygroscopic, application base for the same has been limited. Intersegment replacement of fillers is also expected to restrain the market growth. Increasing demand for low-cost, high strength fillers is expected to pose a threat for the conventional fillers.
Most of the inorganic fillers are derived from mines, which is likely to have an adverse environmental effect. Thus, the environmental regulations pertaining to mining industry would play a major role in raw material availability.
U.S. Polymer Filler Market revenue by product, 2014 - 2024 (USD Million)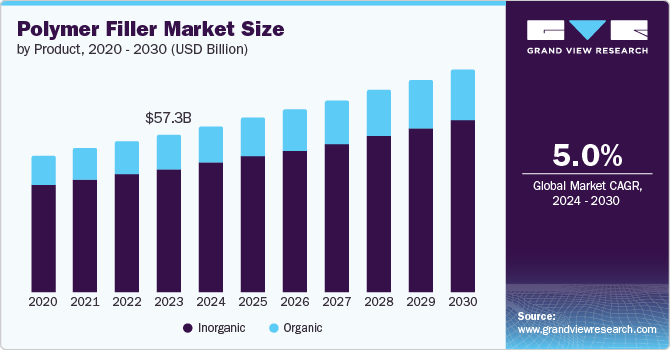 Product Insights
Inorganic polymer fillers are traditionally being used on account of their easy availability and superior properties. Salts such as calcium carbonate and calcium sulfate are estimated to dominate the market and hold over 60% of the inorganic fillers market share in 2015. Salts are preferred in building & construction industry due to their lower cost along with sufficient strength.
Organic fillers have been rapidly gaining popularity on account of their low cost as well as abundant availability. Environment-friendly nature of organic fillers has been a key driving factor over the past few years and is expected to continue over the forecast period as well. Organic polymer fillers such as shell and wood flour have low specific gravities and probably lead to cost savings when used to extend resins.
Depending upon the degree of polymer loading, their flame and chemical resistance may vary. Carbon fiber is expected to witness highest growth rate on account of its exceptional strength. However, high processing cost is expected to restrain the market growth.
End-Use Insights
Building & construction is estimated to dominate the market and accounts for over 20% of the total market. High penetration in the industry can be attributed to popularity of calcium carbonate fillers in the construction applications.
The automotive industry is expected to observe highest growth over the forecast period. Factors High growth can be attributed to the increasing demand for high strength low weight material in the sector. Stringent regulations pertaining to vehicular emission is further expected to trigger the product demand.
Robust growth in the manufacturing sector in emerging economies such as China and India, coupled with recovery of European industrial sector has resulted in increased demand for composite plastics. This is further expected to fuel the polymer fillers demand, especially in industrial products segment.
Packaging materials made using polymer fillers is easy to seal and also allows content to remain fresh for a longer period during transportation. This will remain a key factor driving the segment growth over the next eight years.
Regional Insights
Asia Pacific Polymer Filler Market led the global industry and accounted for over 45% of global volume in 2015. Increasing demand in automotive, packaging as well as construction industry is expected to propel the regional demand.
Rapid industrialization in Indian as well as Chinese market is also anticipated to drive the Polymer Filler Market. Indian government has implemented investment promotion programs to provide assistance to companies operating in the polymer and composite production.
North American market is considered to grow at a significant growth rate over the forecast period. Increasing investment in polymer processing sector is anticipated to propel the regional growth. Increasing demand for carbon composites from automotive industry will provide new opportunities to the market players.
Sluggish industrial growth in the European market is likely to affect the fillers market. Also, stringent environmental regulations have forced automotive manufacturers to use light weight high strength materials, which is expected to propel the market growth.
Competitive Insights
The global polymer fillers industry is expected to remain under pressure, owing to the increasing demand for introducing new and innovative products from the key end-use industries. Market participants are also anticipated to face stiffer competition from alternative materials such as scrap or waste materials. Scrap or waste materials are used as fillers for manufacturing concrete.
The Polymer Filler Market is highly fragmented due to presence of a number of manufacturers and large product differentiation. Major companies operating in the market include Quarzwerke group,20 Micron Limited, GCR group, Omya AG, Imerys S.A., Hoffman Minerals, Minerals Technologies, Unimin Corporation, LKAB group.