Industry Insights
Global polymer modified bitumen (PMB) market size was estimated at USD 7.67 billion in 2014 and is expected to witness significant growth over the next seven years owing to its rising demand from various application industries including road construction, roofing, adhesives, and coatings.
Increasing focus on infrastructure development from emerging economies will propel industry expansion over the next seven years. Shifting preference from using conventional bitumen towards PMB for asphalt overlay owing to superior properties and lower maintenance cost is expected to fuel growth.
Changing climatic conditions and heavy traffic affects bitumen roads adversely, causing cracking and rutting. Every year, heavy investments are made as these roads need continuous maintenance. PMB requires substantial capital owing to high cost of the product. However, the product becomes cost effective over a period of time owing to the reduced number of maintenance lifecycle.
Economies including India are expected to lead the PMB market owing to the increasing consumption of the product over the past few years for existing as well as new infrastructure. India had the second largest road network globally and the National Highways Authority of India (NHAI) has planned to acquire 10,000 hectares of land in 2015-16 to speed up road construction in the country connecting towns and cities.
TAPI Gas Pipeline, Turkmenistan; Myanmar Communications Network, Myanmar; KivuWatt, Rwanda; North-South Africa Corridor, Africa; Mombasa – Kigali Railway, Rwanda; Oyu Tolgoi Copper Ore Mine, Mongolia; and New Silk Road, Kazakhstan and are some of the key projects which are expected to augment the growth of PMBs.
U.S. polymer modified bitumen market revenue by application, 2012-2022, (USD Million)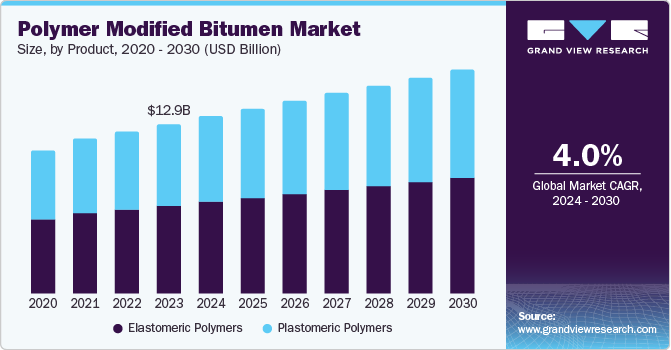 Agreements & partnerships along with new product launches by key players is expected to stimulate market expansion in the near future. In addition, improved product quality offered by PMBs is expected to drive the industry. However, volatile raw material prices due to fluctuations in crude oil prices are expected to restrain growth over the next seven years.
Application Insights
Demand for polymer modified bitumen (PMB) was highest for road construction at 7,274.4 kilo tons in 2014. Infrastructure development, particularly in emerging economies including China and India, is expected to drive demand.
The market is expected to witness rise owing to its usage in roofing applications at a CAGR of 7.0%, in terms of volume, from 2015 to 2022. PMB exhibits properties such as water repellence and flexibility which make them useful for waterproofing in roofing applications.
PMB membranes were initially used on low slope roofs and are now extensively being used in green roofs on commercial and residential buildings. The roofing market is anticipated to witness significant gains in Asia Pacific owing to the expansion of the housing & commercial building sector over the projected period.
Product Insights
Thermoplastic elastomers were widely used bitumen modifiers accounting for over 60% of the volume share in 2014. Thermoplastic bitumen modifiers include ethylene-vinyl acetate (EVA), alpha-polyolefins (APO), atactic polypropylene (APP), and isotactic polypropylene (IPP). Styrene-butadiene-styrene (SBS) and styrene-butadiene rubber (SBR) are used as elastomeric materials. Improved ageing resistance, low temperature flexibility, and resistance to permanent deformation by the addition of thermoplastic elastomers, particularly SBS, has resulted in driving growth.
Plastomers including polyolefins, ethyl vinyl acetate (EVA), high-density polyethylene (HDPE), low density polyethylene (LDPE), linear low-density polyethylene (LLDPE) are used in is also a key category of polymers used in polymer modification. Plastomers are expected to witness growth at a CAGR exceeding 6.0%, in terms of volume, from 2015 to 2022.
Regional Insights
North America polymer modified bitumen market accounted for over 35.0% of the global volume share in 2014. Rapid growth of the green roofing industry in the region is expected to play a critical role in growth of the market. Moreover, growing demand for low smoke bitumen with improved resistance to climatic changes & UV is expected to drive demand for PMB over the forecast period.
Polymer modified membranes were first introduced in Europe in the 1960s, where they were used as two ply application methods for roofing. However, in the past few years, the product is being extensively used for road construction. Demand for the product in road construction in Europe exceeded 1,820.0 kilo tons in 2014. Infrastructure development in Europe is creating new opportunities for PMB.
Competitive Insights
The global polymer modified bitumen market is competitive with major companies involved in continuous product innovation and R&D activities. Key players include Total Oil India Pvt. Ltd., Benzene International Pte Ltd, Lagan Asphalt Group, Nynas AB, Royal Dutch Shell PLC, ExxonMobil, Gazprom NEFT and Sika AG.
The industry is characterized by contract agreements between raw material suppliers, manufactures, and users, as companies are trying to expand their market share over the forecast period. For instance, Royal Dutch Shell PLC was awarded a contract to supply PMB for the construction of Muscat International Airport, which was concluded in 2014.