Industry Insights
Global polyphenylene oxide market size was 435.6 kilo tons in 2013. Strong demand from key end-use industries such as electrical & electronics and automotive is projected to drive growth over the forecast period. It is widely preferred for applications in electric components owing to properties such as low moisture absorption, inherent flame resistance, and excellent insulation properties.
Global increase in electronic components demand such as lighting, outlet boxes, and smoke detectors are projected to drive polyphenylene oxide market growth. It is blended with high-intensity polystyrene (HIPS) or nylon to obtain modified PPO or modified polyphenylene ether (MPPO / MPPE) to exhibit high glass transition temperature and good thermal properties. These economical blends are set to compete with polycarbonate and polybutylene terephthalate (PBT).
Increasing demand from automotive industry due to beneficial properties such as mechanical properties, low moisture absorption, excellent electrical insulation and dimensional stability is expected to drive growth over the next seven years. Growing automotive industry in emerging economies of Asia Pacific and the Middle East is expected to remain a key driving factor for growth.
Global PPO (M-PPO/M-PPE) market volume by application, 2012 - 2022 (Kilo Tons)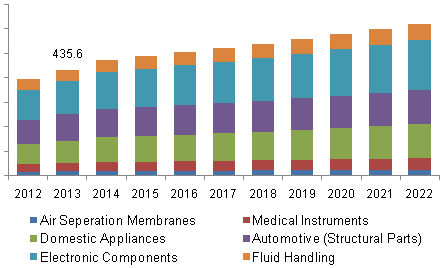 The shift of automotive production facilities to countries such as China, Japan, India, Thailand and Indonesia is projected to boost demand over the next seven years. It is further used in manufacturing domestic appliances such as photocopying machines stand, bearing, photocopies toner, printer, computer plug-ins and fax machine shell.
Increasing home appliances demand in emerging regions is projected to drive the market over the next seven years. It also finds applications in manufacturing portable medical devices owing to substitute polyvinyl chloride (PVC) which contains halogens & phthalates to enhance certain properties such as flame resistance and flexibility. Portable medical devices offer advantages such as reduced weight and size of the component.
PPO usage in the fluid application includes pump housings, valves, pipes, pump impellers, shower heads and water sprinkler owing to low water absorption properties and dimensional stability. Stringent government regulations regarding disposal and recycling are projected to pose challenges for industry participants. Increasing investments in research to improve manufacturing technology to lower down production costs is expected to provide lucrative opportunities for industry participant's growth.

Application Insights
Polyphenylene oxide market application industries include electronics & electrical, automotive & transportation, domestic appliances, air separation membranes, fluid handling and medical instruments. Electrical components dominated the global application market in the recent years and are set to continue this dominance in the near future. PPO is used in TV output transformer, bobbins, air conditioning electric boxes and deflection yoke in the electric & electrical industry.
Followed by electronic & electrical, automotive (structural parts) was the second largest application in 2014. Increasing consumer spending in regions such as Asia Pacific and Latin America is expected to drive automotive demand. This factor is further projected to positively influence global market growth. Increasing domestic appliances demand such as printers and computer plug-ins is projected to fuel growth over the next seven years. Domestic appliances are expected to be the fastest growing application over the forecast period.
Regional Insights
Asia Pacific polyphenylene oxide market dominated the global industry in terms of demand. Asia Pacific is expected to grow at steady rates and is expected to continue its dominance over the forecast period. North America and Europe PPO markets are anticipated to decrease owing to end-use industry saturation.
Latin America and the Middle East & Africa are expected to witness significant growth rates over the forecast period owing to growing electrical and automotive industries in those regions. Several key factors such as strong demand in end-use industries owing to rapid industrialization & urbanization and increasing disposable income giving rise to higher domestic appliances & automotive demand are slated to play a key role in shaping the regional as well as global polyphenylene oxide industry.
Competitive Market Share Insights
The global polyphenylene oxide market share is moderately consolidated with the presence of several dominant players. The industry is expected to exhibit moderate threat from new industry participants and the low potential threat from its counter products. Major industry participants include SABIC, BASF, Sumitomo Chemicals, Mitsubishi Chemical Holdings Corp., LyndollBasell Industries N.V., Solvay S.A., Asahi Kasei Chemicals Corp., Polyplastics Co. Ltd. and Momentive Performance Material (MPM) Holding LLC.