Industry Insights
Global polyurethane (PU) microspheres market was valued at USD 52.8 million in 2015. Increasing application as an encapsulating agent in various application industries such as pharmaceutical, paints & coatings and agrochemical is a key driving factor for industry growth over the forecast period.
Microspheres are small spherical particles made from either synthetic or natural materials. Ceramic, glass and polymer are some of the commercially available microspheres, widely utilized to obtain uniform coating thickness in industrial applications.
PU microspheres offer various advantageous characteristics such as narrow particle size distribution, uniform film and coating thickness, without edge defects and appealing smooth appearance, resulting in high consumption by the paints & coatings segment. Growing demand for PU based paints as a matting agent in wooden floor finishes as well as architectural coatings is expected to drive growth specifically in the paints & coatings industry.
The advent of advanced technologies for drug delivery, encapsulation in crop protection and increasing demand for repositionable adhesives has also led to high product demand in the pharmaceuticals & agrochemicals industry.
Controlled chemical release of biocides, pesticides and disinfectants from encapsulation resulting in an effective delivery is also anticipated to complement demand in these industries.
Microspheres facilitate accurate deliveries of nano-quantities of potent drug at the same time reducing concentration of drug at site, other than the target organ or tissue. They are also capable of manipulating the in vivo action of drug, tissue distribution and cellular interaction of the drugs.
The change in preferences towards luxury and light-weight vehicles along with rapid urbanization has resulted in an increase in the sales of vehicles in Asia Pacific. Growing demand in emerging economies such as China and India coupled with increasing PU microsphere compliance in application industries such as automotive and cosmetics is expected to provide immense growth opportunities to market participants over the forecast period.
U.S. polyurethane microspheres market revenue by application, 2014 - 2024 (USD Million)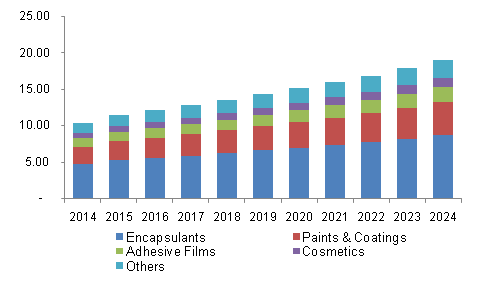 The market is characterized by backward integration by companies working in encapsulation industry to produce PU microspheres. However, high cost attached with producing PU microspheres as compared to other microspheres coupled with huge capital investment for R&D is expected to hinder growth and pose challenges to market participants.
Application Insights
Encapsulation emerged as the largest application segment with PU microspheres volume estimated at over 7,000 tons in 2015. The application segment's growth is driven by some of its inherent characteristics desired for various applications such as controlled delivery of drugs which increase efficiency of delivery.
Paints & coatings segment promises significant growth opportunities for PU microspheres, growing at fastest estimated CAGR of 5.3% from 2016 to 2024. Majority of the segment's penetration can be attributed to growing application scope in various application industries including automotive, construction and architecture. Increasing requirement for uniform thickness and particle size distribution shall be the primary driving force over the forecast period.
Regional Insights
European polyurethane microspheres market led the global industry and accounted for over 30% of global volume in 2015 with growth to be driven by high consumption in architectural, wood and plastic coatings. Europe is a global hub of premium automobiles prompting huge PU microspheres demand for manufacturing vehicle interiors and underbody coatings, making it the dominant regional market.
Growth in major application industries including electronics, automotive and construction in emerging economies such as China and India is expected to fuel demand in Asia Pacific region. It is also expected to the fastest growing regional market on account of high consumption of labels and packaging materials along with increasing substitution of polyurethane microspheres as alternatives for traditional emulsions. China is poised to be the largest consumer in Asia Pacific accounting for over half of the total regional volume in 2015 owing to the economic reforms in the region.
Competitive Insights
The global PU microspheres market is consolidated with encapsulating companies integrating backward to produce PU microspheres owing to feasibility issues particularly in drug delivery. Key companies operating in the PU microspheres industry include Microchem, Sanyo Chemical Industries Ltd., Supercolori S.p.A., Heyo Enterprises Co. Ltd., Chase Corporation, Bayer Material Science LLC, Kolon Industry, Inc., and Covestro AG.