Population Health Management Market Size and Trends
The global Population Health Management (PHM) market size was valued at USD 20.7 billion in 2015. The medical industry is rapidly transforming from a paper-based healthcare system into a digitized system, which is accelerating the demand for healthcare IT services. In addition, the growing demand for solutions supporting value-based care delivery by healthcare stakeholders has resulted in a shift from fee-for-service (FFS) to a value-based payment (VBP) model. This shift is expected to drive population health analysis toward strong revenue growth to transform into a multibillion dollar industry for population health management. Drivers include rapidly increasing efforts to contain rising healthcare costs, rapid transformation of private payers to VBP model, increasing demand for effective disease management, and increasing government initiatives to track the health of the population and its subgroups.
PHM market, by product, 2014 - 2025 (USD Million)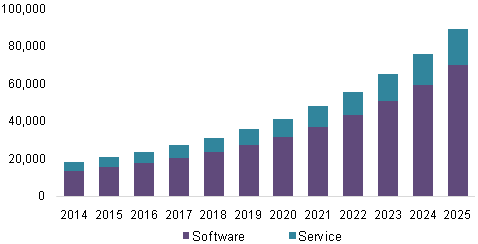 Hospitals and other medical professionals, such as doctors and specialists, are now tasked with improving the quality of care as well as driving down overall costs. Furthermore, Affordable Care Act requisitioned expansion of coverage and Centers for Medicare and Medicaid Services commissioned payment changes and reforms, which is aiding in the growing importance of effective population health management.
Product Insights
The population health management industry by product is further divided into software and services. In 2015, the software segment accounted for the largest share of the population health management industry and is expected to grow at the fastest rate. Software is preferred due to the fact that it allows establishment of a more customized system that can have an exact fit, tailored to the needs of the businesses. Software systems offer a direct link between the software team and other business personnel.
High level of customization is the biggest benefit of software and guarantees high rate of return on investment. In addition, demand for integrated healthcare systems is responsible for high demand of the PHM software.
On the other hand, in an attempt to setup a successful population health management practice and build patient-centric enterprise, healthcare providers have to integrate PHM into their daily lives. As a result, third party service providers are increasingly experiencing rise in demand for PHM services.
End-use Insights
End-use segment is categorized into healthcare providers, healthcare payers, and employer groups. Healthcare providers held the largest share in the year 2015. PHM is expected to improve clinical outcome by aiding in better disease management. This will result in reduction of inpatient stay duration and reduce overall physician observation hours. As a result, a provider can focus more on patient-centric care and reduce overall costs.
PHM market, by end use, 2016 & 2025 (USD Million)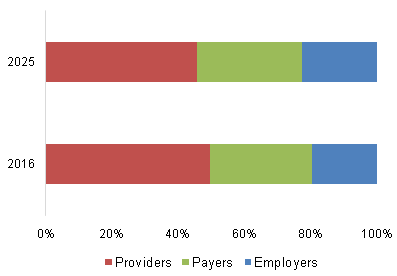 However, employer groups segment is expected to be the fastest growing segment from 2016 to 2025. The option to customize and pilot their own programs to serve the community and the clinical and financial benefits that PHM offers, will be most beneficial for employer groups.
Regional Insights
North America emerged as the largest market accounting for almost half of the global market in 2015. Total healthcare spending in the U.S. is expected to reach up to USD 4.8 trillion in 2021 from USD 2.6 trillion in 2010-accounting for nearly 20% of gross domestic product by 2021. Thus, the alarming increase in healthcare costs is in turn escalating the demand for an effective PHM. The government is focusing on increased incentives and investment to improve national health by accurately tracking the health of the population and its subgroups.
PHM market share, by region, 2015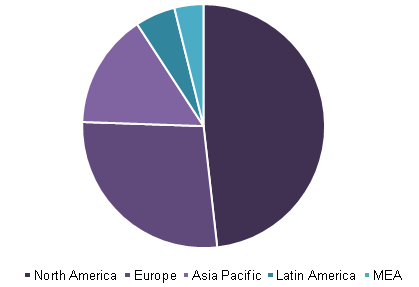 Europe is expected to hold a significant share of demand on account of policymakers increasing efforts to provide targeted services based on the specific needs of patients to safeguard future of the people. Europe had the second largest share in the PHM market after North America in 2015.
PHM Market Share
Some key industry participants include Allscripts, Inc.; Cerner Corporation; Conifer Health Solutions, LLC; eClinicalWorks; Enli Health Intelligence; McKesson; Medecision; Optum; and WellCentive, Inc. However, after analyzing the market, it is conclusive that current vendors are not fully equipped to meet all the requirements of population health management market. The current players are still innovating and continually update software to keep up with the evolving processes.
PHM Report Scope
| | | | |
| --- | --- | --- | --- |
| Attribute | Details | Customization Offer (15% free)* | Additional Cost |
| Base year | 2015 | NA | NA |
| Historic | 2014 | Extended historic data (2012 - 2015) | Free |
| Forecast | 2016 - 2025 | Extended forecast data (2025 - 2027) | Free |
| Report details | Market size, company market share, competitive landscape, growth factors, trends | Contact us for specific market information not available in this report | Quotation to be shared post feasibility |
| Market representation | USD Million | NA | NA |
| Geographic coverage | Global & regional (by country) | Information on up to three additional countries | Free |
| Company profiles | All major market players | Profiles of 10 additional companies | Free |
* 15% free customization - The 15% report customization is equivalent to work done by one research analyst for 5 working days.
Market Segmentation
Grand View Research has segmented the population health management market by product, end use, and region.
Global Population Health Management Product Outlook (Revenue, USD Million, 2014 - 2025)
Global Population Health Management End-use Outlook (Revenue, USD Million, 2014 - 2025)

Healthcare Providers

Healthcare Payers

Employer Groups

Global Population Health Management Regional Outlook (Revenue, USD Million, 2014 - 2025)

North America

Europe

Asia Pacific

Latin America

Middle East and Africa

South Africa

Saudi Arabia