Industry Insights
The global powder coatings equipment market size was valued USD 1.14 billion in 2015 and is expected to witness significant growth over the forecast period on account of growing automotive and construction industries in India, China, South Korea, Mexico, and Singapore.
Powder coatings equipment is projected to witness significant demand as they offer high transfer efficiency, enhances reliability, ease of use, and provides high efficiency. Increasing usage in various applications including automotive, architecture, home appliances, and furniture will increase industry expansion over the upcoming years.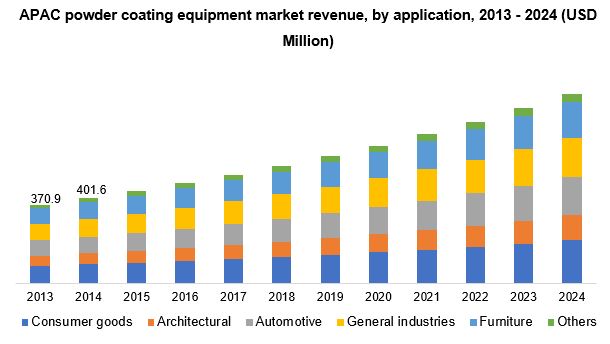 Growing demand for passenger cars coupled with increasing number of automotive manufacturing plants in Asia Pacific and Latin America is likely to stimulate the industry development. In addition, rising usage of powder coatings in home appliances such as refrigerators, washing machines, dishwashers, microwave ovens, and air conditioners in light of growing population and rising income levels will propel industry growth.
Abundant availability of raw materials such as stainless steel, iron ore, glass, and plastics in the U.S., India, Australia, and China will augment its demand over the forecast years. Environmental advantages of powder coatings, reduction in the solid waste profile as compared to traditional coatings, and economical advantages of powder coatings are some of the factors that can propel the market growth.
Manufacturers are continuously investing in research for the development of lightweight, compact, flexible, and easy to clean powder coating spray equipment to address issues such as space constraints and flexibility of coating complex shapes. The inception of thermal powder spray equipment is expected to create new opportunities over the forecast period.
Companies are focusing on new product development to increase their presence globally. Nordson developed Encore HD automatic dense-phase powder coating guns that provide consistent performance, excellent transfer efficiency, and high coating deposition rates for efficient powder application, which will fuel the industry growth over the upcoming years.
Application Insights
Consumer goods segment was the largest application segment accounting for 22.1% of the global share. Powder coating process decreases the amount of waste materials and thus is widely utilized in the consumer goods segment. Amount and cost required for powder coating are less as compared to that of liquid coating and thus is projected to boost the powder coatings equipment market demand over the period of time.
Consumer goods such as refrigerators, microwave, water heaters, dryer drums, vacuum cleaners, dishwashers, and freezer cabinets are expected to grow on account of rising population, rapid urbanization, increasing disposable incomes, developing level of employment and changing lifestyles.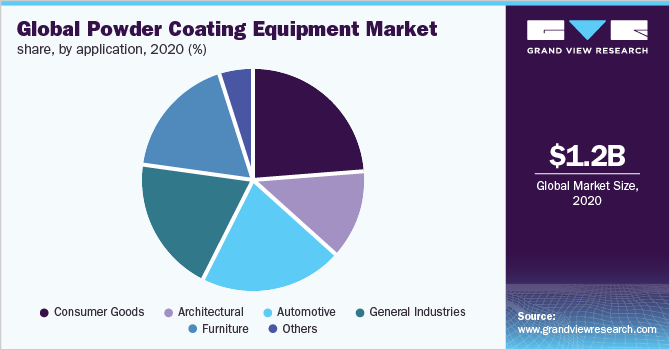 Powder coating equipment is used for coating automobiles, consumer goods, furniture, and architectural applications such as windows and aluminum extrusions and others. However, high initial investment in the powder coating equipment is anticipated to hamper the market to some extent.
The architectural application will witness significant growth at a CAGR of 7.3% from 2016 to 2024 on account of high usage in aluminum extrusions used in windows, doorframes, building facades, kitchen, bathroom, and electrical fixtures.
Product Insights
Ovens & booths are expected to show significant growth at a CAGR of 7% from 2016 to 2024 on account of advantages such as superior curing and minimized blow off. Oven ensures proper baking of the coatings creating a smooth fused layer on surfaces, which in turn will propel growth.
Powder coat guns are used for spraying coatings on metal, ceramic, glass, and plastic objects and surfaces. Rising demand for furniture and architectural applications such as windows are expected to fuel the demand for equipment in the near future.
Moreover, the macroeconomic factors including ease of application, technological advancement, rise in spending power of consumer, and product development are projected to drive the market growth. Positive outlook in consumer goods, automotive, and other applications are expecetd to fuel the powder coating market.
Regional Insights
Asia Pacific dominated the global market and accounted for 38.2% of the share in 2015. This trend is projected to continue on account of the growth of the automotive industry in countries including China, Japan, India, and South Korea. Moreover, growing population, developing lifestyles, and rising disposable income will augment industry growth.
The presence of manufacturers including Mitsuba Systems Pvt. Ltd., Statfield Equipment Pvt. Ltd., and Spark Engineering in the region will increase the market size. Furthermore, high investment initiatives for the construction sector in the emerging countries such as China, Japan, India, and Indonesia will open up new growth avenues over the forecast period.
North America accounted for USD 235 million in 2015 and is expected to witness steady growth on account of new product launches by GM, Cadillac and Ford Motors along with automobile production growth in the U.S. Capacity addition and plant expansion by automotive companies in the U.S. will augment the demand over the forecast period.
Powder Coatings Equipment Market Share Insights
The industry is highly fragmented in nature on account of the presence of numerous manufacturers on a global as well as regional level. Nordson Corporation, Carlisle, WAGNER, Hangzhou Color Powder Coating Equipment Co., Ltd. are some of the key industry players.