Industry Insights
The global pulse flour market size was about USD 17.02 billion in 2015. Pulse flour is being increasingly used as a functional food ingredient and is derived from the hull of pulses such as pea, lentils, chickpea and other legumes. The growing vegetarian population is expected to play a key role in augmenting the demand for the product. Extensive R&D by manufacturers in order to develop new products and government initiatives for promoting the use of pulses is likely to have a positive impact on the market growth over the next eight years.
Increasing focus towards consumer health is expected to restrain the use of rice and wheat flour, thereby leading to positive impact on the market growth. Gluten-free nature and the ability of the product to improve the texture and shelf-life of food is expected to augment growth. Pulse flour, when used with its grain counterpart, improves the overall nutritional content of the foodstuff, which is expected to open new opportunities over the forecast period.
Canada pulse flour market revenue, by application, 2013 - 2024 (USD Billion)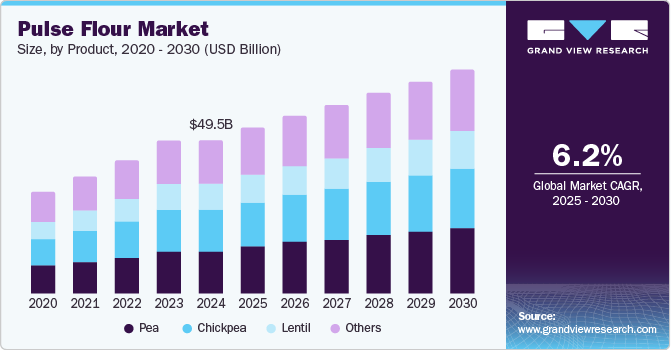 Application Insights
Bakery & Snacks was the largest application segment in 2015 and is expected to grow at a CAGR of 14.5% from 2016 to 2024. The growing awareness about the intake of proteins and nutrients is expected to boost the application of pulse flour in the production of bread and other snacks. The product is likely to gain huge acceptance in bakery & snacks application as it improves their amino acid profile.
Beverages application is expected to witness a CAGR of over 12.0% from 2016 to 2024. Numerous commercial food processors and private volunteer organizations (PVO) have been attempting to include pulse flour in beverage formulations in order to provide a suitable alternative for children with lactose intolerance or allergies to soy products. Increasing consumer awareness regarding gluten intake and its harmful effects is anticipated to bolster demand for the product in fortified gluten-free drinks.
Product Insights
Chickpea flour dominated the global market with over 30% share in 2015. The presence of numerous nutritional elements including selenium, iron, potassium, sodium and magnesium is expected to propel its demand over the forecast period. The consumption of chickpea flour aids in curbing health problems such as coronary heart disease, obesity, diabetes and cancer, thereby leading to increased consumption.
The lentil pulse flour is expected to witness a CAGR of over 15.0%, in terms of revenue, from 2016 to 2024. A number of foodstuffs are being reformulated with lentil flour due to the high concentration of essential nutrients, increased protein quality and reduction in carbon footprint of food. Moreover, the ability to enhance the muscle growth and muscle repair of the body is expected to augment growth over the forecast period.
Regional Insights
Europe dominated the global market with a share of over 25%, in terms of revenue, in 2015. However, the demand in Asia Pacific and North America is expected to grow at a CAGR of over 15% and 13%, respectively. Asia Pacific and North America are major consumers of beverages constituting the product. The increased consumption for energy and sports drinks in these regions is likely to drive the demand in beverage production.
The Middle East & Africa is anticipated to grow at a CAGR of over 16%. Pulse flour is highly used in hummus, soups, curries, and tajines. These are also being utilized in processed meat, frozen prepared meat, and salads in order to boost the nutritional value of the food. High population growth coupled with growing food services & retail sales is expected to have a positive impact on the demand over the forecast period. Growing hospitality industry in MEA is expected to propel introduction of new cuisines, particularly in Egypt, Morocco, UAE, and Israel. This has led to increase in the demand for processed pulses for making new recipes.
Competitive Market Share Insights
Key industry participants include Ingredion Incorporated, ADM, Best Cooking Pulses Inc., AGT Food & Ingredients, Harvest Innovations, CanMar Grain Products, Diefenbaker Seed Processors, Parakh Agro Industries Ltd. and Ganesh Grains Ltd. New product development and acquisition are the key strategies being adopted by the industry participants in order to strengthen their market position. In October 2014, Archer Daniels Midland Company announced the acquisition of WILD Flavors GmbH. In August 2016, Ingredion Incorporated entered into a definitive agreement to acquire the rice flour business of Thailand-based Sun Flour Industry Co., Ltd.