Industry Insights
Global refinery catalyst market size was estimated at 1.30 million tons in 2014. The industry is expected to witness significant growth over the next seven years on account of increasing demand for high-performance transportation fuel globally. Stringent fuel norms and standards coupled with increasing petroleum derivatives consumption are also expected to steer growth.
These specialty catalysts are used in petroleum refining processes to enhance their operational efficiencies. High refining costs are expected to have a positive impact on their demand over the forecast period. Increasing high octane fuel demand, particularly in metropolitan cities in economies including the U.S., Japan, Germany, the UK, and India is expected to impact positively industry expansion.
North America refinery catalyst market revenue by material, 2012-2022 (USD Million)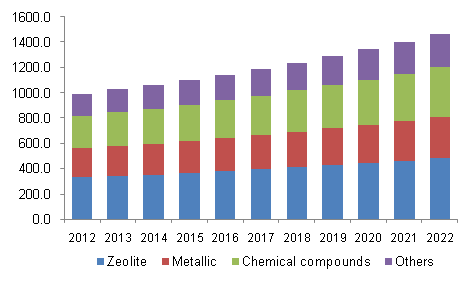 These materials are widely used to counter complex issues such as metal contamination and heat balance effects in tight oil processing. Increasing tight oil production in the U.S., Russia, China, and Argentina are expected to drive demand over the forecast period.
Stringent government regulations including those related to Ultra-Low Sulfur Diesel (ULSD) and strict emission standards in mature economies are anticipated to drive catalyst market demand in the petroleum refining sector. Availability of alternate fuels such as biofuels and adoption of "Go Green" campaigns as well as the environmental policies adopted by nations are the factors that restrain the global refinery catalyst market.
Asia Pacific is anticipated to witness significant growth on account of increasing energy demand in emerging economies of China and India. The presence of adequate tight oil reserves in China is expected to further complement the regional growth. Major industry participants have been shifting their focus towards increasing capacities in Asia-Pacific to cater to the growing demand.
In mature markets, products that help to process difficult feedstock and increase outputs are creating opportunities. Increasing shale gas and tight oil production in the U.S., Russia, and Western Europe are expected to drive the North American and European industry. These regional economies are characterized by technological innovations and new product development with reduced environment impacts.
Material Insights
Zeolites were the majorly used refinery materials, accounting for over 30% of total volume share in 2014. Zeolites have the ability to provide microporosity and adjustable acidity, which make them suitable for refining and petrochemical applications. Zeolites find applications in various processes including olefin alkylation, naphtha isomerization, reforming, hydrocracking, and cracking.
Low cost of chemical compounds as compared to zeolites and metals is expected to supplement the former's growth over the next seven years. Chemical compounds are expected to emerge as the fastest growing segment and gain share, growing at an estimated CAGR of 3.5% over next seven years.
Other materials such as biocatalysts and enzymes maintained over 18% of global revenue share in 2014 and are expected to witness an above-average growth over the forecast period. Gaining importance of eco-friendly materials in biorefineries is expected to play a crucial role in driving growth for enzyme-based catalyst over the foreseeable future.
Application Insights
Fluid Catalytic Cracking (FCC) was the largest application segment and accounted for over 45% of the total volume share in 2014. FCC is a type of secondary unit operation and primarily used in producing additional gasoline in the refining process. Escalating global diesel and gasoline consumption as the primary transportation fuel is expected to boost product demand in the sector over the forecast period.
Alkylation was another major application segment and is anticipated to witness stagnant growth in the future. Hydrotreating is expected to witness a high growth of 4.7% regarding value from 2015 to 2022. Catalytic hydrotreating in petroleum refining is done to remove most of the contaminants including nitrogen, sulfur, oxygen, and metals from liquid petroleum fractions.
These contaminants travel through refinery processing units and can have detrimental effects on the equipment, catalysts, and quality of the finished products. Growing concerns towards maintaining minimum contaminant quantities and improving fluid pipeline quality within the refinery processes may attribute to high-penetration in the segment.
Hydrocracking is also estimated to witness above average growth rates over next few years owing to increasing requirement to disintegrate heavier crude oil and residual process streams into lighter components. Low-quality gas oil from the atmospheric or vacuum distillation units, FCCU, and the coking units is upgraded to high-quality, clean-burning jet fuel, diesel, and gasoline.
Regional Insights
Asia Pacific refinery catalyst market dominated the global demand, accounting for over 30% of overall volume share in 2014. Increasing refinery throughput in China, India, and South-East Asia coupled with several upcoming capacity expansions in these economies may attribute to high demand.
China had a significant share in global petroleum refining throughput and has emerged as a manufacturing destination for chemical and petrochemical products owing to growing domestic demand coupled with low manufacturing cost as compared to the U.S. and EU countries. Positive outlook for petrochemicals and refining sectors in China and India is expected to fuel expansion over the forecast period.
Asia Pacific is anticipated to witness the fastest growth over the forecast period and is expected to reach a net demand of over 570 kilo tons by 2022. Population growth coupled with increasing automotive industry growth is anticipated to spur high octane gasoline consumption in the region.
Europe was the second major consumer, accounting for approximately one-fourth of global demand. The region is estimated to lose share to high growth markets of Asia Pacific and Latin America. Rising demand for cleaner transportation fuels in the U.S. is expected to increase the importance of catalyst used for converting heavy crude oil into light fractions such as gasoline, diesel, and kerosene. Industry growth in chemical and oil & gas sectors in Mexico are other driving factors contributing to industry expansion in North America.
Competitive Insights
Global refinery catalyst market is moderately consolidated with top five players including BASF, W. R Grace, Chevron, Exxon Mobil, and DuPont accounting for over 50% of the industry revenue share in 2014. Companies including Materia Inc. and Umicore Ag & Co. Kg has a patent each to their credit whereas W.R. Grace & Co. – Conn entered into an agreement with Dow Chemicals to develop next-generation catalysts for polypropylene production.
Companies such as Albemarle, BASF, Johnson Matthey, and W.R. Grace are integrated into their operations, where the companies manufacture raw materials such as zeolites and other chemical compounds that are captively consumed for manufacturing heterogeneous and homogenous catalysts.