Industry Insights
The global catalyst market size was 6,646.9 kilo tons in 2015. Rising importance of catalysts in chemicals and oil & gas industries on account of enhancing the rate of the reaction and reducing lead time is expected to have a favorable impact on the sector over the next few years.
A catalyst is used as an additional substance in a reaction between two chemicals thereby, accelerating the process and inducing less activation energy. The material is used in a broad range of applications including petroleum refining, synthesis of bulk chemicals, petrochemical production, polymer processing and environment protection reactions.
Gaining popularity of the catalytic reforming process in the downstream oil & gas sector on account of providing improved yield of light cut oils including gasoline, high-speed diesel, and superior kerosene oil is expected to increase the application of the product. Also, rising expenditure for the production of petroleum derivatives through syngas is supposed to promote the usage of catalysts in the near future.
Over the past few years, automotive manufacturers including Volkswagen and General Motors have increased their expenditure on the incorporation of emission control catalyst in the form of diesel particulate filters (DPF) and diesel oxidation catalysts. Also, the increasing number of stringent regulations including National Ambient Air Quality Standards (NAAQS) in the U.S. is expected to promote the usage of catalysts as an environmental protection material over the next eight years.
North America Catalyst Market Volume, By Application, 2013 - 2024 (Kilo Tons)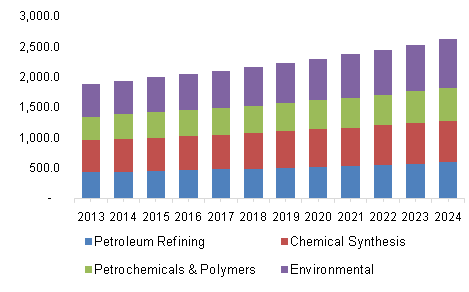 Fluctuating prices of raw materials, particularly zeolite and precious metals, on account of their increasing demand in other applications including automotive, construction and chemicals is expected to result in limited product supply to catalyst manufacturers. As a result, this trend is supposed to lead to price hikes for catalysts, which in turn is likely to hamper the industry growth over the next eight years. The emergence of biocatalysts on account of increasing R&D spending in the healthcare sector is expected to open new avenues over the next eight years.
Application Insights
Chemical synthesis accounted for 29.1% of total market volume in 2015. Catalysts are increasingly being used in chemical synthesis owing to its unique characteristics such as high stability and easy activation of alkynes and alkenes.
Environmental applications are expected to witness fastest volume growth at a CAGR of 4.4% from 2016 to 2024. Increasing adoption of catalysts for environmental remediation processes including industrial and municipal waste treatment and vehicle emission control systems is expected to have a positive impact on the market.
Raw Material Insights
Chemical compounds including peroxide, amine, and acid products accounted for 41.0% of the industry volume share in 2015. The low price of chemicals as compared to metals and zeolite is expected to have a substantial impact in the near future.
Metal catalysts demand was 1,568.4 kilo tons in 2015 and is projected to witness significant gains in light of its increasing application in the organic synthesis of bulk chemicals including ammonia. Metals such as nickel, copper, chromium, molybdenum, palladium, platinum, gold, ruthenium, and rhodium are used as catalysts for enhancing reaction rate in chemical processing, refining, and polymer production.
Zeolite-based products are expected to witness growth at a CAGR of 4.9% from 2016 to 2024, in terms of revenue, on account of its properties such as high porosity and adjustable acidity. Gaining importance of FCC for converting high molecular weight hydrocarbons into light cuts such as gasoline and diesel in the U.S. is expected to fuel zeolite catalyst demand over the forecast period.
Product Insights
Heterogeneous catalysts were used extensively accounting for 73.6% of the global market volume in 2015. Low price and easy market access of heterogeneous products are expected to remain favorable factors over the next eight years.
Homogeneous products are projected to witness the fastest growth at a CAGR of 4.4% from 2016 to 2024. Good solubility of homogenous catalysts at the reactant phase is an essential feature which paves its way for use in the production of bulk chemicals, petrochemicals, and polymers.
Regional Insights
Asia Pacific was the largest market, accounting for 34.0% of total volume in 2015. The emergence of China and India as production destination for chemicals and petroleum derivatives in light of favorable regulatory support and low labor cost is expected to increase the demand for catalysts over the next eight years.
The Middle East & Africa is expected to foresee growth at a CAGR of 4.9% from 2016 to 2024. Expansion of refining capacities in the Middle East, particularly in Saudi Arabia, Oman, and Qatar, in light of increasing demand for petrochemicals coupled with a favorable policy for promoting investments, is expected to be a favorable factor for growth over the forecast duration.
Competitive Insights
Key market players include BASF, Johnson Matthey, W.R. Grace, Albemarle Corporation, Evonik Industries AG and DuPont. In July 2014, Johnson Matthey Process Technologies established a new production site in Brazil which will manufacture catalyst for captive hydrogen production in the refining sector. This initiative is expected to ensure product supply to refining companies located in Latin America over the next eight years.