Industry Insights
Global respiratory protective equipment market size was valued at USD 4,822.4 million in 2014. Rising concerns towards employee health & safety along with increasing industrial fatalities are anticipated to drive market growth over the forecast period.
Safety standards by regulatory agencies including Occupational Safety and Health Administration (OSHA) mainly in North America and Europe are anticipated to have a positive impact on market growth. Strict regulations for threshold levels have been set by Centers for Disease Control and Prevention and World Health Organization for employees in healthcare sectors worldwide.
Fumes, heat, and radiation emitted during industrial process pose health risks such as cancers, pulmonary diseases, skin irritation, and loss of vision. Over the recent past, there has been a lot of inspection from organizations and HSE agencies to improve safety standards in industries. Technological advancements coupled with innovations for enhancing product life of RPEs is further estimated to impact positively industry expansion over the next seven years.
The Middle East, Central & South America, and Asia Pacific are expected to experience high growth in the RPE market over the forecast period on account of increasing construction and infrastructure projects in these regions, thereby creating immense opportunities for the respiratory protective equipment industry.
Major factors driving the industry may be attributed to new applications within industries which require RPE with enhanced quality material and design. Increasing requirement for technologically advanced products and multi-purpose respiratory products is expected to drive innovations in the industry.
Rapid industrialization in developing economies such as those in South America and South-East Asia is expected to impact positively skilled labor requirements. This factor is anticipated to raise RPE demand in near future.
U.S. respiratory protective equipment market revenue estimates and forecast, by product, 2012-2022 (USD Million)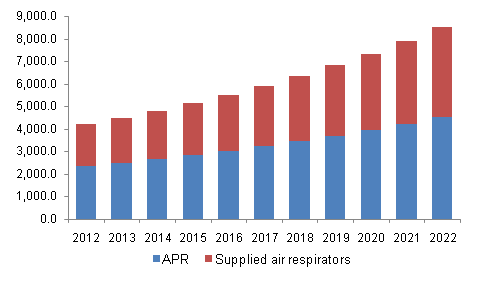 Product Insights
RPE such as air-purifying respirators (APR) and supplied air respirators are used in industries to ensure the safety of employees against inhaling harmful dust, fumes, vapors, or gases. APR emerged as a leading respiratory protective equipment product segment covering over 55% revenue share in 2014. This segment is anticipated to witness growth on account of rising demand, particularly in mining, petrochemical, and oil & gas sector.
Supplied air respirator accounted for over 40% of market share in 2014 and is anticipated to witness high growth over the next seven years. Supplied air respirator is used in place of APRs, where a higher degree of respiratory protection is required.
End-Use Insights
Industrial was the largest end-use segment accounting for 18.1% in 2014. Growing automotive and metal fabrication industries in emerging economies such as India, China, and Brazil is anticipated to augment product demand over the forecast period.
Oil & gas end-use segment for respiratory protective equipment is expected to grow at a CAGR of 7.6% from 2015 to 2022. Healthcare is anticipated to be the fastest growing end-use segment for respiratory protective equipment in future on account of growing concern for occupational diseases and deaths in construction and mining industries.
Regional Insights
North America was the largest regional respiratory protective equipment market accounting for 30% in 2014. Stringent regulatory scenario coupled with growing employee awareness towards personal safety may be attributed to high penetration in the region. Strict safety legislations for asbestos mining coupled with rising employee/worker awareness towards personal safety in a majority of the industries is expected to drive regional demand over the next seven years.
Asia Pacific is anticipated to witness the highest growth over the forecast period and is expected to account for over 18.0% of the global revenue by 2022. Increasing construction spending along with growing transportation and oil & gas industries in the region particularly in economies of China, India, Indonesia and Vietnam is estimated to raise RPE demand over the foreseeable period.
Central & South America and the Middle East & Africa are anticipated to witness significant growth owing to the growth of several end-use industries and implementation of various OSHA regulations in companies within the regions.
Competitive Insights
Major companies operating in this industry include 3M Co., Delta Plus, Uvex Safety Group, Alpha Pro Tech, DuPont, MSA Safety, Ansell Ltd., Bulwark Protective Apparel and Kimberley-Clark. These companies have partnered with distributors for enhancing their market penetration in various regions. They have also offered products on e-commerce platforms that cater to various high-risk activities including metal forming, asbestos removal, waste remediation, rescue operations, and chemical handling.