Industry Insights
The global rubber processing chemicals market size was estimated at USD 4.37 billion in 2015. Need for improved resistance against effects of heat, sunlight, oxygen, mechanical stress and ozone are leading the growth of the market globally. Rubbers are used to manufacture a broad range of products including tires, hoses, matting, belts, flooring, and gloves.
The automotive sector has always been the backbone of the rubber industry. In 2014, out of the total rubber consumption, more than half of the market was dominated by rubber tires. Thus, the rubber processing chemicals industry is expected to benefit from increasing rubber tire consumption over the forecast period, globally.
Positive outlook of the automotive sector in countries such as China, India, Indonesia, Malaysia, and Japan in light of growing demand for automobiles with increased population and demand for non-tire applications is likely to result in a positive impact on the industry development. In 2015, the global car sales crossed a mark of 70 million units. Asia is estimated as the largest market for automobiles and is projected to continue the trend over the forecast period. The below figure represents the global car sales in 2015.
Though tire applications dominated the market, non-tire is also a key application driving the growth of rubber processing chemicals. The non-tire applications mainly include industrial rubber, along with polymer modification, building & construction, and automotive (non-tire) as other key applications for industrial rubber.
U.S. rubber processing chemicals market revenue, 2013 - 2024 (USD Million)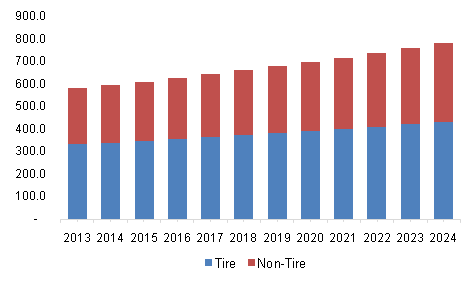 Petroleum-based chemicals used in rubber tire manufacturing are being replaced by processing oils and fibers made of plant cellulose. Japanese tire manufacturer "Yokohama tire" is making use of modified natural rubber compounds and processing oil derived from orange peels. These green tires will also overcome the problem of poor traction in braking and cornering.
Application Insights
Rubber tire was the largest application segment for rubber processing chemicals, which accounted for 56.5% of the revenue share in 2015. Growth in the automotive sector coupled with improved purchasing power in emerging economies, especially in Asia Pacific, is contributing to the demand for tire applications.
Asia Pacific dominated the global tire industry in 2015 and is expected to continue its dominance over the forecast period. Increasing per capita income is leading the growth for automobiles which in turn will propel the demand for rubber processing chemicals in tire application in this region.
Product insights
Anti-degradants were the largest segment for rubber processing chemicals globally, with a revenue share of 55.5% in 2015. During vulcanization process, anti-degradants are mixed with other rubber chemicals such as accelerators, curing agents along with crude rubber. To get better results, increased tensile strength, better finishing, high resistance from heat, anti-degradants are added in the vulcanization process.
The global accelerators market was estimated at 615.8 kilo tons in 2015. Accelerators are made of high-quality materials such as alkaline compounds. They enhance process speed and cure the vulcanization process. Accelerators are widely used in vulcanization process to crosslink with sulfur.
Flame retardants are projected to be the fastest growing segment at a CAGR of 4.7% from 2016 to 2024. Flame retardants are used to prevent the rubber from flaming incidents and heat. Increasing measures for safety and protection is expected to augment demand for the product in the tire and non-tire applications.
Regional Insights
The North America rubber processing chemicals market was valued at USD 835.1 million in 2015. Rising domestic demand for automobiles, especially in Mexico, is expected to drive growth. However, the presence of stringent government regulations is expected to result in moderate growth over the forecast period.
Europe market is projected to witness volume gains at a CAGR of 2.4% from 2016 to 2024. Widespread automotive industry and continuous R&D activities are fuelling the growth of the market over the forecast period. Furthermore, rising awareness of automotive tires and safety standards is expected to propel growth over the forecast period.
Competitive Insights
The rubber processing chemicals market is highly fragmented in nature with the larger players holding the majority of the share. Prominent companies in the global rubber processing industry include Lanxess AG, BASF SE, Solvay SA, AkzoNobel N.V., Arkema S.A., and R.T. Vanderbilt Holding Company, Inc.
Players in the industry are adopting growth strategies such as expansion and new product developments to enhance their product portfolio and increase their market penetration. In 2013, R.T. Vanderbilt Company expanded the capacity of its manufacturing plant in Murray, Kentucky. This plant manufactures different chemicals including rubber processing chemicals.