Industry Insights
The global rubber processing chemicals market size was 2136.2 kilotons in 2015 and is expected to grow at a CAGR of 3.3%.from 2016 to 2024. Rubber is used to manufacture a variety of products such as tires, belts, mats, hoses, gloves, and flooring among others. Demand for tires with improved resistance to heat, mechanical stress, and ozone is leading global market growth.
Demand for rubber is dominated by the automotive sector, which has always been the backbone of the rubber industry. The auto industry in North America is witnessing a surge. The European market, on the other hand, was estimated to grow at a low pace, as it is recovering from its economic slump since the last few years. Asia is estimated to be the largest market for automobiles and is projected to continue the trend over the forecast period.
Market growth depends majorly on tire industry which includes both, natural and synthetic rubber. Product consumption is majorly driven by developing countries. China recorded car sales of 20.01 million units in 2015, including light trucks. It was followed by India with car sales of 2.06 million units in the same year.
Several regulatory bodies such as the National Emission Standards for Hazardous Air Pollutants (NESHAP), and the Registration, Evaluation, Authorization, and Restriction of Chemicals (REACH) have imposed strict policies regarding usage of hazardous chemicals and disposal of polluted wastewater from rubber processing. Hence, manufacturers are investing in R&D activities to launch new chemicals complying with guidelines set by different regulatory bodies. Green tires are being promoted to reduce environmental impact. Also, silica is being preferred over carbon black owing to its better performance.
Petroleum-based chemicals used in rubber tire manufacturing are being replaced by fibers and processing oils made of plant cellulose. Japanese tire manufacturer Yokohama Tire Corporation is using processing oil derived from orange peels and modified natural rubber compounds to manufacture tires. These green tires will also overcome the problem of poor traction in braking and cornering.
Product Insights
Anti-degradant was the largest segment for rubber processing chemicals globally, with a revenue share of 51% in 2015. Anti-degradants are primarily used in manufacturing rubbers to prevent problems such as storage aging, heat, dynamic flex fatigue, and ozone cracking. In 2015, Asia Pacific registered highest demand for anti-degradants, followed by North America.
Accelerators are the chemical agents used to effectively cause vulcanization. Vulcanization accelerators are extensively used in combination with sulfur as cross-linker along with zinc oxide and stearic acid as activators.
Flame retardants is projected to be the fastest growing segment at a CAGR of 4.7% from 2016 to 2024. Flame retardants are used as processing aids in rubbers, textiles, plastics, surface finishes, and coatings manufacturing. It suppresses chemical reactions by forming a coating on the surface of a material and delays the spread of fire.
Application Insights
The rubber processing chemicals is categorized into two end-use segments including tire and non-tire. Requirement for improved resistance against effects of sunlight, heat, oxygen, mechanical stress and ozone are leading the growth for rubber processing chemicals worldwide Rubber was the major application segment for with 56.5% revenue share in 2015.
Asia Pacific also dominated the market for non-tire applications and is expected to continue leading over the forecast period. Growing industrialization in manufacturing sectors is fueling growth for rubber processing chemicals in this application segment. Asia Pacific is also projected to be the fastest growing market for non-tire applications over the forecast period. It is followed by North America.
Regional Insights
Asia Pacific held the largest volume share in 2015 due to rising demand from construction and automotive industries. China led the market in terms of consumption and production. Europe is projected to witness volume gains, expanding at a CAGR of 2.4% from 2016 to 2024. Germany was estimated as the largest market while U.K. offers attractive growth opportunities on account of demand for high performance and quality products.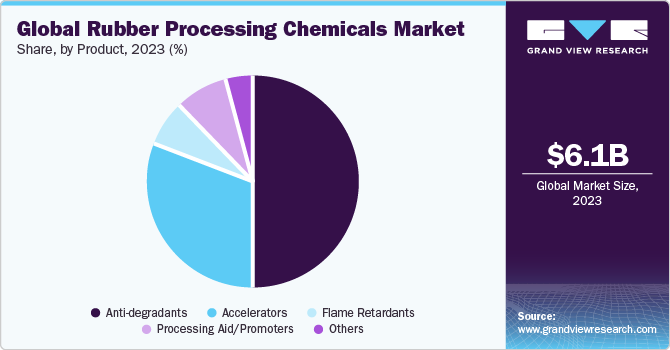 The North America rubber processing chemicals market was valued at USD 835.1 million in 2015. Stringent government regulations are expected to result in moderate growth over the forecast period. However, processing aids such as curing and blowing agent segment is expected to experience significant growth owing to advancement in vulcanization process to manufacture high quality and performance rubber chemical.
Rubber Processing Chemicals Market Share Insights
The market is highly fragmented and competitive in nature with the larger players holding majority share. Prominent companies include Arkema S.A.; BASF SE; Lanxess AG; Solvay SA; AkzoNobel N.V.; and R.T. Vanderbilt Holding Company, Inc. Major companies are involved in continuous product innovation and R&D activities owing to stringent environmental regulations. The market is characterized by new product launches and expansions, as companies are trying to expand their customer base. For instance, in April 2016, Chemtura announced capacity expansion of Adiprene LF MDI polyurethane elastomers manufacturing facility in Latina, Italy. This initiative will offer improved processing over 4,4′-methylene-bis-ortho-chloroaniline (MbOCA)-free alternatives in urethane applications.