Industry Insights
The need to combat rising labor costs in developed nations and growing instances of assisted living are expected to give impetus to the global service robotics market. Since they help perform tasks that would otherwise be deemed risky or difficult, service robots are expected to witness growing demand.
In addition, mundane everyday tasks can be easily handled with a high degree of accuracy by these computer-controlled devices. However, service robotics are in close proximity to humans; therefore, ensuring complete security and safety is of the utmost importance. An increasing number of companies have been developing and honing automation techniques in order to gain market share. Major components involved in service robotics include sensors, microcontrollers, power supply, actuators, and manipulators, of which sensors are the most critical.
Global service robotics market by application, 2012 - 2020 (USD Billion)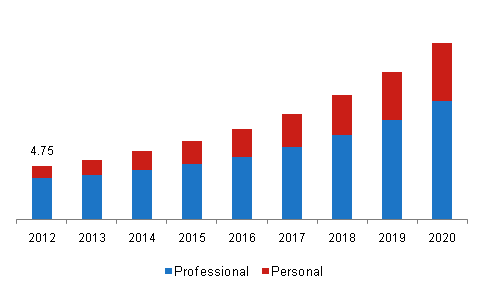 Technology proliferation and innovation are expected to serve as a key driver for the market growth as a result of which the price for service robotics is expected to see a fall. In addition, an aging population, mobile technology, and other smart devices incorporating robotics, funds, and favorable government grants, enhancement of complementary technologies, and venture capital investments among others are expected to impact positively the market demand. In recent times, the use of service robotics in the automotive industry is also expected to spur market growth. However, human safety, interaction with the unstructured real world, and lack of sensors, network robots, and users are likely to restrain the market growth.
Application Insights
The market for service robotics can be broadly categorized into two application segments and includes professional service robotics and personal service robotics. The service robotics include four main professional service robotics applications such as defense, field, logistic, and medical. Service robotics used for defense purposes accounted for a considerable market share in 2012, as a result of their use in unmanned aerial vehicles among others. Field robots, which are used for purposes such as agriculture, forestry, milling, mining, etc., accounted for approximately 25% of the overall professional robotics segment. Medical robots have gained widespread acceptance due to their support in therapy and robot-assisted surgery. However, medical robotics systems are high cost, as a result of which suppliers offer leasing contracts for them. In addition, service robotics are used in numerous applications such as mobile platforms, construction, cleaning, underwater, inspection, and rescue and security among others.
The personal service robotics applications comprise of two basic applications and include household robots and entertainment and leisure robots. Personal service robotics accounted for a much smaller revenue share as compared to their counterparts and have very different marketing and pricing channels. Personal robots are used for handicap assistance, lawn mowing, entertainment, education, and research, etc. Systems used for surveillance and home security are expected to witness growth in the coming years due to increasing concerns among end-users.
Regional Insights
Asia-Pacific is expected to remain the market leader, primarily on account of significant developments in Japan and South Korea. The U.S. is also expected to occupy significant market share and grow faster than the global average during the forecast period. Rapid increase in industrialization and development of production capacities in the North America region is likely to accelerate the growth of the service robotics market. In addition, the booming automotive industry is expected to drive the market growth in regions including North America and Asia Pacific. The demand for service robotics is expected to rise in developing economies including India, China among others owing to rise in manufacturing and production bases.
Competitive Insights
Companies operating in the market include iRobot Corporation, Samsung Electronics, AB Electrolux, Toyota Motor Corporation, Fujitsu Frontech Limited, Hanool Robotics Corp, LG Electronics Inc., and Honda Motors Co. Ltd, Sony Corp, GeckoSystems, Fujitsu, and Yujin Robot among others.