Industry Insights
The global smart demand response market size was estimated at USD 5.57 billion in 2014. Advancements in technology in utilities vertical coupled with the introduction of regulatory frameworks are expected to increase smart grid deployment, which is estimated to drive industry growth.
North America smart demand response market by application, (USD Million)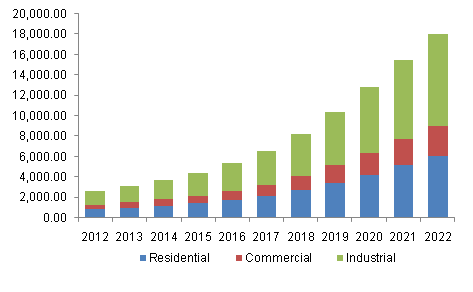 Growing smart grid roll-outs enhances customer energy management systems, integration of renewable energy, as well as automation in transmission and distribution (T&D) systems. Favorable DR programs and policies are expected to accelerate growth. Leadership in Energy and Environmental Design (LEED) is also expected to boost revenue over the forecast period. For instance, the U.S. Green Building Council announced the initiation of a LEED DR Pilot program for the encouragement of demand response participation by allowing the building owners to earn additional LEED credits if they implement fully automated solutions.
Intelligent metering along with advanced ICT DSM solutions for energy management in buildings appears to be an opportunity to exploit renewable energy resources, achieve energy savings, and also encourage customers' participation in the ecosystem.
Application Insights
For residential customers, DR programs entail direct load control of the larger appliances at home6, which includes hot water heaters, pool pumps, and air conditioning systems. Growing use of distributed generation, particularly from the residential consumers helps in maximizing the DR potential.
Intelligent buildings are expected to participate in DR programs for protection of electrical grid during high peak energy demand. Reducing loads during high-cost periods are expected to reduce electricity bills, thereby proving advantageous to the consumers.
Increasing developments for commercial and industrial demand response can be attributed to the growing need for utilities for managing peak requirement as well as improvements in the hardware technology which includes control equipment and metering.
Regional Insights
Asia Pacific region accounted for over 15% of the global revenue in 2014. This can be attributed to the growing adoption of smart meters in the region. Increasing penetration of the meters allows the homes to connect to the data on usage as well as price. Time-based electricity pricing options which are enabled by the mass rollouts of such meters is also expected to open new avenues for the region.
North America accounted for nearly 60% of the global share in 2014. In California, buildings are expected to contribute to the highest peak load. The Demand Response Research Center (DRRC) focuses on commercial as well as residential applications of the technologies for dynamic peak load reduction with different response durations.
Competitive Market Share Insights
Leading players such as Schneider Electric offers solutions electric utilities. For instance, in December 2015, Schneider Electric announced the introduction of a Wi-Fi thermostat. Wiser Air thermostat is equipped with ZigBee to interface with smart meters as well as other intelligent home devices.
The DR program helps in improving distribution, control, optimization, monitoring through the optimization, development, as well as dispatch of Virtual Power Plants. In December 2015, ABB announced the installation of 363 kilovolts which disconnect the circuit breaker along with the Fiber Optic Current Sensor, thereby integrating three substation functions which include current measurement, disconnecting, and circuit-breaking into one single component, henceforth reducing the space needed for a substation bay.
In May 2015, Honeywell announced the use of OpenADR 2.0b, the latest version of the open standard which is developed in the U.S to allow utilities as well as DR aggregators to communicate with networked building control systems. This is the same technology that Honeywell has used in nearly 20 projects in the regions of Europe, the U.S., and China. Furthermore, in the Asia Pacific region, the OpenADR Alliance announced a partnership with the India Smart Grid Forum to boost adoption of smart grid technology. Additionally, in March 2014, Honeywell announced the introduction of a two-year program with CPS Energy to use ADR technology & services to connect and collaborate with industrial as well as commercial customers, and thereby adjust electricity consumption during peak energy demand.
Notable companies include Comverge, Itron, ABB, Siemens, Opower, Eaton Corporation plc, Johnson Controls, General Electric, and EnerNOC.