Industry Insights
The global smart headphones market revenue is expected to reach USD 7.48 billion by 2022. Enhanced features offered by these devices including water resistance, noise cancellation, and high-definition (HD) sound format is anticipated to drive industry growth over the next few years. Increasing adoption of wireless devices with incorporated music player is expected to be a key factor driving market growth over the next seven years. High penetration of products with recalibration features that individually acclimatize sound for the individual's ear is anticipated to further fuel demand.
The advent of light-weight devices paired with advanced audio solutions is expected to bolster market growth in the near future. Novel innovations including laser technology wherein the wire illuminates with the rhythm of heartbeat and music is expected to witness significant penetration in the wired smart headphone segment. Evolving consumer preference coupled with growing purchasing power may result in the substantial adoption of smart headphones over the forecast period.
U.S. smart headphones market by product, 2014 - 2022 (USD Million)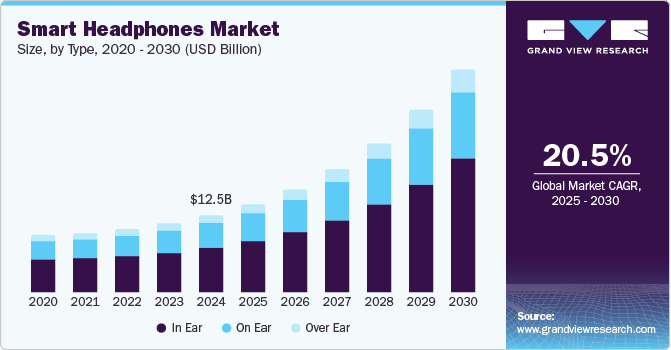 Incorporation of added features such as fitness monitoring, detachable cords, and video recorder in these devices is likely to offer vast expansion opportunities. Furthermore, integration of facility that enables the exchange of data over short distances using radio transmissions is also expected to drive demand over the next few years.
Growing health concerns and increasing acceptance across the sports sector is expected to escalate industry growth. The surge in smartphones and tablets sales is further expected to promote demand for Bluetooth-enabled stereo headphones. The presence of advanced features in these products results in high cost which is expected to pose a serious challenge to market growth. In addition, the rise in counterfeit products offering similar features at a comparatively low price is likely to hinder product sales.
Product Insights
The industry was segmented into wired and wireless headphones with the latter accounting for over 80% of the revenue in 2014. Increasing adoption of these devices owing to convenience offered by them is expected to augment market growth. Rising penetration, particularly in the entertainment and gaming sector, is expected to significantly drive segment growth over the forecast period.
The wired segment is estimated to witness moderate growth over the forecast period in light of the nominal benefits offered including low cost & power consumption along with enhanced connectivity and accessibility.
Regional Insights
North America was the largest market for smart headphones accounting for over 40% of global revenue in 2014 and is expected to witness robust growth owing to early technology adoption by manufacturers and consumers. High technology penetration in the U.S. is also anticipated to propel product sales. Existence of majority key industry players including Beats, Bose and Skullcandy have revolutionized the regional market with the availability of high-end products
Asia-Pacific is expected to witness substantial growth owing to high wearable electronics penetration in the region. Further, increasing spending on expensive electronic accessories may fuel demand. Availability of low-cost sensors and other connectivity components used in headphones is expected to drive expansion over the next seven years.
Europe is estimated to exhibit below par growth owing to its weakened economy coupled with the recent European debt crisis. The crisis is expected to have a long-term impact which would negatively affect overall development. However, countries such as Germany and the UK were moderately affected by the crisis and are expected to witness considerable growth over the coming years.
Competitive Market Share Insights
Key participants emphasize on expanding their market presence and provide competitive audio solutions with high noise cancellation and better connectivity.
Companies are trying to obtain a competitive advantage on the basis of price and product offerings. A large number of headphone manufacturers are integrating backward in order to ensure a stable and reliable supply of components which may also result in higher profit margins.
Notable companies in the market include Bragi, LG, Valencell, Sennheiser, Samsung, ChipSip, Sony, Huawei, and Cosinuss. R&D investment is significantly high in the market as manufacturers constantly try to develop breakthrough technologies in an attempt to provide state of the art products to meet evolving consumer needs.