"Growing popularity of sophisticated gadgets among consumers to drive the demand"
The global smart textiles market/smart fabrics market size was valued at USD 544.7 million in 2015. The rising popularity of sophisticated gadgets with varied technologically advanced functions such as sensing and reacting to the surrounding is anticipated to drive the demand.
Europe Smart Textiles Market By End-Use, 2014 - 2024 (USD Million)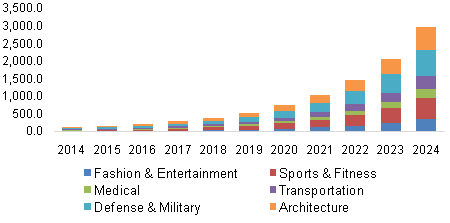 The decreasing manufacturing costs of electronic components and fabrics along with the miniaturization of electronics are expected to drive the market over the forecast period. Components such as actuators, controllers, and sensor units are incorporated into these fabrics for proper functioning. The smart textiles are used by consumer as a clothing entity as well as by the military professional for protection and safety purpose.
Europe exhibiteda considerable market share of more than 30% in 2015. The growth was mainly driven by sports & fitness application. These products have a huge growth potential owing to their applicability across several sectors such as defense, automotive, and entertainment which in turn is anticipated to propel the market growth during the forecast period. The rise in demand can also be attributed to the introduction of conductive materials and advanced fibers that are used to manufacture such fibers. Nanotechnology has helped in the creation of such intelligent fabrics at a microscopic level and also in the development of army uniforms & equipment.
The Clothing Area Network (CLAN) project is focused on developing technology that allows wireless & wired data and power transfer between the intelligent modules such as sensors processors, user interfaces, and batteries. The data transfer capability, if implemented, can increase its usability in the commercial sector and increase data mobility. Further, the power transfer capability may also be used to charge phone without the use of an electrical source.
"Passive smart textile to dominate the product segment"
The passive smart fabrics are wearable clothing that can sense the user and surrounding environment and report the same. This segment dominated the industry in 2015 as it has less complex functionalities and are low price product as compared to the other variants. The very smart textile segment has the ability to sense, react, and adapt its behavior to the given circumstances and follows the principle of artificial intelligence.
"Comfort provided by smart textile to drive demand in sports & fitness application"
The sports & fitness application segment is expected to witness a significant growth with a CAGR of 35% during the forecast period. Smart fabrics possess the ability to react to stimuli generated from electrical, thermal, chemical, mechanical, andmagnetic sources. With the aforementioned capabilities, it can work in integration with sophisticated electronics devices such as fitness belts and watches to monitor health and body vitals in real time. These productsare used in applications such as architecture, fashion &entertainment, transportation, medical, and military & security. Application of these fabrics in defense and military segment accounted for over 25.5% of the overall revenue in 2015.
The integration of these products with electronic products provides a light weight option as against heavy batteries integrated in garments, which arewear bysoldiers. In the future, warrior systems are anticipated to be equipped with wireless weapons, heads-up display, chemical and biological threat detectors, Global Positioning Systems (GPS), chemical & biological threat detectors, battery power, combat ID sensors, and personal physiological status sensors to enable soldiers to combat battle in a better manner. Moreover, the smart fabrics are also used in medical application, primarily to reduce the patient's recovery time. The increasing global population has created the demand for improved healthcare and medical facilities which are aiming usage of smart fabrics for faster patient recovery. Additionally, the need for enhancement of athletic performance is anticipated to favorably impact the research & development activities in the industry.
"North America to continue dominating the market over the forecast period"
North America is expected to hold a major share in the global industry over the forecast period. The region accounted over 45.5% of the market (in terms of revenue) in 2015. This can be attributed to the increasing demand for these products in the transportation and healthcare industry.
The low raw material cost and labor in Asian countries, such as China, Japan, and India, has transformed it into a manufacturing hub for such technology. This has led to the decline in the overall production of smart fabrics in the European region. Hence, key vendors based in the Asia Pacific region are exploring opportunities to add such advanced technological products as a part of their portfolio.
Asia Pacific is anticipated to be the fastest growing regional market with an estimated CAGR of over 35% from 2016 to 2024. However, the increasing number of R&D activities forsuch intelligent fabrics sponsored with in the EU FP6 and FP7 programs is revitalizing the industry in the European countries.
"Nike, O'Neill, and Adidas to hold a significant market share"
Key companies such as Nike Inc., O'Neill and Adidas AG are expected to hold a significant share in the market owing to their competencies in performance clothing. Other key industry players include Auxetix, Eleksen, Fibretronic Limited, Clothing+, Exo2,ThermoSoft International, Gentherm, and Peratech Ltd. The industry comprises a large number of stakeholders that include textile manufacturers, system integrators,Original Equipment Manufacturers (OEM), along with R&D institutes. System integrators such as Interactive Wear, Fibretronix, Polar, Ohmatex, and Clothing+ are analyzed to be leading integrators engaged in the encapsulation of electronics, integration with textile structures, and electronics & industrial design.
North Carolina State University College of Textiles, Swiss Federal Institute of Technology, and Tampere University of Technology are expected to play an important role in product development and testing, particularly in collaboration with the system integrators. The Center for Nanotechnology and Smart Materials (CeNTI) in Portugal has invented an innovative intelligent fabric that generates enough powerto light clothes. Such institutes are focusing on utilizing this technic optimally forvarious conventional appliances such as charging portable electronics devices with no relianceon traditional electrical networks. Additionally, extensive research activities focused on the commercialization of self-cleaning fabricsare aimed at improving the quality of life.