Industry Insights
The global soft covering flooring market size was valued at USD 110.09 billion in 2013. Increasing home improvement and residential floor replacement activities is expected to drive the market over the forecast period. These floors offer distinct benefits such as dust-binding characteristics, noise-reduction, insulation, comfort as well as pleasing aesthetics.
In addition to covering floors and improving the look of offices or home décor, rugs and carpet tiles provide a protective layer to floors. In regions with cold climate, such products are used for preventing the floor from getting too cold.
Developed markets such as the U.S. witnessed significant demand for carpets and rugs floors. However, the trend is expected to change, with an increased number of consumers, exhibiting willingness to spend more to improve the aesthetics of their homes or office spaces.
These floors are comprised of broadloom and rugs & carpets, which are luxurious in appearance, reduce draught and deliver good insulation. Increasing popularity of resilient floors such as vinyl tiles in commercial as well as residential applications is expected to play a deterrent role in industry growth.
Opportunities in the soft covering flooring market primarily lie in the research and manufacturing technology development domains. Increasing awareness about the benefits of using eco-friendly materials in floor covering manufacturing can be profitably harnessed by key vendors in the industry.
Key sales channels include catalogs and online shopping, as well as furniture stores and a few department stores that maintain rug and carpets department. Home centers and big box discount stores are significant channels for promotional to mid-priced rugs.
Disposal of waste is anticipated to be a key issue in recent times. Even though the industry is growing at a decent rate, used carpets, rugs, and broadloom create extensive waste. Lack of proper waste-disposal solutions is expected to attract the ire of environmentalists as well as regulatory bodies.
North America soft covering flooring market by application, 2012 - 2020 (USD Billion)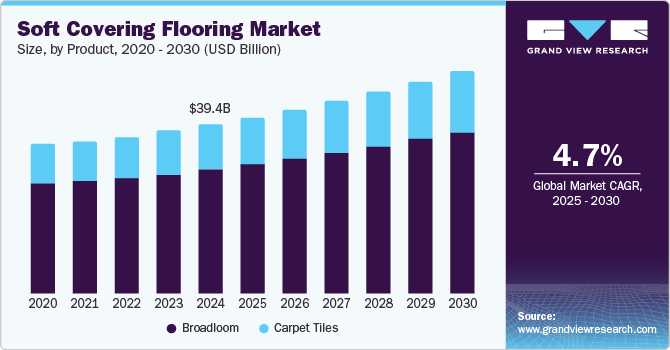 Application Insights
The residential new construction and replacement segment contributed to just under 70% of the overall revenue in 2013. Construction activity in emerging economies is on an upswing; this has fuelled demand for construction materials including floor and wall coverings.
Non-residential demand is expected to be driven by office, commercial, and institutional construction. Rising investments in commercial real estate and an increased preference towards carpets and rugs has fueled demand for such flooring solutions. Expanding hospitality and tourism industry has had a positive impact over the industry.
Product Insights
Soft covering flooring primarily comprises carpet tiles, broadloom, and area rugs. While area rugs cover only a part of a room, carpet tiles are installed across the complete room or places such as lobbies and stairs. Broadlooms are carpet woven on a wide loom and can be used effectively in domestic and commercial applications.
Carpet tiles segment dominated the industry demand in 2013, contributing to over 70% of the overall shipments. Surging popularity of carpets offered in a variety of fiber systems offer consumers a more luxurious experience and provide retailers a chance to step up shoppers to a higher price point for achieving better margins.
Manufacturers are gaining market share by focusing on popular variants of such floorings such as soft handed carpets and polyester carpets.
Regional Insights
North America soft covering flooring market led demand in terms of revenue in 2013, accounting for over 35%, closely followed by Asia Pacific. Development of environment friendly and sustainable carpets by manufacturers in the regions has boosted the demands for such flooring solutions, particularly in the U.S. and Europe.
Developing markets such as India and China are expected to be the fastest growing regions over the next six years. This growth can be attributed to the increased spending in renovation and home improvement activities in the region and capital investments which has favorably impacted regional industry growth.
Competitive Insights
Key industry participants with soft covering flooring market share include Abbey Carpet Company Inc, AstroTurf LLC, Beaulieu Group LLC, Bentley Mills Inc, Cargill Inc, Dixie Group Inc, Engineered Floors LLC, Mannington Mills Inc, Milliken & Company, Mohawk Industries Inc, Royalty Carpet Mills Inc, and Trinseo SA.
Companies are increasingly emphasizing on partnerships and acquisitions strategies to expand their reach to the global markets and increase on their revenue share. For instance, the Dixie Group acquired Atlas Carpet Mills; the acquisition of Floors N More LLC by ALJ Regional Holdings; and the takeover of Desso by Tarkett.