"Environmental hazards coupled with high cost of air conditioning is expected to drive solar control glass market"
The global solar control glass market size was USD 4.15 billion in 2015 and is expected to witness growth at a CAGR of 9.3% over the forecast period. Solar control glass is a new offering by the glass industry that reflects a large amount of sun's radial heat and aids in keeping the indoors cooler as compared to normal float type.
The market is expected to grow significantly due to increased demand in commercial buildings Rising awareness regarding CO2 emissions from air conditioners has resulted in increased use of solar control glass in construction projects such as the construction of Gibraltar Airport and the Onyx Hotel in Hamburg.
Germany solar control glass market revenue, by application, 2013 - 2024 (USD Million)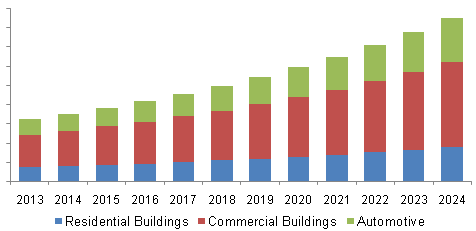 The commitment of European Union to save around 300 million tons of CO2 annually from residential and commercial buildings by 2020 is expected to have a positive impact on the demand in this region. The product also provides a necessary cooling effect in extreme temperatures which make it suitable for usage in all climatic conditions. Its ability to provide sufficient cooling is expected to boost demand in tropical countries including Brazil, Singapore, and Malaysia. The major manufacturers such as Saint-Gobain and AGC have been investing in raw material rich countries such as Morocco and other African countries to gain a competitive edge in the market. This strategy will help manufacturers to gain access to new markets and reduce the production costs.
"Commercial buildings were the largest users of solar control glass in 2015"
Commercial Buildings was the largest application segment in the market accounting for more than 50% of the total consumption in 2015. The growth in this application can be attributed to the increase in a number of commercial buildings and rising concerns about high air conditioning costs.
Automotive is expected to be the fastest growing application segment growing at a CAGR of 8.8% from 2016 to 2024. The integration of this product into vehicle design by major car manufacturers such as Ford-Chrysler USA LLC and Mercedes is expected to propel market growth.
The European Automobile Association has specified the usage of solar control glass in automobiles in a report which states various benefits of the product such as reduction of heat load on the vehicle, substantially reducing the need for A/C, resulting in higher mileage and reduced fuel consumption.
Residential was the second largest application in the solar control market. The consumption of the product in residential buildings is majorly observed in Europe and North America. The demand for this product is expected to increase steadily in Asia Pacific and MEA on account of rising residential building construction projects in these regions.
"Growing construction activities in Asia Pacific expected to promote demand for solar control glass in the region"
Asia Pacific is expected to be the fastest growing region with a CAGR of over 12% from 2016 to 2024. The growth in this region is driven by changing climatic conditions and rise in a number of residential and commercial buildings. The thriving infrastructure investment in this region is expected to boost demand for this product.
Europe dominates the global demand for the product due to early adoption and increased usage in applications such as residential buildings and commercial buildings. The growth in North America can be attributed to the positive construction and automotive industry outlook in this region. The demand is expected to grow substantially in the Middle East owing to various upcoming construction projects in this region. Latin America is expected to grow at a slower pace due to growing inflation and unstable political situations in that region.
"NSG (Pilkington), AGC Glass Europe and Saint-Gobain were the major market players."
The market is highly consolidated due to the presence of few manufacturers such as NSG, AGC Europe, and Saint-Gobain. Key players currently produce solar control glass specific to architectural applications on a larger scale.
Manufacturers are now focusing their efforts on developing alliances with automotive manufacturers to promote the usage of the product in automobiles. The other market players comprise of PPG Industries Inc., Guardian Glass, Asahi India, CSG Architectural Glass, Arcon Flachglass Veredlung Gmbh Co. & KG, Sisecam Flat Glass, Cardinal Glass and Euroglas GmbH.