Industry Insights
Solar PV refers to a technology wherein PV modules made from semiconductor materials are exposed to solar rays thereby creating an electrical current. This technology is one of the fastest growing forms of renewable energy source and is expected to register a double digit growth rate over the next decade. These systems are being increasingly used in residential and commercial applications due to the advantages in offers in terms of cost and efficiency. The growing focus on renewable energy has resulted in development of solar PV as a sustainable source of energy generation. The rapid capacity additions across major countries have resulted in reduced Levelised Cost of Electricity (LCOE) which has made solar energy competitive with other conventional forms of energy.
High volume of PV production has led to reduced cost for modules which in turn has reduced the LCOE to USD 0.07 – USD 0.16, making it the preferred choice in oil or gas fired power plants. In addition, regulatory support in the form of Feed In Tariff (FIT) has resulted in increased utilization of renewable energy sources which in turn is expected to boost the demand for solar PV. Vast opportunities lie in the Sunbelt countries of regions such as Latin America and Middle East which are expected to increase focus on energy generation through solar PV over the next decade. Large companies such as First Solar and SunPower have made agreements which would allow them entry into the booming Chinese market.
Application Insights
Key application segments analyzed in the report include solar PV installations for residential, non residential/commercial and utility application. Residential applications primarily consist of roof top solar PV assembly and the power generated in utilized in the daily operations of the household. Non residential and commercial application of solar PV consists of installations in sun exposed areas so that the generated solar power is used as supplementary power during peak hours. Utility scale solar PV are used to generate power that is fed into the grid system so as to be transmitted in addition to the conventional sources of power.
Utility scale application was the largest market segment in 2012 and installed utility scale PV capacity was over 45 GW. The market is also expected to witness fastest growth over the forecast period, growing at a CAGR of over 21% from 2013 to 2020. The primary reason for the high growth is the regulatory support provided by governments of major countries such as India, EU, China and the U.S. in the form of Feed in Tariff and manufacturing subsidies. The residential segment for PV installations accounted for over 25% of the global installed PV capacity in 2012 and is expected to lose some share to the faster growing utility segment. However, there is continued demand for residential power from PV panels due to the unavailability of grid supply in many major townships. Numerous new townships have incorporated solar PV as the power source due to lower cost and higher power stability. Commercial or non residential installations of solar PV has gained considerable importance in the past few years due to the growing cost of peak power. Companies utilize solar power in order to distribute their peak load between conventional grid supply and solar power. This helps in considerably reducing cost and the government incentives and schemes have further augmented the use of solar power in commercial application.
Regional Insights
In spite of Europe being the largest market as of 2012, it is expected to lose substantial share primarily to China over the next six years owing to the rapid industrialization of the region which in turn has resulted in high energy demand. Asia Pacific, Latin America and Middle East also have vast potential for expansion and are expected to be major regions for the solar PV market over the next decade. The lowering prices of PV modules are expected to lead to industry consolidation with major companies trying to integrate across the value chain through mergers and acquisitions. Europe was the leading region in terms of cumulative installed capacity with over 70 GW as of 2012. The region accounts for over 70% of the global installed capacity primarily driven by installations in countries such as Germany, Italy, Spain, United Kingdom and France. Germany was the largest market in Europe with cumulative installed capacity of over 32 GW as of 2012 followed by Italy.
Asia Pacific was the second largest region in terms of installed capacity with cumulative capacity of over 12 GW. The high installed capacity is majorly due to the large solar PV installed base in Japan, India and Australia which together account for over 80% of the Asia Pacific market. These countries are currently utilizing a very small segment of their vast potential and it is expected that over the next decade the region would have substantially higher capacity. China has been considered as a separate regional market due to the large installed capacity of the region and is expected to have largest new installations over the next six years. Regionally, North America is the third largest market with Canada developing steadily along with the U.S. The U.S. had the world's third largest installed base for solar PV with cumulative capacity of over 7 GW as of 2012. Canada is had installed capacity of over 750 MW in 2012 and had grown by over 50% from 2011.
Global Solar PV installed capacity, by region, 2012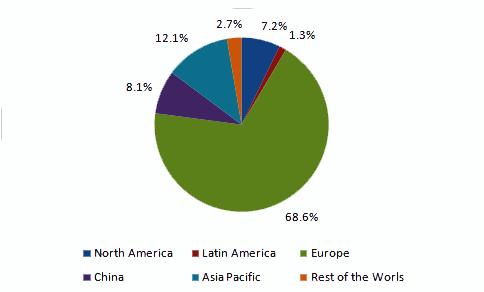 Competitive Insights
The solar PV market is fragmented with the top 15 players accounting for a share of nearly 50%. Yingli Green Energy (China) and First Solar (USA) were the two largest companies in the market together accounting for over 10% of the share. The other key players in the market include Suntech Power, Canadian Solar, Trina Solar, Sharp and SunPower among others. Innovation and product differentiation have become increasingly important, and successful manufacturers have diversified both up- and downstream, with many expanding into project development or building strategic partnerships.