Industry Insights
The global steam autoclaves market was valued at USD 1,452.9 million in 2014 and is expected to grow at a CAGR of 8.9% over the forecast period. Rapidly increasing quantities of medical and bio-hazardous waste generated from hospitals, pharmaceutical facilities, life science research facilities, and drug factories, is expected to boost the demand for waste sterilization and waste management products.
Global steam autoclaves market, by configuration, 2012 - 2022 (USD Million)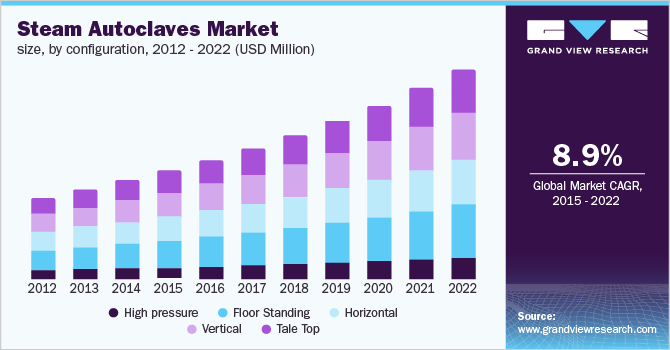 This growing need for sterilization devices is expected to drive the market over the next seven years. Continued development of novel technologies which result in reduction of cost of manufacturing of larger steam autoclaves and help reduce their market prices is expected to enhance the penetration rates for these devices worldwide. Growing global population, incidence rates of hospital acquired infection worldwide are also expected to drive market over the forecast period. Introduction of portable steam autoclaves and products with the ability to handle large procedure volumes are likely to boost usage rates.
Configuration Insights
The steam autoclaves market encompasses a broad range of products with different loading and capacitive configurations. On the basis of chamber volume capacities, orientation, loading, steam autoclaves market consists of front, vertical, and top loading horizontal and high pressure configurations of autoclaves. Overall chamber capacity ranges available in the market vary between 10 liters to over 1,500 liters for various applications in medical, dental, and laboratory settings. In 2014, vertical steam autoclaves ranging between chamber capacities of 100 liters to 500 liters accounted for the largest share of the market owing to the presence of a product range, which capacity-wise covers the medium range laboratory and medical autoclaves, and the ability to be specialized for bio-hazardous waste management. Due to the growing need for hazardous waste management and medium capacity laboratory sterilization solutions, vertical steam autoclaves are expected to grow at a lucrative rate over the forecast period.
Application Insights
Applications of steam autoclaves are broadly classified into medical, dental, and pharmaceutical applications. While, both medical and laboratory applications of steam autoclaves account for a significant share of the global market revenue in 2014, owing to the prominent uses of autoclaves in healthcare establishments, hospitals, and clinical facilities, medical applications accounted for the largest share of revenue. Furthermore, due to the large capacity autoclaving solution requirements in hospitals, they account for a major share of demand larger capital intensive autoclaves. Owing to the presence of this relatively higher demand, it is expected that medical applications for autoclaves will continue to maintain the dominant market position over the forecast period. However, due to the growing demand for pharmaceutical bio-hazardous waste management and the gradually increasing levels of generation of such waste, it is expected that the laboratory applications of specialized autoclaves for bio-hazardous and solid waste management will witness growth in market demand at the highest CAGR of over 9.0% during the forecast period.
Regional Insights
Region-wise analysis of the global steam autoclaves market was performed by segmenting the market into North America, Europe, Asia Pacific, Latin America, and MEA. North America accounted for the largest share of the market in 2014. Significant representation, manufacturing, and distribution centers in the U.S. and Canada of almost all the major international companies in the steam autoclaves market, issuance of biosafety, medical waste management, sterilization and disinfection mandates and guideline by regulatory agencies such as the FDA, EPA, DOT, and OSHO and regulated implementation of these mandates by the regulatory agencies are the major factors accounting for this large share. Growing concern for controlling the spread of hospital acquired infections across the North American region & increasing adoption of CSSD framework region is also expected to drive demand for sterilization and disinfection products and devices throughout the forecast period. Asia Pacific is the fastest growing regional steam autoclaves market.
Competitive Insights
Some major participants in the steam autoclaves market include Belimed Deutschland, BMM Weston, Getinge Infection Control, LTE Scientific, Matachana, Medisafe International, Panasonic, Priorclave, Tuttnauer, Eryigit Medical Devices, and Steris. The steam autoclaves market is highly competitive marked by frequent mergers, acquisitions and strategic alliances. Collaborations are primarily employed as a strategy to widen product portfolio. Market is expected to be significantly fragmented over the next seven years. The expected reduction in the cost of development and manufacturers of larger autoclaves are expected to intensify market competition in the foreseeable future.