Industry Insights
The global super resolution microscopes market was valued at over USD 700 million in 2013 and is expected to grow at a CAGR of 23.7% during the forecast period. Increasing government support and corporate funding for microscopy, technological advancements and growing focus on nanotechnology is expected to drive the super resolution microscopes market during the forecast period. Fluorescence imaging using conventional microscopy has encountered various advances in approximately all the limiting factors from speed to sensitivity. Techniques have been developed and have surpassed the barrier and have also improved the resolution by over 10 times.
Global super resolution microscopes market, by product, 2012 - 2022 (USD Million)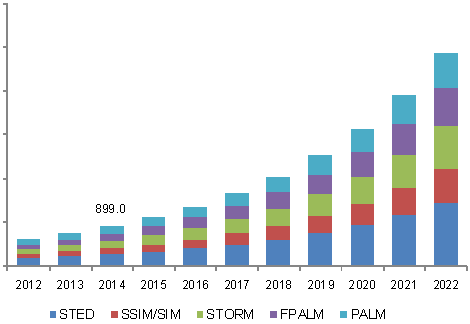 This technique is expected to profoundly alter human abilities to study biological dynamics and structures along with gaining popularity in conventional biological laboratories. These advanced microscopes are used by researchers in medical procedures and diagnosis. For instance, the use of microendoscopy with the help of multiphoton or other advanced imaging techniques for long term application of these tools in novel medical treatment. Super resolution microscopes allow the cellular samples visualization with the resolution similar to that of an optical fluorescence microscope and diffraction limited resolution. It is possible to visualize uniquely the desired molecular species in three dimensions, cellular environment and also in the live cells.
Product Insights
Product segments of super resolution microscopes analyzed in this study include stimulated emission depletion microscopy (STED), structured-illumination microscopy (SSIM), stochastic optical reconstruction microscopy (STORM), fluorescence photoactivation localization microscopy (FPALM) and photoactivated localization microscopy (PALM). STED is expected to dominate the super resolution market throughout the forecast period as it is the fastest super resolution techniques and also increases user friendliness to those who are aware of the widespread technique. The application of fast beam scanners has established STED microscopy as one of the quickest super resolution imaging techniques available as it does not require data processing after the acquisition. It is fast in viewing the small fields, therefore, making it an effective technique for small areas video rate imaging. Some of the other drivers of STED market include its newer applications such as real-time cell imaging and an increasing number of research and development in the fields of neurobiology and cell biology. The use of structured illumination microscopy (SIM) has recently made it possible for the researchers to view nuclear pore complexes (NPC) directly enabling them to identify and solve various aspects of the nucleus superstructures. STORM and PALM provide the greatest improvement in spatial resolution in comparison to conventional fluorescence microscopy. These methods are easier to understand and rely on the fluorescent probes chemical properties that flashes on and off. The random flashing on and off in these massive number of images captured enables precise and incredible localization of single molecules.
Application Insights
Application segments of the super resolution microscopes market include nanotechnology, life science, research labs and academia and semi conductor. Life science based super resolution microscopes market held the largest share in 2013. In order to develop a proper understanding of neurological dysfunctions and mechanisms, neuroscience relies heavily on advanced microscopy especially for in vivo brain imaging. However, Nanotechnology, on the other hand, is expected to gain revenue share over the next six years. This is attributed to expanding demand for industrial microscopes owing to the growth of electronic component industry in the co-occurrence of spread of smart phone usage around the globe.
Regional Insights
Super resolution microscopes are analyzed on a regional basis by highlighting key segments including North America, Europe, Asia-Pacific, Latin America and MEA. Increasing demand for nondestructive testing equipment due to the installation of infrastructure in the emerging economies and aging infrastructure in the developed economies is expected to drive the super resolution microscopes market in the recent years. North America occupied the largest share of revenue generated by the market. This large share can be accounted for by increasing the number of funding programs and growing research and development expenditure in the developed North American economies such as Canada and the U.S.
Competitive Insights
Key players of the super resolution microscopes market include Carl Zeiss, Applied Precision, Hitachi High Technologies Corporation, Leica Microsystems, Olympus Corporation and Nikon Corporation. Collaboration is one of the ongoing trends in the marketplace. For instance, a collaboration of JEOL with Nikon and Carl Zeiss with Seiko in the recent years, to enhance super resolution microscopes related product competitiveness, increase sales and develop markets. Collaborations generally have taken place in the production phase and is expected to increase in the fields such as development and engineering. Technological knowledge in mechatronics, software, analog electronics and physics is fundamental to the viability of most of the companies. The super resolution microscopes market is technology driven and therefore, manufacturers engage in rigorous R&D to develop new and technologically advanced products which cater to the changing needs of healthcare and other industries practitioners. Nikon support for medicine and drug development and expansion into the markets for laboratory instruments and diagnostics is one of its crucial strategies.