Industry Insights
The global neuroscience market size was valued at USD 28.42 billion in 2016 and is expected to grow at a CAGR of 3.1% over the forecast period. High influencing factors, such as ongoing brain mapping research and investigation projects, neuroscience-based initiatives by government bodies, and technological advances in tools and algorithms that are implemented in neuroscience space, are expected to propel the market growth. These factors are anticipated to bolster revenue generation by spurring the product adoption in this market throughout the forecast year.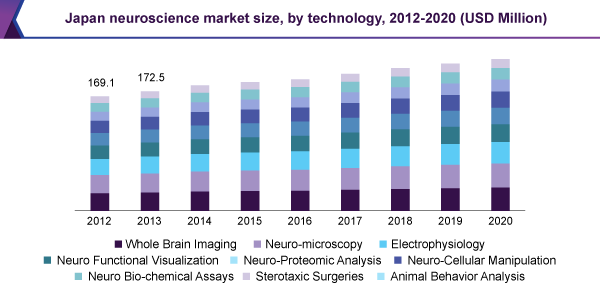 Presence of organizations & institutes, such as NIH, NeuroScience Canada, University of Utah, Max Planck Florida Institute, Ontario Brain Institute, and the University of Pennsylvania; in the space is expected to majorly impact the development of neuroscience arena. These entities play a pivotal role in accelerating neuroscience-based research and development to improve patient outcomes in those suffering from neurological disorders.
Several initiatives are undertaken by the healthcare communities to take brain-related studies and innovations a step further. For instance, in 2014, the University of Utah launched the "Neuroscience Initiative" in order to help alleviate the devastating effects of brain disorders. The initiative was created for deepening the understanding of the effects of brain disorders on health and channelizing the knowledge into innovative solutions for patient care.
Continuous introduction of novel products by key participants in the market to combat various neurological disorders is expected to boost Y-O-Y growth of this market. For instance, in September 2015, Codman Neuro (operation unit of DePuy Synthes) introduced CODMAN CERTAS plus programmable valve, an MRI-resistant programmable valve with eight different pressure settings. This product was introduced hydrocephalus treatment.
Furthermore, key factor that has accelerated the research studies in this arena is the growth in the number of various malignant CNS disorders such as Parkinsonism and Alzheimer's disease. As geriatric population is prone to various central nervous systems associated disorders such as schizophrenia, Alzheimer's, and Parkinsonism, with growth in the older population, this market is anticipated to witness lucrative growth.
As per the 2017 Alzheimer's Disease Facts and Figures published by Alzheimer's Association, in 2017, 38% of the total population with Alzheimer's Dementia in the U.S. are of the age group 85+, 44% are of age group 75-84, 16% is of age group 65-74, and 4% are of age group <65.
The need for minimally invasive, more accurate, and multiple neuron recording systems is also expected to drive research and development of equipment and software used for neuro-analytical experiments. This, in turn, is expected to strengthen the overall product portfolio available in the market and boost revenues throughout the forecast period.
Moreover, considerable government funding for the continuation of such research is expected to keep the market stable and over the forecast period it is expected that novel product development resultant of ongoing R&D will further the growth of this market. In addition, the rise in patented research in the field of optogenetics and two-photon microscopy for better visualization of neuronal circuits is also attributive towards the anticipated growth of this sector.
However, ethical regulations pertaining to the use of animals in clinical studies is expected to impede the market growth to a certain extent by limiting the availability of animal models for neuroscience research studies.
Technology Insights
The overall neuroscience market includes different technologies for brain imaging and neuromicroscopy along with the newly developed and emerging techniques for neuro biochemical assays. Whole brain imaging, neuro-microscopy, and electrophysiology technologies accounted for around 47% market share in 2016.
A substantial number of applications in neuroscience-based research wherein imaging techniques can be employed has attributed to the significant share of whole-brain imaging. These applications include identification of neural networks involved in cognitive processes, understanding disease pathways, and early disease diagnosis. It enables the study of disease progression at a molecular level, thereby leading to greater usage by researchers in order to develop novel medicines and treatment strategies for nervous disorders
While neuromicroscopy techniques employing light and electron microscope are used for a longer duration for research, two-photon microscopy in combination with optogenetics based simulation technology is expected to witness lucrative growth as a novel segment of the market.
The primary factor responsible for this shift in trend can be attributed to the increased accuracy of imaging provided coupled with the neuron simulation from optogenetics. Benefits associated with optogenetics include application in brain behavior analysis, opportunity for detailed neural network analysis, and treatment of Parkinsonism's using gene therapy.
Furthermore, the presence of comparatively large number of products and services in behavior analysis using different animal models is expected to propel growth of this segment. Under the segment of stereotaxic surgeries, neural activity implants are expected to account for significant growth owing to its application in chronic brain dysfunction analysis using static markers.
Technology Components' Insights
Neuroscience research components are expected to witness lucrative growth over the forecast period owing to rising investments by research institutes in this sector. Instrumentation segment accounted for a significant share of revenue compared to data analysis and consumables in 2016. Nonetheless, high costs and provision of advanced technologies in this segment compared to other segments of the neuroscience components market have resulted in the large market share of this segment.
Instruments used in neuroscience encompass different instruments such as optogenetics instruments, electrophysiology instruments, microscopy instruments, and MRI instruments. Owing to the substantial usage of these in diagnosis of several neuroscience disorders has led to the increased market penetration as well as share in 2016.
Data analysis & services are expected to be the source of lucrative revenue generation during the forecast period. This can be owed to the ongoing developments in bio-computers and robot-assisted instruments used for data analysis coupled with an expected rise in number of research firms that can provide pre-clinical data analysis services.
Moreover, owing to the introduction of library of tools that work on different statistical algorithms, it is expected that through to 2020, this segment will experience significant growth in demand throughout the forecast period. These tools are designed to aid in data interpretation from unprecedented quantities of information obtained from analysis.
Consumables encompass different accessories that are required for neuroscience-based experiments. Rising demand for consumables with increasing advent of experimentation in technology of neurosciences is expected to drive consumables segment over the forecast period and prove its lucrative nature.
Regional Insights
North America captured the largest share in 2016 as a regional market. Key factors that are attributed to this large share are the presence of a substantial number of neuroscience-based research entities, funding by government & other organizations, and availability of well-developed healthcare systems along with rising prevalence of neurological disorders in the region.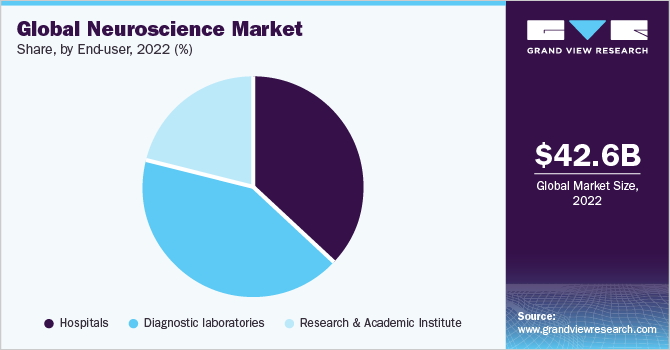 This regional market is also driven by the presence of several organizations, universities, and institutes in the region that are engaged in undertaking various initiatives to accelerate R&D in neuroscience space in the U.S., as well as in Canada.
With China and Japan on the frontline, Asia Pacific is expected to emerge as the fastest growing regional market owing to the owing to constantly improving healthcare system and the presence of a significant target population in the region. Moreover, expansion of brain-related research focused facilities that are located
In August 2017, a new facility called "HUST-Suzhou Institute for Brainsmatics" was opened in Suzhou, China. It is a brain-imaging factory that holds 50 automated machines for brain mapping unlike other laboratories that hold one or two brain-imaging systems. Such expansions in the Asian countries are certainly expected to foster the growth of this regional market at a noteworthy pace throughout the forecast period.
Neuroscience Market Share Insights
Collaboration and partnerships are opted as a viable strategy to stay competitive in the market by key participants. Participants are engaged in strategic alliances within the region and outside the region, which facilitates growth of both the parties and the associated regional market.
Some of the major participants are Doric Lenses Inc; GE Healthcare; Siemens Healthineers, Laserglow Technologies; Mightex Systems; Prizmatix; Kendall Research Systems LLC; Noldus Information Technology; Med Associates Inc; Phoenix Technology Group; NeuroNexus; Multi-Channel Systems MCS GmbH; Alpha Omega; Plexon Inc.; Tucker-Davis Technologies; Blackrock Microsystems; Neuralynx; Thomas RECORDING GmbH; Intan Technologies, LLC; Axion Biosystems; Scientifica; Prairie Technologies (Bruker Corporation); LaVision BioTec GmbH; Femtonics Ltd; Sutter Instrument Company; Newport Corporation; Neurotar.; TRIFOIL IMAGING; and Mediso Ltd.