Industry Insights
Global neuroscience market size was valued at USD 24.09 billion in 2013 and is expected to grow at a CAGR of 2.9% over the forecast period. Key growth factoring attributes associated with the neuroscience market include rising R&D in neuroinformatics for the development of efficient tools and algorithms to enhance brain structurally and functional mapping.
The neuroscience market is primarily based on ongoing brain mapping research and investigation projects aimed to better understand complex neuronal circuits, nervous functioning, and neuronal manipulation.
North America neuroscience market, by technology, 2012 - 2020 (USD Million)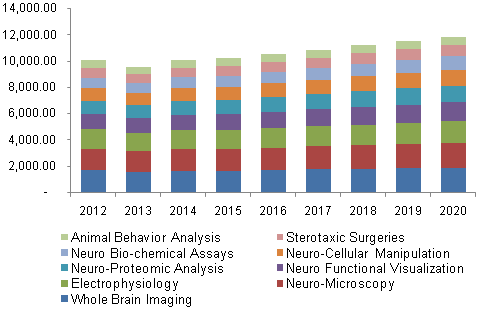 Prime demand in this sector is from pertinent laboratories and academic institutes that are involved in research projects analyzing animal models to gain insights into brain functioning. Key factors fueling the demand for such research are the rise in the incidence of various malignant CNS disorders including Alzheimer's disease and Parkinsonism, & growing prevalence of inherited genetic disorders.
The presence of considerable government funding encouraging the continuation of such research is expected to keep the growth stable over the forecast period. It is expected that novel product development resultant of ongoing R&D will further influence growth during the forecast period.
Furthermore, the rise in patented research in the field of optogenetics and two-photon microscopy for better visualization of neuronal circuits is also attributive towards the anticipated growth of this sector.
Technology Insights
Whole brain imaging, neuro-microscopy, and electrophysiology technologies and related equipment used for research combined to form the largest share of revenue generated in 2014.
Major factors attributing to this large share is the inherently capital intensive nature of equipment for these technologies and their pivotal role in almost all forms of R&D projects implemented in this industry. Owing to, the expected development of techniques such as PET, MRI, and various advanced microscopes, these segments are expected to witness considerable growth in demand over the forecast period.
Due to seemingly innovative and breakthrough developments in the fields of neuro-proteomic analysis and neuro-cellular manipulation, the segments are also expected to witness lucrative growth through to 2020.
Optogenetics in combination with other techniques such as two-photon microscopy and confocal microscopy is expected to exhibit healthy growth in the coming years owing to its application in neuro-simulation and behavioral analysis.
Technology Components' Insights
Instrumentation for neuroscience R&D accounted for the largest share of revenue in 2013 owing to their inherent capital-intensive nature. The parts used in the equipment are replaceable but are expensive and are expected to stand certain specifications. Additionally, instruments in the neuroscience sector are of great use in the diagnosis of chronic diseases such as brain tumor and brain cell damage associated diseases.
Data analysis & related services for the purpose of information processing and storage of real-time data obtained from these studies also forms a considerable share of industry owing to its skilled labor intensive nature and need for long-term data storage facilities such as in case of brain function – age-related studies in primate and non-primate animal models.
These segments are expected to grow at a considerable rate over the forecast period owing to the introduction of further technological development in data storage techniques and biologically efficient algorithms.
Regional Insights
North America dominated the neuroscience market in 2013, with revenue valued at over USD 9,500 million. The presence of sophisticated healthcare infrastructure, strong government initiatives and funding for neuroscience research, and the presence of high patient numbers suffering from CNS disorders are some factors driving growth in this region.
Asia-Pacific is expected to witness the fastest growth from 2015 to 2020 due to the presence of high unmet medical needs, rising patient awareness regarding nervous system disorders, and rising healthcare expenditures in emerging economies of India and China.
Market Share Insights
Major participants present in neuroscience sector are involved in pre-clinical research and development of optogenetics and behavior analysis techniques that can be utilized in the study of CNS disease etiology. They are also involved in the development of techniques and equipment that minimize invasiveness during the treatment or surgery to the brain tissues and allow rapid recovery.
Some key players of the neuroscience market include Trifoil Imaging Inc., Sutter Instrument Corporation, Newport Corporation, Neurotar Ltd., Femtonics Ltd., Scientifica Ltd., Axion Biosystems, Intan Technologies, Neuralynx Inc, Thomas Recording GmbH, Blackrock Microsystems LLC, LaVision Biotec GmbH, Mediso Medical Imaging Systems, Plexon Inc, Alpha Omega, and NeuroNexus Technologies.