Industry Insights
The global synthetic lubricants market size was 3,821.8 kilo tons in 2015 and is expected to witness significant growth over the next eight years owing to the rising demand from the automotive and industrial sectors especially in emerging economies such as India and China where there is a continuous expansion on account of new product launches by automotive manufacturers.
The increasing popularity of the product due to the various advantages over conventional lubricants such as excellent thermal stability, wear & tear protection coupled with other properties such as good load carrying capacity and low friction are anticipated to propel industry growth over the next eight years.
U.S. synthetic lubricant market volume product, 2013 - 2024 (Kilo Tons)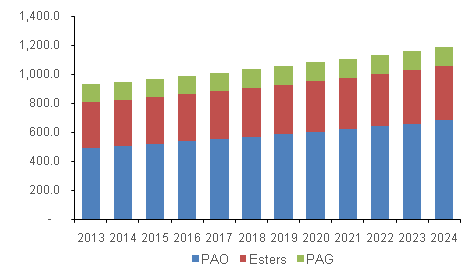 Research, development, and production of new cutting edge technologies such as ester-based fire-resistant oils are being commonly incorporated in a variety of industries and used with hydraulic battery packs so as to sustain high pressures and temperatures. Additionally, numerous large scale OEMs have implemented food lubrication NSF standard with the purpose of utilizing PAO food grade products in the food, beverage and nutrition sectors. This, in turn, is expected to open new opportunities for the industry over the projected period.
A major factor that may hinder industry growth over the next eight years is the high cost of such synthetic fibers as opposed to their mineral counterparts. Moreover, the increasing consumption of mineral based oils especially in Asia Pacific countries such as China and India, due to numerous small-scale manufacturers at the domestic level, is also expected to have an adverse impact on the market. Furthermore, incompatibility of PAOs with PAG based oils and other conventional mineral oils may also hamper market growth in the next few years.
Product Insights
PAO was the largest product segment accounting for over 50.0% of the demand in 2015. They are primarily employed as heat transfer fluids, metal working fluids, transmission oils, compressor oils, gear oils metal working fluids, and engine oils, to increase drain intervals, provide seal protection and reduce component failure.
Ester-based products will witness significant growth in terms of volume on account of its increasing use in jet engines as it provides high thermal stability which in turn, is expected to have a positive impact on the market over the next eight years. Positive aerospace sector outlook in North America primarily in the U.S. is projected to promote jet engine sales, which is expected to propel ester based products demand over the next eight years.
Application Insights
Engine oils were one of the largest application segments and accounted for about 40.0% of global volume in 2015. Rising automobile sales, especially in emerging economies such as India, Malaysia, and China is expected to fuel product need over the next eight years.
Heat transfer fluids (HTF) are projected to be the fastest growing segment at a CAGR of 4.0% from 2016 to 2024, in terms of volume. The ability of heat transfer fluids to maintain the viscosity of various petroleum based products particularly in booster pumps which are similar to gas compressors for pipeline transportation in the oil & gas market will have a favorable impact on the industry over the forecast period.
Regional Insights
North America synthetic lubricants market was estimated at over 1,000.0 kilo tons in 2015 and is expected to witness considerable growth owing to the presence of major aerospace and automotive companies including Bombardier, Chrysler, Ford, and Boeing. The increasing importance of lubrication cost, as opposed to maintenance expenditure in the manufacturing sector, is expected to propel its application in heat transfer mediums and transmission systems.
Asia Pacific is projected to be the fastest-growing region in terms of volume at a CAGR of 3.9% from 2016 to 2022. Growing automobile sector in China, India, Indonesia, and Malaysia is expected to play a crucial role in promoting product demand over the next eight years. The regional market is dominated by major oil companies including Shell and ExxonMobil with extensive distribution networks.
Competitive Insights
Global synthetic lubricants market is highly fragmented with a large number of small scale companies investing heavily in innovation so as to gain a significant share of the market. A few major companies dominate the market space such as Royal Dutch Shell Plc, ExxonMobil Corporation, Castrol, and BP. Rising R & D expenditure for hydraulic fire resistant fluids and synthetic food grade oils is anticipated to be a positive growth factor, for manufacturers over the next seven years.
Major market players have formed tactical tie-ups, links, and partnerships with numerous regional distributors, to enable easy availability of their products in various end-use industries including automotive, aviation, industrial and marine sectors. Over the past few years' organizations such as Royal Dutch Shell Plc., Total and ExxonMobil Corporation have formed partnerships with manufacturers from the automotive industry including Stäublito and Bonfiglioli, to ensure mass production and sale of synthetic lubricants.
Other prominent players in the market include Fuchs Petrolub SE, Chevron Corporation Total S.A., Lubrizol Corporation, Pennzoil, Idemitsu Kosan Co. Ltd, PetroliamNasiona lBerhad and The Dow Chemical Company.